The vinyl word
Drez, a prominent DJ and producer from LA's thriving underground scene is in Taiwan for a two-week tour that started last weekend with a packed house at Lobby in Taichung on Saturday night and a perfect mixture of world beats, Public Enemy classics and relaxing reggae riddims at the SundayBreeze pool party near Danshui.
Drez's love for hip-hop began when he first saw B-Boys battling in the streets. Hooked on the jams that were blaring out of the boomboxes, Drez started making the kind of mix tapes that he wanted to dance to.
"I didn't like all the songs I was hearing, so I made my own," he said. "I did it the old-fashioned way ... from tape to tape."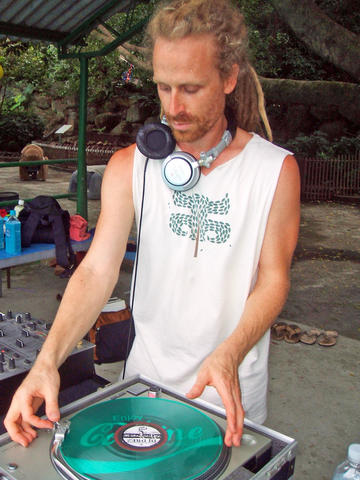 Drez is in Taiwan for a two-week tour.
PHOTO: MARCUS AURELIUS
Soon, Drez got a pair of turntables and was hooked on that feeling of putting songs together. After a few year of learning the tricks of the trade, he was sharing the stage with legends such as KRS-One and De La Soul. By the mid-90s, reggae was becoming a staple in Drez's musical affairs. "I was really into hip-hop at first, then I began to learn about the roots of hip-hop which is reggae. And I tell ya, reggae feels good."
This is Drez's second time in Taiwan. Last year he headlined one of the Summer Aquarian parties. This time, along for the feel good ride is MC Zaire Black.
When asked why he would bring a friend out on the road instead of hoarding all the ducats in his dreadlocks, Drez replied: "We go way back. At least 10 years. Zaire is a great conscious MC. We just finished an album, Panoramic Utopia, and we have always talked about going on tour. I thought this would be a great place to start."
Tomorrow, Drez and Zaire Black do double duty as the afternoon starts off at Escape 41 (41-2 Chaishan Rd, Kaohsiung) at the Reggae Chill Escape. The DJs begin at 3pm and go till the clock strikes midnight at this restaurant slash party spot overlooking the rocky beach.
Drez and company will hot foot it up to Taichung for the International Urban Funk Festival at the intimate Liquid Lounge (98 Chungming N Rd, Taichung) with the man about town, Chifunk. Be warned: this will not be your average jiggy hip-hop party. Instead, revelers will be treated to old school funk along with sonic masterpieces and intelligent lyrics.
Over at Luxy, Fridays are set to become a little more lighthearted with new night Lollipop. The aim: to land somewhere in the vast gap betwixt underground house party and a rave.
It's been a while in Taipei since "rave" disappeared from clubland's lexicon.
In the UK, so-called New Rave is on the up, despite the grumblings of cynical former ravers who now have mortgages, performance reviews and pension funds to worry about. The likes of the Klaxons and Shitdisco, helped along with blasts of nitrous oxide, are fueling this boom.
It may be time to dust off the glowsticks, white gloves, fluorescent face paint and whistles. Bring it on.
Comments will be moderated. Keep comments relevant to the article. Remarks containing abusive and obscene language, personal attacks of any kind or promotion will be removed and the user banned. Final decision will be at the discretion of the Taipei Times.