The plot thickens
Mark Farina's musical star began to rise when he befriended Derrick Carter
Mark Farina once reversed the direction of the Earth's rotation with a rewind. His hair once rescued all the animals from a burning pet store. Or so go the fables. A man with such a cult status is bound to attract his fair share of hype, but Farina is down-to-earth enough to not take these shaggy-dog stories too literally. That said, he likes a good yarn, and it comes out in his music.
"I'm a traveling minstrel," he told the Taipei Times by phone from San Francisco last Thursday. "My music, my DJ sets, are a way of telling a story to people."
Farina's own story, from his musical roots to his current position as a prime mover-and-shaker in the global house music scene, is an interesting tale. It rambles along like a riveting docu-soap, with a cast of familiar characters for added entertainment.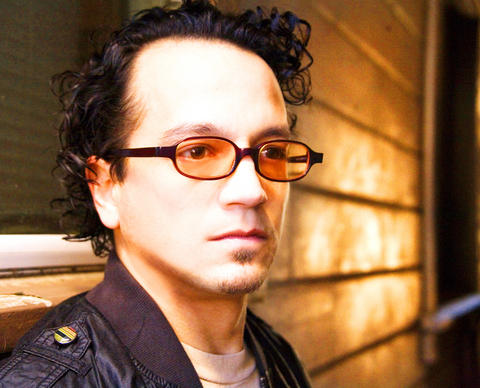 Mark Farina went from trumpet to turntables.
PHOTO: COURTESY OF SHAUNA REGAN, OM RECORDS
Raised in Chicago during the 1970s and 1980s, soccer was Farina's original passion, and his first meander into music was wielding a trumpet in a marching band. One imagines that a trumpet-playing soccer fan wouldn't be considered exactly mainstream in an American college setting, and Farina's musical influences certainly mark him as somewhat alternative. He raised his cool points, perhaps, by taking up percussion.
"I was listening to industrial stuff out of Chicago, stuff on [seminal industrial record label] Wax Trax," said Farina, who frequently name-checks The Cure, The The, Yello and The Police as his cuts of choice during his formative years.
For indie-kids who eventually floated gratefully or obliviously towards electronica, this is almost vindication that the two scenes were never as far apart as some thought. Indeed, Farina is famous for eschewing narrow classifications of genres and sub-genres, and this is reflected in his DJ sets. They span a huge range from down-tempo trip-hop to jacking house, sometimes in different rooms of the same club on the same night. He bridges the gap between Moloko and Ministry, between De La Soul and Depeche Mode, through the medium of a soulful deep house narrative.
He describes himself as something of an accidental DJ. "It was a hobby that became a job," Farina said. "I was just in the right place at the right time. It could have been any number of people."
The right place at the right time happened to be, paradoxically, when he left a couple of newly purchased records on the subway. He'd been taking a college degree in music business management and sound engineering, and started record shopping in downtown Chicago, a mixed-race mini-nation of Black, White and Hispanic sounds and cultures.
"At the time, there were maybe only four record shops in Chicago, and Derrick Carter was working at one." Farina recalls. "And I lost these records. Had to go back and buy them. And then I met Derrick Carter."
As you do. While such an anecdote acquires almost legendary status amongst up-and-coming DJs who would give their right arm for such serendipitous circumstances, for Farina it's just something that happened, and he tells it matter-of-factly. Again, he demonstrates he's not a man who puts too much stock in his own hype. Over the next few years, Farina and Carter became close friends and, later, roommates. They ran nights and sold mix tapes at gigs, and became pioneers of a new generation of house music.
But Farina is keen to correct that last point, with the attention to detail of a master storyteller.
"No, we weren't the first generation," he duly notes. "We had all these people to look up to. We were the second generation."
Coming out of Chicago in the late 1980s, Mark is careful to give credit where it is due, and acknowledge his influences. Respect is crucial in his philosophy: he draws the analogy between his present position as a "traveling minstrel" and "representing your neighborhood," as practiced in the earliest hip-hop battles from which he derived his original love of tunes and skateboarding.
"Farley 'Jackmaster' Funk was in the first generation of house music DJs. Then it was me, Derrick Carter, Sneak, DJ Heather," he said. And -- perhaps speaking to many of Taipei's DJs, including Saucey, Megan, and Junior, who count him as a major influence – "Now we're into the third or fourth generation."
The last 15 years or so are history. With upwards of 250 gigs a year, as well as being up to number five in his Mushroom Jazz series, Farina has consistently been at the forefront of the West Coast scene. At the moment, he's promoting his new CD, House of Om, on Om Records. It's not for the faint-hearted, and you needn't come here expecting a sublime Sunday afternoon set. It twists and it rubs you up against the wall, and it's not an easy listen. Clickety-deep beats tantalizingly tease back into a two-step on occasion, and screaming vocal samples are buried in and dug out of a mix, taking you all the way -- with no prisoners -- to the Windy City. But it's downright honest.
Tomorrow, Farina takes to the decks at Room 18. It's his first time in Taiwan, and in Asia he's only ever gigged in Japan and Hong Kong. But, perhaps unsurprisingly, there's even a story behind that.
"Hong Kong was dodgy," he laughs. "Years ago. It was in a hotel, but they only put me and Derrick [Carter] up for one night. Then we had to stay on people's floors."
This traveling minstrel doesn't seem to have forgotten where he's been. And he may have a sense of where he's headed in the future. But one suspects that Farina's career, much like his music, has a few plot twists to come.
Comments will be moderated. Keep comments relevant to the article. Remarks containing abusive and obscene language, personal attacks of any kind or promotion will be removed and the user banned. Final decision will be at the discretion of the Taipei Times.