There's a rainbow over the Red House Theater
Once seedy and down-at-heel, the area around the Red House Theater has reinvented itself as a trendy spot for Taipei's gay community
"Rainbow Plaza" (彩虹廣場) is an unexpected development at the Red House Theater (紅樓劇場) in Ximen–ding, Taipei. It's the city's first openly gay area.
The public square has become a magnet for the homosexual community following the establishment of around a dozen cafe bars, with names like Gaydar, G-Paradise and Bear Cafe.
Though local office and store workers enjoy their al fresco lattes in the plaza at all times of the day, dusk sees the place flare into life.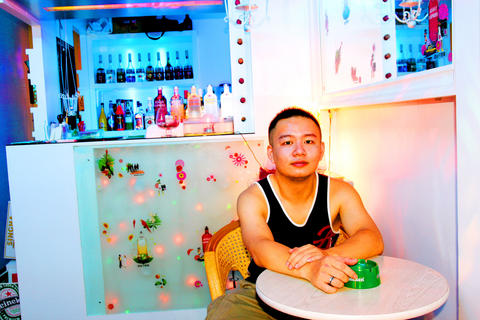 Jack can be found at G-2 Paradise, in the Red House plaza.
Ultraviolet neon signs switch on, fairy lights blink and the volume dial on the sound systems go up a few notches.
If the weather's good on Fridays and Saturdays the plaza is covered with tables full of young people meeting up before heading out to clubs or KTV.
The area and its patrons are a sign that homosexuality in Taipei has been outed from the saunas and late night parks where gay men were previously forced to meet.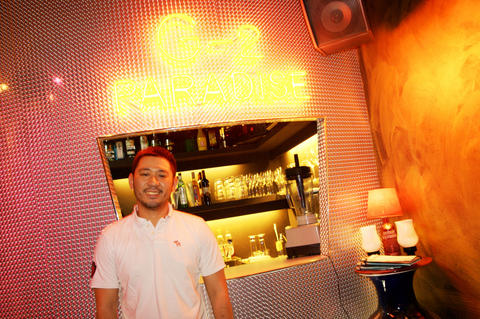 Ben Lee can be found at Gaydar, in the Red House's plaza.
"It shows that Taipei has progressed. The area is open-air and it means homosexuals are in the open too," said Bruce Lai (賴盈兆), who's from Taiwan but works in the Shanghai fashion industry.
coming out
"Before we had to go to secret places and hide. It's a sign that homosexuality is accepted," said Lai, who's a frequent visitor to the plaza when he's in town.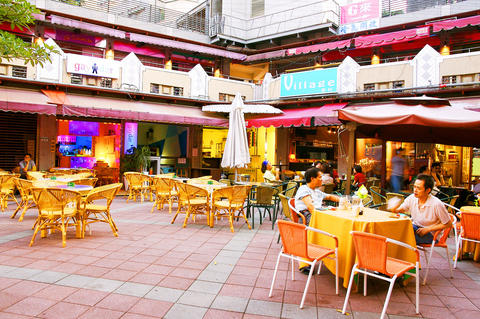 Patrons enjoy the ambiance at G-2 Paradise, in the Red House plaza.
Tetsu Huang is part of an investment group that has opened three cafe bars in the past 10 months and has dubbed the area Rainbow Plaza.
"If you go to big cities in America, Europe or Asia they all have their gay areas. This is Taiwan's," said Huang, who asked that we use only his English name, as his family doesn't know he's gay.
"This is a comfortable and healthy place for people to visit. The air is good, there's no traffic and it's a lovely atmosphere. That's why it's so popular," Huang said.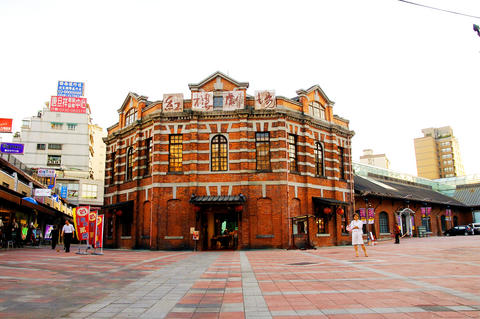 The Red House Theater has had a face lift.
PHOTOS: JULES QUARTLY
The Red House's rainbow (a symbol of gay pride) conversion was news to Taipei City Council.
Its press office expressed mild shock and dealt with our query by referring to Tina Chen (陳慈銘), secretary of the Department of Cultural Affairs.
"I've been there many times for tea and coffee but did not realize [it was gay]," Chen admitted, before adding the city council was supportive of the Lesbian, Gay, Bisexual and Transgender (LGBT) community. "Taipei government treats everyone equally."
Chen cited the council's financial and moral support of the annual gay pride parade since 2003, which ends up in the Red House plaza.
She said there were development plans on the drawing board for the nearby market buildings that would make the area a hot spot for designers and games developers.
The spread of cafe bars predominantly run by gay people for gay people has been privately led and was paradoxically started three years ago by a straight man.
Chiu Lin-hsiang's (邱麟翔) Gourmanes (珈瑪黑咖啡) is universally credited with being the first coffee shop on the block to open late.
According to Chiu it succeeded where many other stores failed because it sold Belgian beers, when few other places in town did so.
Looking good
Other bar owners, however, claimed it was Chiu's good looks that initially attracted gay men to the area.
Either way, G-Paradise and Bear Cafe opened about a year ago and the zone exploded into life.
On the Internet and among some foreigners the area is sometimes referred to as "Little Bear Village" (小熊村), which refers to a type of gay man, usually masculine and hairy.
Tetsu Huang said this was not typical of his patrons, who are mainly Asian and who he defined as "monkeys" (slimmer), muscle monkeys, otters (hairy but not big), pigs (fat), wolves (lean) and cubs (young bears).
Taiwan Tongzhi Hotline Association (同志諮詢熱線) Director of Public Affairs Clemond Hsu (許欣瑞) said the Red House had historical ties to the gay community and was used as a clandestine meeting place when it was a cinema in the 1970s.
Ninety years ago (according to its Web site, www.redplayhouse.com.tw), Red House was a public market, before transforming into a performing arts center. Currently it is used as a showroom and teashop.
Hsu explained Ximending has traditionally been homosexual-friendly and currently has many saunas, restaurants, cafes and gyms that attract gay people.
"We are very glad that such a place now exists. In the past, the media have portrayed homosexuals in a bad way and made it look like a bad thing," Hsu said.
To date, local media have not reported on the scene, though magazines in Tokyo and Singapore have. ETTV (東森電視) recently introduced the plaza's cafe bars but neglected to mention they catered mainly to a gay crowd.
"An area like this can change people's minds. Anyone can go there and see that it's a normal place with normal people," Hsu said.
"In the past we had to operate like a secret society. It's very meaningful that gays now have a space of their own."
Comments will be moderated. Keep comments relevant to the article. Remarks containing abusive and obscene language, personal attacks of any kind or promotion will be removed and the user banned. Final decision will be at the discretion of the Taipei Times.