One night in Taipei
Stars from the Royal Ballet, American Ballet Theater (ABT), the Staatsballett Berlin and the Stuttgart Ballet are flying into town this weekend to perform next Wednesday at the Taipei International Convention Center's theater.
The line-up will give ballet fans and students alike a rare glimpse of dancers from companies that usually don't include Taipei on their performance schedules as well as ballets that we don't get to see, such as Kenneth Macmillan's beautiful Manon, created for the Royal Ballet in 1974.
The evening was the brainchild of Taiwanese ballerina and former Los Angeles Classical Ballet principal dancer Wang Tzer-shing (王澤馨), who wanted to give Taipei audiences a chance to watch international superstars that they might otherwise never see. She began planning the evening more than a year ago and joined up with producer Chat Tzongui (謝宗益) and Chilean-born dancer turned ballet impresario Paul Seaquist of Seaquist Dance Marketing to make her dream come true.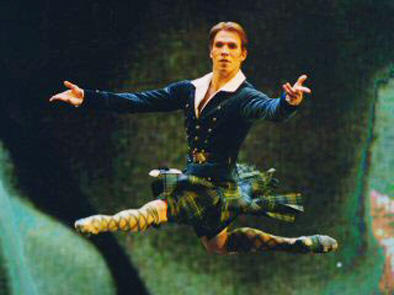 A Taiwanese ballerina has been laboring for more than a year to put together a line-up of international ballet stars for just one performance, a show balletomanes will not want to miss.
PHOTO: COURTESY OF SEAQUIST DANCE MARKETING
Gala evenings used to be the preserve of the big ballet companies, who would use them as fundraisers - in the case of American troupes - or to celebrate a major anniversary. But in recent years they have become very popular in Europe and elsewhere as the ranks of top dancers available for freelance performances has grown along with the increase of Russian and East European dancers in the ranks of "Western" companies. Looking at the lineup of dancers and their companies shows just how global the ballet world has become.
Galas are always filled with flash and pizzazz; lots of bourses, fouettes and grand jetes to demonstrate the technical virtuosity of the dancers. The dances themselves are usually the great warhorses of Russian classical ballets: pas de deux from Swan Lake, Sleeping Beauty and Romeo and Juliet, along with snippets from ballets that are rarely performed in full anymore, such as the 19th-century pirate and slave girls tale, Le Corsaire, or 19th-century Danish ballet master August Bournonville's
Flower Festival of Genzano.
Wednesday's show follows the standard formula, with some interesting exceptions. Serbian dancer/choreographer Leo Mujic will partner Ilja Louwen from the Netherlands (now with the Zurich Ballet) in two pieces that he created: Passacaglia and Taste of the lost Moment, both of which deal with couples in crisis.
The evening is divided into two parts, with six dances in each, staring off with the husband and wife team of Marian Walter and Iana Salenko from the Berlin State Ballet in the Sleeping Beauty Pas de Deux (they will also appear in the second half in Bournonville's Flower Festival.
Mikhail Kaniskin, the 28-year old Russian principal with the Stuttgart will partner one of first soloists from that company, Elena Tenchikowa of Kazakhstan, in an excerpt from Romeo and Juliet (later they will perform the grand pas de deux from Le Corsaire, an iconic piece beloved by audiences the world over and a real opportunity for the male dancer to shine.
Royal Ballet principals Roberta Marquez and Dane Johan Kobborg will perform the pas de deux from Giselle in the first half and return after intermission with the pas de deux from Manon. He had been scheduled to dance with fellow Royal principal Alina Cojocaru, but she had to pull out last month after suffering a back injury.
They will be followed by Louwen and Mujic in Passacaglia. Shoko Nakamura and Wieslaw Dudek from the Berlin State Ballet will perform the quirky Mozart Pas de Deux and then the Black Swan Pas de Deux from Swan Lake in the second half.
American Ballet Theater principals Paloma Herrera and Jose Manuel Carreno will bring the first half to a close with the White Swan Pas de Deux and conclude the evening with the flamboyant pas de deux from Don Quixote.
The evening will also be a memorable one for some Taiwanese ballet dancers, who auditioned in January for the chance to fill in the background for some of the pieces.
Given the play that the gala has been getting on blogs and other Internet postings, people are coming from all over to see the performance. The organizers are so sure that the show is going to be a success that they have already starting planning a return engagement at the TIWCC next year.
Publication Notes
Performance notes
What: International Ballet Star Gala
Where: Taipei International Convention Center
When: Wednesday, July 25 at 7:30pm
TIickets: NT$1,200 to NT$6,400; available through ERA Ticket outlets, call (02) 2341-8989 or visit www.ticket.com.tw
Comments will be moderated. Keep comments relevant to the article. Remarks containing abusive and obscene language, personal attacks of any kind or promotion will be removed and the user banned. Final decision will be at the discretion of the Taipei Times.