Hualien catches up
The government plans to turn five sites into large art venues serving communities
Huge spaces for the visual and experimental arts are few and far between in Taiwan. Taipei has the Huashan Cultural and Creative Industry Center, an old winery transformed into a huge complex for a variety of cultural events and commercial activities. And now Hualien has the Hualien Creative and Cultural Park, which had its gala inauguration last month.
With long, grand exhibition spaces in a picturesque architectural setting, the Hualien center, a onetime Japanese winery, looks similar to the Huashan park. The two are both run by arts management company L'orangerie International Art Consultant Company. Yet, according to the company's managing director, this new space will create a unique identity by focusing on the east coast and showcasing Aboriginal culture.
The Council for Cultural Affairs (CCA) aims to develop the cultural and artistic industries to improve the public's quality of life.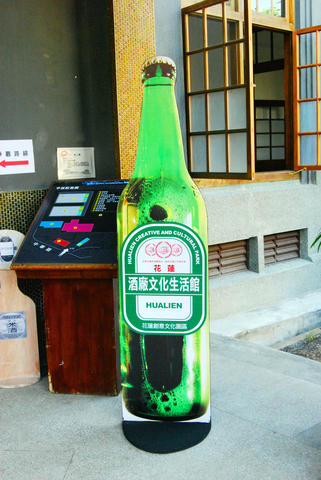 PHOTO: SUSAN KENDZULAK
Building on the success of Huashan, the CCA sought alternative venues around Taiwan and with the aid of university experts selected sites for five creative culture parks for their Cultural and Creative Industries Promotion Plan: the old Taipei Winery; the Taichung Winery; the Chiayi Winery; the Hualien Winery; and the Tainan Beimen Warehouses. Sites were selected on their ability to combine digital arts areas, performing art facilities and visual art exhibition facilities along with meeting the needs of local communities.
Built in 1925, the Japanese winery in Hualien was vacant for 15 years. The CCA had renovated four of the timber structures last year and transformed the large concrete building into an art workspace last month. To celebrate the inauguration, works by local woodcarvers Kuo Wen-qui (郭文貴) and Lin Along (林阿隆) are on displayed. Painter Yeh Xi-qiang's (葉士強) large, traditional calligraphic and landscape works are on view through July 29. In a small room, mosaicist Jong Xunli (鍾薰麗) is displaying a variety of tabletop items and wall pieces exquisitely hand-crafted in mosaic.
Future plans for the Hualien Creative and Cultural Park include artist residencies. Although there is no artist-in-residence program at the moment, Yu Wen-fu (游文富) will be a resident artist until 31 July. He will co-operate with the local community, residents, and students to install a piece of artwork at the Park.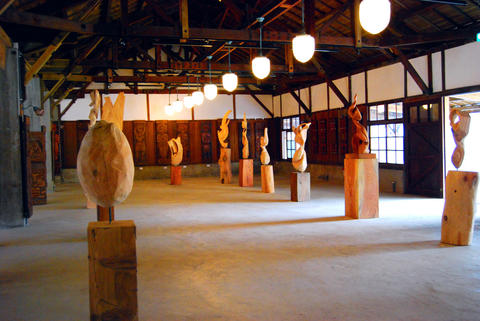 Hualien Creative and Cultural Park puts the east coast city on the arts map.
PHOTO: SUSAN KENDZULAK
It is hoped that the cultural parks will add new life to local communities, while adding a fresh commercial surge to local industries in a way that arts and culture can add to the financial future of its environment.
Art notes:
What: Hualien Creative and Cultural Park
(花蓮創意文化園區紅露館)
Where: 144 Chunghua Rd, Hualien City
(花蓮市中華路144號)
On the Net: blog.yam.com/hccpart
Telephone: (03) 832-7105
Comments will be moderated. Keep comments relevant to the article. Remarks containing abusive and obscene language, personal attacks of any kind or promotion will be removed and the user banned. Final decision will be at the discretion of the Taipei Times.