Hardcover US: The more things change, the more they stay the same
Karen Abbott's book reports on America's self-proclaimed grandest whorehouse, which spawned crusading reformers and wild tales of sexual abuse
Karen Abbott's Sin in the Second City reports on an early-20th-century phenomenon: the Everleigh Club, which opened in Chicago in 1900 and lasted 11 years as the self-proclaimed grandest whorehouse in America. In a book rife with quaint period details, Abbott presents photographs of the club's gaudy extravagance, drawings that alert innocent young women to the perils of white slavery, and memorable johns like the Everleigh customer calling himself Uncle Ned. At Christmas, Uncle Ned would plant his feet in buckets of ice, drink sarsaparilla and order the house's "butterflies" to circle him while they sang Jingle Bells.
Why, then, is this book so current? Because everything and nothing has changed. The book describes a popular culture awash in wild tales of sexual abuse (described by an ex-mayor of Toledo as "a sort of pornography to satisfy the American sense of news"), crusading reformers claiming God on their side, and deep suspicion of the threat posed by "foreigners" to the nation's Christian values.
There is even the McMansion-minded excess of one Chicago madam who, upon seeing her rivals, Ada and Minna Everleigh, in a carriage pulled by four tassel-wearing horses, insisted that her own carriage have six. And there is a touch of today's news in the way a madam with politicians for clients can wreak havoc because she can name names.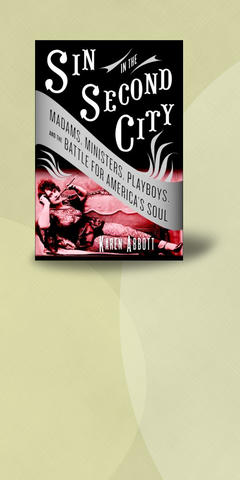 Sin in the Second City: Madams, Ministers, Playboys and the Battle for America's Soul By Philip Jenkins, 344 Pages, Oxford University Press
Famous as they once were, the Everleigh sisters have been sufficiently forgotten to fill Sin in the Second City with outlandish surprises. These sisters claimed to be "the only madams in history who had started out as debutantes instead of whores." Whatever their pedigree, they stopped at nothing to attract attention. They created a big-ticket Chicago institution that boasted a gold piano, designer spittoons, perfume fountains, a lavish menu, a replica of Bernini's Apollo and Daphne sculpture, mirrored ceilings and as many froufrou trappings as the place could hold. "A man who came to their house would see everything he wanted to and nothing he didn't," Abbott writes, "and he would never feel rushed or cheated, disillusioned or alone."
But he might have felt jittery about the mounting reform movement that surrounded the Everleighs' operation. Even as business boomed and the Everleighs cosseted their clients, the place was less sturdy than it looked. The excesses of the Everleigh Club, along with those at its much coarser neighboring brothels in the Levee district of Chicago, would help prompt the Mann Act, meant to prevent "white slave traffic." Such antics also spurred the creation of a branch of the US Justice Department, a Bureau of Investigation that would evolve into the FBI.
The sisters' defiance and sharp business acumen kept them on such a friendly footing with Chicago gangsters, saloon keepers and politicians that it also kept them out of jail. Any tale of their accomplishments involves their great skill at co-opting opposition. (State legislators were always entertained free.) They also successfully fended off anti-sin crusaders of many stripes, and did so without apology. Years later, when they changed their names and moved to Manhattan, their nude paintings and other erotica would be explained as relics handed down by dear old granddad.
So Abbott has a mother lode of material to work with. Even this book's minutiae, like the way the phrase "getting Everleighed" was abbreviated into "one of America's bawdiest idioms," makes for good storytelling. She provides a clear historical context for the Levee district's wild abandon as she chronicles rising demands toward reform. And she writes with frankness about the particulars of prostitution, although a misguided sense of decorum prompts her to use the word harlot incessantly. Surely there are synonyms for everything when the cast of characters includes Merry Widdo Kiddo, Michael "Hinky Dink" Kenna and Suzy Poon Tang.
Sin and the Second City is assiduously researched. And it is well put together, mixing brief and longer chapters rather than striving for a more arbitrary format. But Abbott has to narrate and debunk, and her task is complicated. She had to wade through mountains of tabloid coverage about young women forced into prostitution; one such case, about a woman named Mona Marshall, whose story did not stand up to close scrutiny, generated about a half-million pages of newspaper attention. It's no small matter to sift the facts from the hyperbole.
Abbott also had to contend with the mixed blessing of Minna Everleigh's mythmaking. Minna's stories, many spoon-fed to a writer named Charles Washburn for Come Into My Parlor, a book Abbott cites frequently, have a theatricality that wards off any candor. Some even border on vaudeville. "Come, I'll show you where a man put his hand last night," Minna supposedly told a handyman when the brothel's Gold Room was damaged. "If it's all the same to you," came the rejoinder, "I'd rather have a glass of beer."
Sin and the Second City winds up requiring greater intimacy than Abbott can deliver. It's hardly surprising that a book about prostitution has a basic remoteness; after all, Abbott has no firsthand sources and is dealing with characters who dissembled and exaggerated to earn their living. And the Everleighs prove especially resistant to scrutiny. They both reduced their real ages by 12 years, and part of their early history remains mysterious. Ada was signing holiday greeting cards with Minna's name in December 1948, three months after her sister had died.
This book cannot fathom the sisters, but it has a sadder kind of candor. One report on turn-of-the-century prostitution finds a young woman who says, "I ain't ashamed of what I did," even though she began selling herself as a 7-year-old. Since her mother was also a prostitute, she equates herself with a boy whose father runs a grocery. "He helps him in the store," says this speaker, whose story is echoed endlessly in Abbott's ultimately grim story. "He helps him in the store. Well, my mother didn't sell groceries."
Comments will be moderated. Keep comments relevant to the article. Remarks containing abusive and obscene language, personal attacks of any kind or promotion will be removed and the user banned. Final decision will be at the discretion of the Taipei Times.