Quick-fingered boys make way forthe masses
John Riccitiello, head of the world's top video game publisher, aims to change the way we play
John Riccitiello is assembling his video game legions, and he wants you.
No, not you, desensitized, caffeine-mainlining, virtual-gun-toting twitch artist. No, not you, high school Madden fiend or video basketball jock. After all, he's already got you in his back pocket.
He wants to sign up everyone else. That means you, soccer mom. That means you, cubicle-dwelling Dilbert clone. That means you, seventh-grade girl. You may not think of yourselves as gamers now, but if Riccitiello has his way, you just might soon be.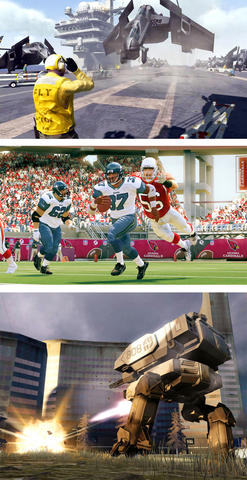 Scenes from Electronic Arts' video games Crysis, Madden NFL 07 and Battlefield 2142.
PHOTOS: NY TIME NEWS SERVICE
He has embarked on this mission since taking over as chief executive of the world's number one game publisher, Electronic Arts (EA), last spring. The problem is that despite selling more games than anyone else, his company, like much of the industry, has largely fallen into a creative rut. Although EA has set the industry's overall tone both creatively and strategically since the mid-1980s and still generates about US$3 billion in annual sales, it has not seen its revenue grow for the last four years.
And after canvassing thousands of the company's employees around the world, after assessing media companies of every stripe as a private investor and, most important, after making his thumbs sore with hundreds of hours jumping, dodging and shooting, Riccitiello thinks he knows why: Its games are just too hard to play.
While the popular conception of video games is that only the bloodiest, most violent titles succeed, the most important industry story over the last few years has been the blockbuster success of Nintendo's Wii console and games like World of Warcraft and Pokemon, which cater not to the game geek but to the noobs (the updated slang for "newbie") in the mass audience.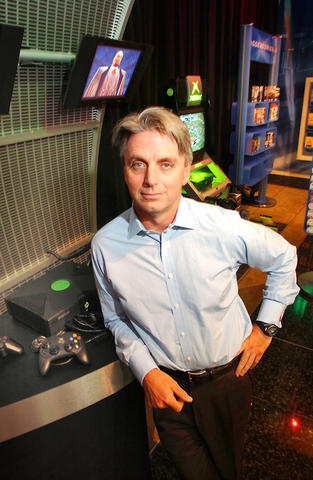 John Riccitiello, Electronic Arts' chief executive, thinks the future of gaming is easier games.
PHOTO: AP
Electronic Arts has had its own mass market hit in the family simulation franchise The Sims, which now accounts for about 13 percent of the company's revenue. But, as Riccitiello well knows, the company has remained too focused on conventional young-guy-centric franchises like Madden Football, Need for Speed, NBA Live and Medal of Honor.
"We've become a niche," he said recently at company headquarters here, in his first major interview since taking over in April. "Eighty, 90 percent of the resources that are put into play by us and most of our competition are in building sequels of games that super-serve teenage boys with fast thumbs."
So now Riccitiello is embarking on a project that entails nothing less than trying to redefine what video games are and, just as important, what they are perceived to be in modern pop culture.
For Riccitiello personally, that means speaking both as EA's chief executive and as an industry leader. "We're starting to be an art form and can have a massive cultural impact globally similar to television in the 1950s," he said. "But we could also become ham radio. We could go down the path where we're just reinforcing what we've done in the past, and we need to reinvent ourselves."
As the movers and shakers of the game world convene in Santa Monica, California, for the industry's top annual conference, called E3, which begins Wednesday, Riccitiello's effort to drive games toward the cultural mainstream will almost surely become one of the event's touchstones.
Since the early 1990s the majority of the industry - which along with EA includes giants like Sony and Microsoft - has essentially ignored most of the world's population while continuing to chase the same narrow cadre of young men who are prepared to spend up to US$60 on games that can take dozens of hours to complete. For decades that was good enough. But in recent years sales of traditional games have stagnated while titles and systems aimed at a more mainstream audience have become the fastest-growing part of the business.
The first people really to understand that mainstream consumers could be enticed into gaming were senior Nintendo executives in Japan. A few years ago they realized they would never be able to compete with technical heavyweights like Sony and Microsoft in delivering the most realistic slavering monsters and spaceship explosions. But their true vision was in realizing they didn't have to.
Instead Nintendo basically wrote off the quick-fingered boys in the basement and focused on everyone else with its hugely successful Wii console. Wii games tend to be family oriented, and users merely swing and twist the controller instead of having to master complicated combinations of buttons and triggers.
After three years outside the game industry at a private equity firm he helped found, Riccitiello too now sees the big picture. (He was previously at EA from 1997 to 2004.) And since Electronic Arts makes games for all devices, not just Nintendo's, he may be the best-positioned person to bring video games to the masses.
To him that means making games more accessible. That means subject matter that is less violent yet fun. (EA's game Rock Band this year will put the company up against Activision's successful Guitar Hero music franchise.) That means offering more games that you don't have to pay US$60 up front to play. It means learning to cook in Asian styles rather than trying to force feed American-style games to the millions of ravenous gamers in Asia. (They have their own tastes, thank you very much.)
"If the EA of four years from now isn't a bunch of properties you haven't heard of on a bunch of business models that aren't familiar to you," Riccitiello said, "and if most of them can't be picked up the first time by your mother and she can't have fun with it, we won't be the company I want us to be."
The big danger of his strategy is that he might invest hundreds of millions of US dollars in trying to broaden his audience and lose focus on his core customers - that is, young men.
But many of the pieces for a transformation are in place. EA is already the biggest maker of games for mobile phones, via its 2005 acquisition of Jamdat. More impressive, the company's Pogo casual games site has more than 1.5 million subscribers; more than 60 percent of them are women over 30. Like other casual game operations, EA has discovered to its surprise that older women are the top consumers of Web games that are easy to play.
Most of EA's games, though, don't fall into that category.
"I've been doing this test, and it's fun, though it's embarrassing," Riccitiello said. "I've been giving speeches or presentations to six thousand or seven thousand of our employees around the world, and I say, 'All right, raise your hand if someone close to you has said the reason they don't buy our games is because they are too hard to play.' I get 100 percent, maybe 95. And then I say, 'Leave your hand up if you don't buy our games besides the one you work on because they are too hard to play.' Seventy-five percent stay up."
He delivers the punch line with a rueful laugh: "What does that tell you? Our games are too hard to play."
Comments will be moderated. Keep comments relevant to the article. Remarks containing abusive and obscene language, personal attacks of any kind or promotion will be removed and the user banned. Final decision will be at the discretion of the Taipei Times.