Turn on the bright lights
The Strokes and Yeah Yeah Yeahs helped rejuvenate rock 'n' roll in the Big Apple, only to become mainstream disappointments. Will Interpol be different?
Carlos Dengler, better known as Carlos D., the bassist and keyboardist for the moody New York band Interpol, is out of his self-described hedonist phase.
"I used to be a party person," he said. But around last July, he recalled, "I was like, you know, I've had enough of all this 'Where's the next party?' and 'What's the next coolest bar?' and 'Let me dress up for this.' I really lost the motivation to be in that."
Besides, he added: "I think I've done a lifetime's worth. I mean, wow."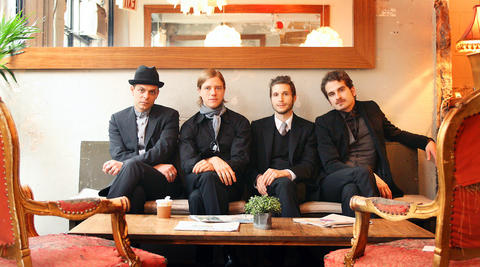 Post-punk revivalists Interpol release their third album on July 10. The band's current members are, from left: Sam Fogarino, Paul Banks, Daniel Kessler and Carlos Dengler.
PHOTO: NY TIMES NEWS SERVICE
None of the members of Interpol have been going out much, despite that dandyish quartet's reputation for louche behavior at various Lower East Side haunts. Sure, when they played a sold-out "secret" show at the Bowery Ballroom recently, they had an afterparty. But it was at a restaurant, the Spotted Pig. And even then, the group's lead singer, Paul Banks, returned to his hotel to finish watching a movie first.
"Clarity," said Daniel Kessler, the lead guitarist, "becomes more and more attractive."
Especially now, as Interpol prepares to release Our Love to Admire, its third album and its first for a major label, on July 10. Just a few years after helping to rejuvenate the New York rock scene, many of the band's peers - the Strokes and Yeah Yeah Yeahs among them - proved to be mainstream disappointments. Interpol had been the subject of intense major-label interest since its first album, 2002's Turn on the Bright Lights.
"When we signed them, they were probably the hottest American band available," Andrew Slater, the former chief executive of Capitol, said. "I think they can be the most important band to come out of New York in a long, long time."
The Heinrich Maneuver, the first single from the forthcoming album, is rising on the Billboard modern-rock chart, and a tight set at the recent Coachella Valley Music and Arts Festival got blog attention (good and snarky).
"They're an amazing band to work with in their intense professionalism," said Chris Lombardi, co-president of Matador Records, the indie label that released the band's first two albums. "They certainly had a vision in their minds. They saw the big picture and they moved in very careful steps to achieve some sort of growth in their career with every step that they made."
Kessler formed the band in 1998 after meeting Dengler at New York University, where both were students. Banks, whom Kessler met at a school program in France, was next to sign on. The group survived changes in lineup (Sam Fogarino, the current drummer, joined in 2000) and facial hair (more of it for Kessler and Dengler).
In its early years, it was so rare for a New York band to play an attention-getting local gig that clubs like the Bowery Ballroom organized promotional showcases. Matador signed Interpol in 2001 after Lombardi was impressed with the music's "angularity" at just such an event.
"They weren't a drunken, sloppy rock 'n' roll band," he said. "It's rare that you sit down with a band for your first meeting, and they're all wearing suits."
Impressive as the band's style might have been, Interpol still had to contend with turmoil, from the fallout of their hard living to the dismissal of Slater (he was ousted soon after signing the band to Capitol) to the heightened expectations of their major-label debut.
"It's like, the better you get, the harder things become, because you're pushing the envelope," Fogarino said.
In three interviews over two days in a half-dozen nonalcoholic locations, the band's members talked about ambition and the perils of fame, for humans and pets. (Dengler is worried that his Italian greyhound, Gaius, a publicity photo star, is suffering from too much attention.)
They did not, however, want to talk about their suits.
"There's been a lot of stupid attention on different facets of this band from the beginning, and one of them is the fashion," Banks said. "And for us it's sort of like, so? It just so happens that we all kind of come together on the formal side of things."
That formality extends to how the members interact. The band is governed by a sort of enforced democracy, with the exception of the baroquely obtuse lyrics ("I'm a pit bull in time"), which Banks writes solo. (Few people, including Banks' band mates, seem to grasp the origins of these songs.)
"We have a very complicated band chemistry," Kessler said, "but I think we all understand how we're going to move this Ouija board together now."
They do this partly by keeping busy individually. When they are on break from their current world tour, the members plan to hole up and work on solo projects: Kessler is learning the piano; Fogarino has another band, the Setting Suns; Dengler is making a movie and composing film scores; and Banks is learning to be more Zen.
"We're not offering ourselves to people on the same terms any longer," Dengler said. "I love messing with people's expectations."
Comments will be moderated. Keep comments relevant to the article. Remarks containing abusive and obscene language, personal attacks of any kind or promotion will be removed and the user banned. Final decision will be at the discretion of the Taipei Times.