Restaurants: Blessing (種福園)
Address: 106 Huaining St, Taipei(台北市懷寧街106號)
Telephone: (02) 2371-4933
Open: 11am to 2pm and 4:30pm to 8:30pm on weekdays; 11am to 2:30pm and 4:30pm to 9pm on weekends and holidays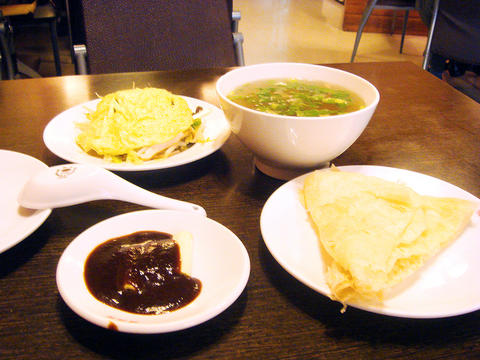 Blessing wraps it all up.
PHOTOS: RON BROWNLOW, TAIPEITIMES
Average meal: NT$290 per person
Details: Chinese menu; credit cards not accepted
Blessing has a window where pedestrians can see staff make jin bing (斤餅), or flour wraps. Both are signatures of restaurants that serve dongbeicai (東北菜), the food of China's three northeastern provinces. Blessing specializes in comfort foods that can be wrapped in jin bing, such as stir-fried vegetables with a scrambled egg "hat" (合菜代帽), shredded pork with bean sauce (京醬肉絲) and shredded pork with dried tofu (干絲豬肉絲). At Blessing these dishes are made with just the right amount of oil: enough to carry the flavor of scallions and chilies but not greasy.
The grid of alleys and old buildings between 228 Park and Ximending is home to several well-known hole-in-the-wall restaurants. Most are difficult to locate, even for repeat visitors. Not Blessing. Take the MRT to the National Taiwan University Hospital Station and walk through 228 Park to Huaining Street. Cross the street and look for the person in the window who's stretching, coiling and rolling oil-drenched dough into jin bing.
Don't visit Blessing for the ambiance. The restaurant looks new on the inside, but it won't win any design awards. It's hard to go wrong with an exposed ventilation system, track lights and a hardwood wall, but squeeze these into a narrow storefront and the whole is less than the sum of its parts, especially when the walls are painted a dark shade of mauve and the chairs are brown pleather.
Blessing will also not score points for service. Staff are efficient but can make the customer feel rushed to order. On one of two recent visits the jin bing maker, a middle-aged man with a crew cut, took a call that quickly ended with him barking "You're crazy!" and slamming the phone into the receiver. At first this was not surprising: Dongbei natives are famously loud and direct. But a waiter later said that the restaurant's founder is from Keelung, not China.
A date place this is not. Nor is this a place to visit alone, because it's no fun only ordering one kind of filling for your jin bing. Blessing is a good place for families or groups. The jin bing are about as well-made as you can get: light and fluffy but capable of holding lots of filling without breaking. And the menu lists a big variety of things to put in the jin bing, as well as tasty sides like stewed beef soup (清燉牛肉湯), a light broth with melt-in-your-mouth chunks of beef, cilantro and scallions.
Comments will be moderated. Keep comments relevant to the article. Remarks containing abusive and obscene language, personal attacks of any kind or promotion will be removed and the user banned. Final decision will be at the discretion of the Taipei Times.