The Vinyl Word
The only three-word phrase in the English language that sounds better than four-day weekend is wine and dine. That's because we all know what is coming for dessert. One party pooping government official must not be getting his share of rub and tug because he decreed that the working masses must make up for all of the dragon boat revelry by working this Saturday. This killjoy and his poorly executed call to arms hasn't stopped the O-Brothaz Sound System from taking over Hips tonight for a Caribbean music spectacular. Along with their usual reggae and dancehall, there will be some reggaeton thrown down by DJ Morach. Once thought of as the bastard stepchild of real Jamaican music, reggaeton is slowly gaining acceptance in the musical world. Lion, restaurant owner extraordinaire and one-third of the O-Brothaz collective explains, "Dancehall and reggae are unique because of the structure of the riddims. Reggaeton has simplified this and created its own vibe. This is good in a sense because more people are listening to the music we love."
The party starts early in Taichung on Saturday night at Chifunk's Urban Funk Festival. From six to midnight, Alu Cafe Amphitheater near the baseball stadium will be pulsating with the rhythms of Two Hands, Subtle, Lazy Daze, and 4in Funk Affair to celebrate the Summer solstice. Stencil art, local vendors, and Tibetan monks will be on hand so the unexpected is expected.
Back in the capital city, two new DJs are itching to get their needles dirty in the muddy basin of the Taipei nightlife scene. Digit and 9 Pin are hosting Keep It Funky at PS Caf? and promising that they will do just that. Just down the street, Luxy's Lohan/Hilton/Spears-inspired House Biaaatch stars Steve Smooth alongside the delectable debutante duo of Cookie and Nina.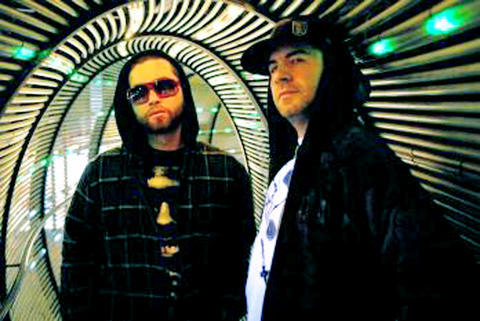 Grand Theft and DR One bring Classic Material.
PHOTOS: TEAM CNANDA
If you happened to catch Team Canada setting fire to the speakers at Party Room last year, then you know what's in store for the opulent Room 18 coterie on Saturday night. DJs Grand Theft and DR One have been on a major tear since they last visited these shores with the release of their highly acclaimed Classic Material mixtape. Almost instantly, Team Canada was thrown to the forefront of the mash-up movement because they seamlessly amalgamated the blue-eyed soul of Joe Walsh with witty Detroit Rock City lyricism of Eminem while also brilliantly integrating Beck's Loser into Buju Banton's Champion. This tremendous tag team will have their second volume of Classic Material with them and the public should do what they have to do to get their hands on it. Team Canada will also be featured at the Sunday Breeze Pool Party with Soundmind, Hooker, and Junior and Megan.
For three weeks, Play, Wednesday's soiree for mature house music lovers at Paulina's, has been on hiatus. No more as Owl T graces the ones and twos for her last dance in Taiwan. Joining her will be electronic guru, Viba, and his chilled out sounds.
Comments will be moderated. Keep comments relevant to the article. Remarks containing abusive and obscene language, personal attacks of any kind or promotion will be removed and the user banned. Final decision will be at the discretion of the Taipei Times.