Reel News
James Bond has a new handler.
Marc Forster will direct the next Bond adventure, due out Nov. 7, 2008.
"I have always been drawn to different kinds of stories and I have also always been a Bond fan, so it is very exciting to take on this challenge," Forster said in a statement Tuesday from Sony Pictures, one of the studios behind the Bond franchise.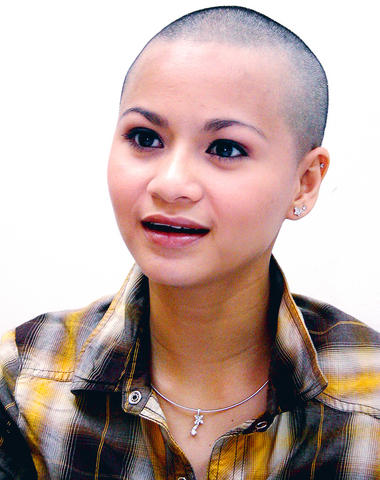 Sharifah Amani Syed Zainal Rashid has been criticized for her lack of hair.
PHOTO: AP
"The new direction that the Bond character has taken offers a director a host of fresh possibilities," said Forster, director of last fall's Will Ferrell comedy Stranger Than Fiction, Monster's Ball, which won Halle Berry the best-actress Academy Award, and Finding Neverland, a best-picture Oscar nominee.
Daniel Craig will return to play Bond after his debut as the British superspy in last year's Casino Royale, a hit with critics that became the top-grossing Bond movie with nearly US$600 million worldwide.
The not-yet-titled 22nd Bond movie begins shooting in London this December.
Marc Forster is James Bond's new handler.
PHOTO: EPA
Forster worked with Sony on Stranger Than Fiction, which starred Ferrell as a meek tax accountant suddenly able to hear the voice of a mysterious narrator in his head recounting his life and foretelling his death.
A new Malaysian film is under fire from Islamic clerics because the lead actress completely shaved her head for the role, an act that they say violates Muslim tenets by making a woman look like a man.
The controversy over prominent director Yasmin Ahmad's latest movie Muallaf highlights a growing conflict in Malaysia between hard-line conservatives and those who favor a more moderate form of Islam.
Julia Roberts has given birth to her third child.
PHOTO: AP
In the past, some muftis, or religious leaders, have proposed banning reality TV shows, saying they glorify Western culture.
Both Yasmin and her lead actress, Sharifah Amani Syed Zainal Rashid, are Muslim.
"I didn't expect this uproar," said Yasmin, whose previous films have also run into controversies.
"But come to think of it, it's a Yasmin Ahmad film. ... Overseas it's always been good news. But here I get a lot of trouble." After Yasmin completed shooting Muallaf, photographs of Sharifah Amani with a bald head surfaced in the media last week, causing two outspoken muftis to publicly criticize the film.
"In Islam, a woman cannot act like a man, and a man cannot act like a woman," said Harussani Idris, the mufti of northwestern Perak state. "Women should have long hair ... . To act, I don't mind. But to violate the religious law, I won't allow that." Harussani said Muslims should not watch the movie, while another cleric, Mohamad Tamyis Abdul Majid of central Selangor state, said there should be tighter guidelines for artists to prevent what he called degrading actions, local media reported last week.
Malaysia's muftis command wide respect among Malay Muslims, who comprise nearly 60 percent of the country's 26 million people, but their influence is limited mainly to issuing edicts on major religious issues. Their criticism of Muallaf - which means a person who has converted to Islam - does not constitute an obligatory instruction for Muslims.
Yasmin denied she was trying to insult Islam, saying the film is about how three youngsters deal with their unsympathetic parents.
Sharifah Amani, 21, who usually has long black hair, has told local media it was emotional to cut her hair but she did not regret it.
Sharifah Amani has also acted in Yasmin's best-known movie, Sepet, a love story about a Malay girl and an ethnic Chinese boy, another bold theme given racial sensitivities in multicultural Malaysia.
Oscar-winning actress Julia Roberts gave birth this week to a baby boy, her third child with husband Danny Moder, People magazine reported on its Web site.
Roberts and Moder, who are also parents of two-year-old twins, welcomed Henry Daniel Moder at a Los Angeles hospital, her spokeswoman told People.
"The Moder family is doing great," Marcy Engelman said.
Engelman was not immediately available for further comment.
Roberts, 39, who won an Academy Award for playing the title role in the 2000 film Erin Brockovich, married Moder, a 38-year-old cameraman, in 2002 at her ranch in New Mexico.
Roberts gave birth to twins Phinnaeus and Hazel in November of 2004.
Comments will be moderated. Keep comments relevant to the article. Remarks containing abusive and obscene language, personal attacks of any kind or promotion will be removed and the user banned. Final decision will be at the discretion of the Taipei Times.