Visions for Shida
Travel writer and gourmet Han Liang-lu (韓良露) thinks Taipei's Shida (師大) neighborhood can be a cultural quarter like New York's East Village or London's Notting Hill.
"An ideal city is made up of many urban villages," Han said. "A city without a human touch is one where villages disappear in the face of urbanization, as in the case of modern Beijing or [the old] Taipei. Only when a city reaches a certain degree of maturity will its inhabitants rekindle their interest in the idea of the neighborhood."
With countless distinctive businesses that not only "earn money, but earn a living," to use Han's words, the Shida neighborhood is a place where people come not just for shopping but also for music performances and art exhibitions, to hang out with friends or while away the time.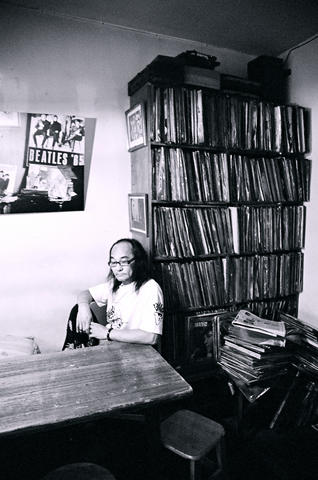 A series of black-and-white photographs on exhibition at South Village illuminate the Shida neighborhood's distinct culture and vitality.
PHOTOS: COURTESY OF SOUTH VILLAGE
"As Taipei has become more and more mature, we want to let young people to realize that we are in fact living in a fascinating city not unlike New York or London," Han said.
A series of upcoming events will celebrate this idea. South Village's (南村落) soft opening party this weekend is only open to people with invitations due to limited space. This will be followed by theme parties, classes on local culinary culture and festivals celebrating the culinary traditions of other cultures.
Performances will include local world-music outfit Siyu Sitar, classical Indian dance performer Resmi Girish and art-fair celebrity Hsia Hsia (夏夏) as well as an exhibition of black and white photo works by Chen Wen-fa (陳文發) that capture the neighborhood's vitality and distinct culture. (These photos can be viewed by appointment.)
Outdoor art festivals are also being planned that will bring together a network of stores, cafes and art spaces in the neighborhood to encourage community participation, Han said.
In addition to holding art and culinary events, South Village will work on other cultural projects, such as helping to set in action plans to renovate the former residencies of intellectual and writer Liang Shi-chiu (梁實秋) and liberal thinker and democracy pioneer Ying Hai-kuang (殷海光). South Village will also display works by local photographers, rotating them every two months.
For your information:
South Village is located at 10, Ln 80, Shida Rd, Taipei (台北市師大路80巷10號). Future courses, activities and festivals will be listed in the South Village newsletter, which will be available at stores in the Shida neighborhood. For more information, call (02) 8369-2963.
The Web site, http://www.southvillage.com.tw, is currently under construction.
Comments will be moderated. Keep comments relevant to the article. Remarks containing abusive and obscene language, personal attacks of any kind or promotion will be removed and the user banned. Final decision will be at the discretion of the Taipei Times.