Mountain bikers carve out dream terrain
Not far from the biking mecca of Moab, Utah, off-road enthusiasts have created a spectacular network of trails among the mesas near Fruita, Colorado
There is a spot on the Zippety trail, a sinewy, 25cm-wide track of hard-packed dirt near Fruita, Colorado, where the sides drop away so steeply it's like biking down the tip of a knife blade. It's the kind of trail that demands a pause before you commit yourself, so I gazed out over the broad Grand Valley to the snaking Colorado River and the red sandstone towers of the Colorado National Monument beyond.
People in Fruita — the ones climbing out of full-size pickups in wide-brim cowboy hats and snakeskin boots — tend to call this God's Country. That's fine, I thought. I could use the good vibes.
Click. My cleats settled into the pedals, and my front wheel dropped over the block of stone that starts the narrow, impossibly pitched ride. The knobby tread of tires grabbed the dirt as my weight slid back, so far that the seat grazed my navel.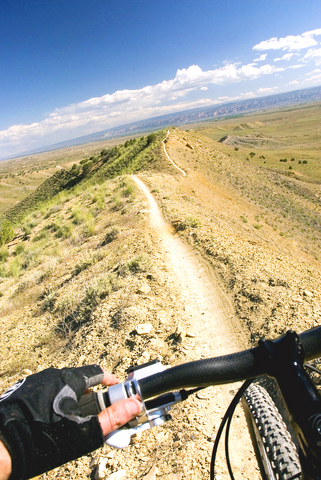 World-reknown single track mountain biking on a trail called Zippety, off 18 Road in Fruita, Colorado.
PHOTOS: NY TIMES NEWS SERVICE
Brake discs started to howl. Surely the bike was about to twist out and pitch me headlong into the hot, dry air. But just as quickly, the moment passed — I was still riding. Gravity had been cheated.
It's experiences like this that keep bringing people to Fruita, a once-struggling, now fast-growing town of roughly 10,000 perched not far from the Utah state line, home to arguably the best, and least-known, mountain biking in the United States.
That's a bold billing for a town that has grown in the shadow of Moab, Utah, about an hour and a half away. But Fruita (FROO-tah) has all the thrills and geological magic of Moab without the crowds, Jeeps and neon signs that have turned that place into a sort of amusement park of the Western landscape. It has managed to preserve a feeling of community and authenticity.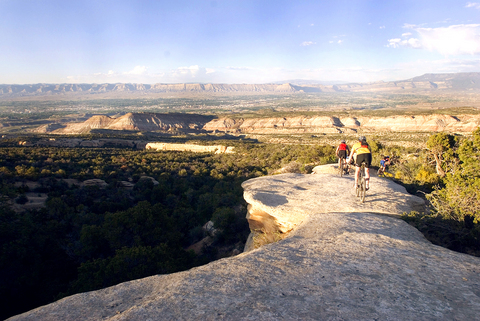 Trails like The Ribbon, outside Grand Junction, Colorado, seen in May, 2007, offer as much of the famous sandstone "slickrock" as nearby Moab, Utah.
Just over 10 years ago, Fruita was a depressed agricultural town with an oil refinery being shut down by the Environmental Protection Agency. Then, Troy Rarick, a 44-year-old cyclist from nearby Grand Junction, conceived a plan to transform Fruita by giving it a new identity: ecotourism hub.
"So many people were driving from Denver to Moab," Rarick said. "Fruita is surrounded by 800,000 hectares of public land. Why was there nothing here?"
In 1994, Rarick bought a downtown storefront for US$26,000 and recruited a band of residents to build trails in an area on the north end of town called 18 Road, where broad, high mesas erode in 1,000m plumes that slope down to the verdant valley floor. Official trails would have taken years to permit and then would have been built as "multiuse," which for mountain bikers translates to "awfully boring."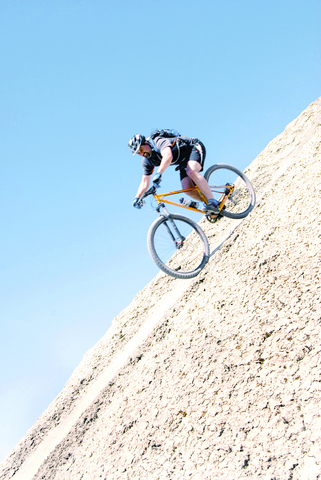 David Anderson keeps his weight back on the steep descents of 18 Road, near Fruita, Colorado.
So Rarick's crew surreptitiously tromped through the vast US Bureau of Land Management territory with shovels, meticulously designing what many mountain bikers would describe as their dream terrain, trails replete with steep banks and mad twists and turns.
While the trails were being carved, Rarick opened a bike shop, Over the Edge Sports; organized an annual festival; and lobbied the town council to recast amenities for visiting cyclists. Today the joke is that in Fruita, bikes outnumber people.
In April, more than 2,000 visitors flooded in for the 12th annual Fruita Fat Tire Festival. Where once they would have found a downtown of dilapidated buildings corralled around a single stoplight, instead they encountered shops, restaurants and a brewery, which offers, for those inclined, a local specialty: Rocky Mountain oysters.
The main attraction, though, is Fruita's several hundred kilometers of single-track trails.
They are grouped in three stylistically distinct areas. The smooth blade-like tracks and dirt mounds are at 18 Road. The Kokopelli trailhead, which eventually leads all the way to Moab, offers a dozen or so classic and difficult desert rides like Mary's Loop and Horsethief Bench on wide swaths of bright red stone, often with ledges overlooking the Colorado's chocolate currents.
And near Grand Junction, the Tabeguache area, also coined Lunch Loops, offers a mountainous combination of steep climbs, rocky washes and some of the most expansive slickrock riding outside of Moab.
One evening, I joined a group heading out for an ambitious descent of a Lunch Loops trail called the Ribbon. Damian Calvert, a wiry, energy-charged athlete from Albuquerque, New Mexico, was vacationing with four friends, including David Velez, who had come all the way from Roswell, Georgia, and had never been out West. They were hungry for trail.
"This won't take long at all," Calvert said. "I mean, it's all downhill."
We arrived in the Lunch Loops parking lot, a few kilometers outside Grand Junction, about two hours before sundown. Temperatures had reached 32oC, but as the sun went down a breeze picked up, and the red desert sandstone began to discharge its heat.
"You all might want to bring headlights if you're going up there," said a ragged, sweat-soaked biker in the lot. The Ribbon, starting 610m above us, is one of the original Fruita-area trails, and a classic. But on the Ribbon, unlike the paths at 18 Road and Kokopelli, such tourist-coddling accouterments as trail markers were never added.
Another biker drew us a map in the parking lot's dirt. "Stay to the right," he advised, stabbing a finger at an ambiguous shape that could represent a slickrock section of 12m, or 120m. Heading down the wrong drainage could leave you standing at the rim of a hanging valley with a long walk back up, he warned us. "Over here, it's all drop-offs. You ride off of that and you're finished." Calvert just grinned.
A bit later, riding fast in a tight group, we burst out of the brush and onto an expanse of sloping rock 90m across, pitched at a 30-degree angle. The sun's rays, now horizontal, glinted off our rims and theatrically lighted one edge of the rock, a white line drawn across the orange landscape.
This was the sandstone ridge we had heard so much about. On either side, the stone expanse gave way to airy drops of perhaps 30m to dirt-filled gullies below. We cruised along at 64kph as the platform narrowed to a 3m-wide tongue, then we slowed to a crawl to ease our bikes over a still-steeper bulge. Somehow the soft rubber of our tires stuck to it like glue.
From there, the trail earned its name, unfurling like a ribbon draped over the back of a chair and left to cascade all the way down to the floor. We dropped through creekbeds, climbed over ridges, shot across stretches of open sandstone that shoehorned down into the valley.
In the twilight afterglow, we rested. "Look at it," Velez said. "I've never seen a place like this."
Above us, red and orange rock swirled like flames in towering mushroom-like forms. Beyond them, the canyons and towers of the Colorado National Monument loomed shadowy in the distance.
A lizard, stout and spiky, scuttled across the trail, a single track that curled down through sagebrush, into the darkness on the valley floor.
Comments will be moderated. Keep comments relevant to the article. Remarks containing abusive and obscene language, personal attacks of any kind or promotion will be removed and the user banned. Final decision will be at the discretion of the Taipei Times.