First, violin
Music is in the air at Boston's Conservatory Lab Charter School -- and in the curriculum too
Ten-year-old Isaiah Simmons is the picture of concentration as he carefully makes his way through a solo violin version of the venerable folk song Old Joe Clark.
His classmate Bernard White, however, is eager to play along on his own violin. So Bernard politely asks his teacher, Mona Rashad, "Can I try to play the harmony to it?" She shakes her head in a firm no. But Bernard, a 10-year-old, is not defeated: He tucks his chin to his chest and proceeds to play air violin, pantomiming the bow strokes along with Isaiah.
Literally and figuratively, music is in the air at Boston's Conservatory Lab Charter School — and in the curriculum, too.
Plenty of US elementary schools teach music, but how many require students to attend a 45-minute music class every day, and to take half-hour violin lessons twice a week, and to practice every night? How many issue a violin to each student in first grade, which he or she gets to keep until graduating fifth grade? How many organize the entire educational experience around music?
"At most schools, you don't get to learn how to play an instrument," Bernard says a few minutes after he completes his own solo. "You just do one thing. But music and math kind of go together." Adds Isaiah: "Music helps me do other things."
Researchers — and parents — tend to agree. Maybe that's why there's a waiting list of more than 600 for a spot in the Conservatory Lab Charter School, a racially and ethnically mixed elementary school in Brighton for mostly low-income Boston youngsters. Thursday afternoon, all 132 students will take the stage at Jordan Hall for a year-end concert during which they will showcase the kind of learning that can't be measured by a standardized test.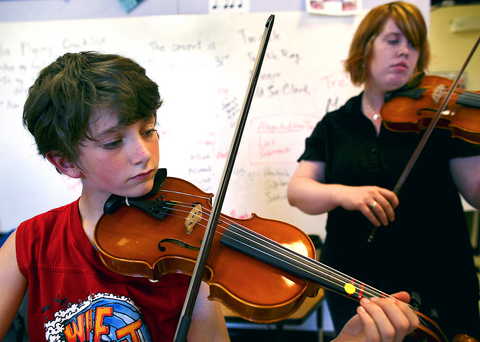 Michael Timmons, 11, is taking violin lessons from Kristy Foye, background, a teacher at the Conservatory Lab Charter School in Boston.
PHOTOS: NY TIMES NEWS SERVICE
At a time when some US schools are cutting back on performing-arts education, this school has decided that music is the best way to animate the study of seemingly unrelated subjects. Jonathan Rappaport, the school's executive director, is a longtime music educator and musician who describes the organizing principle of the school's curriculum as "learning through music." The goal is not to produce musicians, he says, but rather "to use music as a way of educating kids in a very comprehensive way."
At this moment on a recent weekday, that interdisciplinary approach is on display in a classroom not far from where the young violinists are playing. More than a dozen students — black, white, Latino, Asian-American — are swaying in a chorus line, their young voices raised in their own version of a protest song.
They wrote the lyrics and the music as part of a "co-teaching project" overseen by their music and social studies teachers. The idea is to connect music with their study of the civil rights movement. Their words poignantly combine youthful idealism with a sense of the world's struggles: "Let good be your guidance/Stop doing violence/We should all get along/Try not to do wrong/Don't discriminate, it only makes hate." The refrain is punctuated by rap interludes that allude to Rosa Parks, Martin Luther King, and the mid-1970s busing crisis in Boston.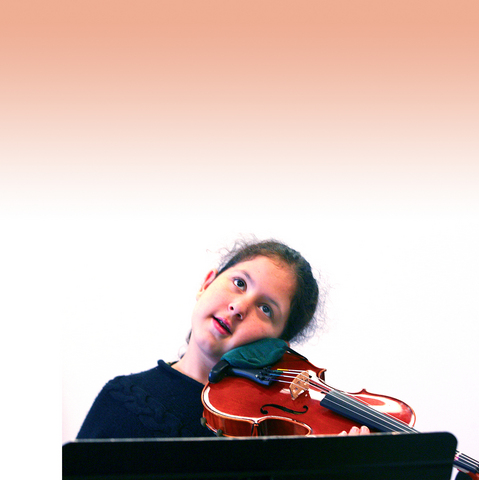 Maria Garcia pauses during a semi-private violin lesson at the Conservatory Lab Charter School.
"Every time there's a ready connection to be made, we make it," says Katherine Hakim, 27, the music teacher, who accompanied the students on the piano. "We'll say (to other teachers), 'What are you doing in the classroom, and how can we enhance it with music?'" The teachers also draw from the world of music to impart other lessons. During the violin exercise, Rashad exhorts the students to practice, noting: "Anne-Sophie Mutter, a famous violinist, practices her pieces two years before she performs them." Malcolm Doremus Cuetara, a 10-year-old fourth grader, is impressed. "Wow, she's dedicated!" he exclaims.
The school was founded in 1999 by administrators and faculty members at the New England Conservatory who thought a music-centered curriculum fit logically within the state mandate that charter schools strive to be laboratories of innovation. (As the performance scheduled for Thursday at NEC's Jordan Hall suggests, the school retains a close relationship with the conservatory.)
"What is different here is that music is taught as a daily core curriculum subject," says Rappaport. "The development of critical-thinking skills is so important, and a lot of that comes out of the music." He points out that music has a mathematical basis, with phrases divided into measures and measures divided into beats. "Music has a very profound effect on the cognitive development of young people," he says. "I think we're proving it here."
Rappaport admits, though, that it has been a struggle to raise the standardized test scores of the students. With such a small student body, the sample size for standardized tests is relatively minuscule. Last year the school finished below the state average in a number of categories. However, it improved from the previous year, prompting the state Department of Education to say the school had achieved "adequate yearly progress" in math and English language arts. Rappaport says he expects further improvement this year.
The ratio of students to teachers at the school is 9 to 1. The student body is a broad cross section of Boston: Nearly 40 percent of the students are black, 30 percent are Hispanic or Latino, 20 percent are white, and 4.5 percent are Asian-American. More than 70 percent of the students come from low-income families; for more than one-third of the students, English is not their first language.
Young as they are, the students seem to have grasped that the time they spend rehearsing and performing music may help them master the three R's. "You have to be patient," Bernard says. "You can't just pick up a violin and play a song you haven't learned yet." Malcolm adds: "Sometimes I use music to do my math. I'll think of adding quarter-notes, half-notes. I put my notes together as math." Beyond such pragmatism, of course, lies the pure joy of performing music. "It has a lot of emotion," says Yarimar Muniz, 11, a fourth-grader from Roxbury, though she admits "it's a little bit complicated when you first learn a new song."
Back in the classroom, the students are running through their song one last time. Hakim offers praise, advice, and something more. "The harmony, I want you guys to keep the pitch up, be a little stronger," she says, while a roomful of young strivers listens attentively. "With the melody, you have that nice soaring melody."
"That's what I want from you," she says. "Soar."
Comments will be moderated. Keep comments relevant to the article. Remarks containing abusive and obscene language, personal attacks of any kind or promotion will be removed and the user banned. Final decision will be at the discretion of the Taipei Times.