Art Taipei pulls out all the stops
After years of technical glitches and poor organization, the annual art fair is attempting to break its losing streak
Art Taipei 2007 opens this weekend at the former World Trade Center Hall 2 from Friday to Tuesday with 80 galleries showcasing their artists. Expect conventional fare such as painterly nudes, still life paintings, calligraphic scrolls, bronze busts and Chinese landscapes with a few surprises thrown in, such as the famous photograph of Marilyn Monroe in a white dress.
Art fairs contribute to a lively art market, which is vital to artists' livelihoods. Art fairs help sell works to art collectors while auction houses such as Sothebys and Christies help set standard prices for works of art. Taiwan's art market has taken a beating with the recent exodus of both Sothebys and Christies, so the Art Galleries Association (AGA) hopes to strengthen the local art market.
"Active participation proves Taiwan has a more prosperous art market than neighboring countries," York Hsiao (蕭耀), Chairman of the AGA said.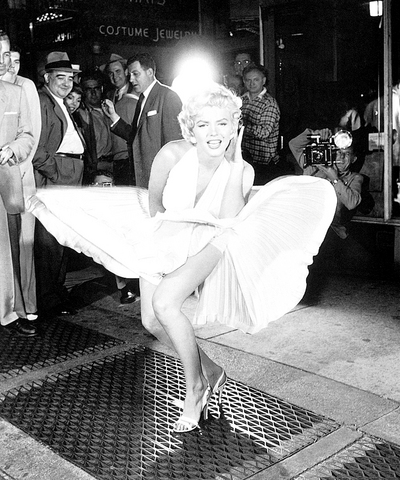 Sam Shaw's iconic photo of Marilyn Monroe in 1950.
PHOTO: COURTESY OF ART GALLERIES ASSOCIATION
Despite generating huge sales, last year's art fair was a fiasco. Art Taipei 2006 had technical problems; it was held in an extremely humid environment, the Huashan old winery. The lack of air conditioning damaged some works, and the overall non-professional atmosphere prompted one international gallery to pack up in a huff and leave on the first day. In addition, several local exhibitors displayed wines and fruit, which transformed the fair into something more resembling a trade show and drew criticism from art professionals.
Even though this is the 15th year such an art fair has been held, one of the ongoing problems is the lack of organizational continuity. As is often the case in the local art scene, annual staff changes mean that mailing lists are discarded, so contacts that were made the previous year are lost, which results in poor coverage by foreign journalists, critics and curators. This lack of organization prevents Art Taipei from improving and matching the international standards of the prestigious Art Basel.
In an attempt to rectify these problems, this year's fair is to be held in the former World Trade Center II, a space that is better equipped for this type of exhibition.
The fair is divided into three sections: Art Galleries; Asia Live: Art and Literature; and Ela-Asia. The theme Art and Literature, which was chosen by a committee, focuses on literary texts used in contemporary art and their relation to new media. Ela-Asia is devoted to digital and video arts.
Every Art Taipei exhibition names one Artist of the Year. This year Yeh Fang (葉放) from Julia Gallery was chosen. He was born in Suzhou, China, in 1962 and built a Chinese-style garden in which he works while living the lifestyle of a literati painter.
In addition to the local galleries such as Jeff Hsu's Art (觀想藝術有限公司), Lin & Keng Gallery (大未來畫廊), and Galerie Grand Siecle (新苑藝術), 30 percent of the participating galleries are from abroad: France, New Zealand, South Korea, Hong Kong, Singapore and China.
Taiwan Contemporary Art Link will have a booth to celebrate the inauguration of its Web site www.taiwancontemporaryart.net, which features the work of well-known digital artists such as Kuo I-Chen (郭奕臣), Tao Ya-Lun (陶亞倫), Wang Ya-Hui (王雅慧) and Yao Jui-Chung (姚瑞中).
Besides the fair, there is a series of lectures on Saturday and Sunday: "Artistic Literature and Life" by Yeh Fang; "Decoding of Contemporary Chinese Art" by Terry Huang (黃文叡); "Another Vision: Trends and Tips of Photography Collection" by Michael Chen (陳贊雲); "Whose Dress Talks! Contemporary Art V.S. Dress Code" by Hu Chao-shen (胡朝聖); and "Outra Fair: Five Links to Contemporary Art" by Rita Chang (張元茜).
Chang curated Outra Fair, an outdoor display of five different groups of artists that will be held at the Vieshow pedestrian area in Xinyi district from today through to June 2.
Temple Fair features artists from southern Taiwan who will exhibit in a makeshift temple, while other displays contain interactive works that promote local contemporary art.
Outra Fair begins today at 6:30pm. A dress code requires visitors to wear Chinese-style clothing.
Comments will be moderated. Keep comments relevant to the article. Remarks containing abusive and obscene language, personal attacks of any kind or promotion will be removed and the user banned. Final decision will be at the discretion of the Taipei Times.