Seniors set is style savvy, too
Now that there are more fashion labels than ever before, and many women are keeping in better shape, why are there so few chic options for the older woman?
At the start of any fashion writer's career there is, waiting at the end, the dreaded article about older women and how they can never find clothes appropriate for their age. I swore on a stack of Vogues I would never write such a piece. It was totem journalism, predictable, worked at. Even the term "appropriate" has always seemed to me old hat, with violets on top.
So what changed? Juvenility has mobbed us. Even if a woman has a clear idea about what looks right on her body and for her age and personality, it's hard to avoid the window displays of baby-doll and trapeze dresses; the T-shirt bars of ruffled cotton, airbrushed cotton and shrunken cotton; the girlish necklaces and charms; and all the companion editorial in magazines, with the frosted pinks and the long, long hair with little curls.
"The choice is to wear something juvenile or be a total killjoy," Linda Wells, the editor of Allure, said with a laugh. "You can't live in your Linda Evans suit."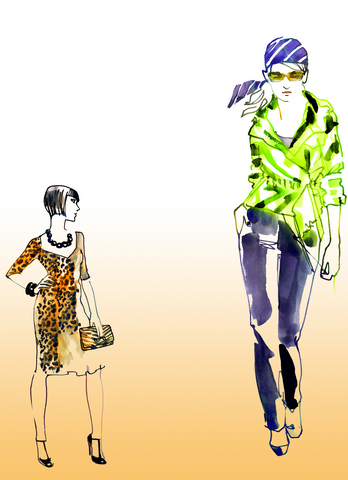 Right: Dries van Noten's neon-bright anorak updates a dress or classic pants, not to mention covering the arms. Left: Alberta Ferretti's abstract print silk dress has sleeves and a fitted bodice, which is nicely slimming.
PHOTOS: NY TIMES NEWS SERVICE AND AFP
There are other choices, as Wells knows, and interviews with women ages 43 to 72, in places like California, the Chicago suburbs and Paris, turned up a variety of solutions, as well as explanations for this simmering quarrel with fashion. If I have heard an issue vocalized more often in the last year than the age-appropriate thing, I can't think what it was.
It's funny: Women in their 40s and 50s, even in their 60s and 70s, have probably never looked better, healthier or younger than at any time in recent history. They have access to gyms and spas, and of course they'll try anything that will eliminate a wrinkle or a frown line. They are the anti-agers. And not only do they have a tremendous array of fashion choices, from chic Paris labels to anonymous vintage pieces to DIY looks, they also have the choice to not play the game at all.
Nora Ephron, whose very funny book, I Feel Bad About My Neck, refers to something called "compensatory dressing" — here, anything that compensates for a sagging neck — sounded puzzled when I told her that a lot of women complain that clothes make them look ridiculously young.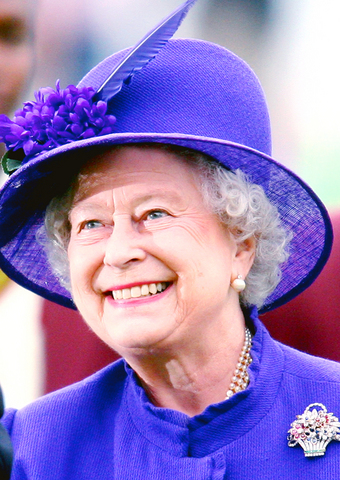 Queen Elizabeth II of Great Britain is an older lady who is known for her sense of style and elegance, which is far from old hat.
PHOTO: NY TIMES NEWS SERVICE
"If you understand that that part of your life is over, there is plenty to wear," said Ephron, who prefers trousers to skirts, and finds things she likes at Savannah in Santa Monica, California, and Ultimo in Chicago. She admits that age-appropriateness in style can be very confusing, since "the new 50" can be 40 or, suddenly, with the wrong hairdo or outfit, 60, and it irks her when a designer discards a perfectly good look.
"I love those techno pants from Prada," she said. "I love that they don't wrinkle and you can wear them seven days in a row on a trip. But they're all cut low now."
She added, "You feel there has been an act of genuine hostility toward you by the designer" when they stop making something you're able to wear. It's like they don't want you to have it, she said.
Susan Stone, who owns Savannah — where the customers are mostly over 40 — says the issue of age-appropriateness coincided with the demise of the pantsuit.
"A woman of any age could wear a pantsuit," Stone said. "Now it's all about the dress — the baby-doll, the tent, the mini." She paused. "I don't care how great you look, at a certain age you do not wear a mini. You look ridiculous."
Stone says that some of her best client-friendly labels are Marni, Tuleh and Lanvin. "I can find fabulous jackets at Marni," she said, adding, "and I sell the collection to women of all ages."
She thinks Alber Elbaz, the designer at Lanvin, cuts a great sleeveless dress ("he always hides the ugly part under the arm") and she says that whenever she goes into a designer showroom, "a dress with sleeves screams at me."
Douglas Chen, a buyer at Linda Dresner, which has stores in New York and Birmingham, Michigan, said that one of their bestsellers for spring was a US$1,790 Chloe dress in purple silk crepe with narrow sleeves that fell to just above the elbow. And it helped that the dress came with an extra 12cm of hem, so it could be lengthened. "We sold almost every dress to someone over 40," Chen said.
Barbara Toll, who owns an art gallery in Manhattan, bought one of the Chloe dresses. "I think it's the first dress I've bought in 10 years," said Toll, an early devotee of Jil Sander and Helmut Lang. She laughed. "It was strange to see my legs coming out of the bottom."
For a lot of New Yorkers like Toll, who want to look hip but not trendy, chic but not Uptown, it has been something of challenge to find a style as age-neutralizing as the minimalism of the early 1990s.
"It was the uniform for everyone," she said, referring to Sander and Lang. She added, with a rueful laugh, "I don't know if I got less interested in fashion or fashion got less interested in me."
But Toll also observed, "I feel I look better and younger if things are following my body."
This is an indisputable truth about fashion and aging. "Once you get to a certain age, it's all about fit," said Isabel Toledo, who designs for Anne Klein as well as her own label.
Indeed, if women in their 40s and 50s feel inexplicably alien in a garment, Toledo said, it may be because there is simply a dearth of high-quality tailoring in the fashion industry. That is one reason you see a lot of trims on clothes — to compensate for poor fit.
"We're not making fitted, well-cut garments that hang just on the body," said Toledo, who in some of her own dresses will offer several different waistlines so a customer can get the one that fits her best.
A lot of women with young families and careers can't be bothered with shopping — a larger problem for the industry, especially old-line department stores. As Natasha Fraser-Cavassoni, a writer in Paris, put it: "The idea of lunch with a girlfriend and then going shopping — I prefer to stick my hand in fire."
After growing up in England, Fraser-Cavassoni sees a difference among the French and the Italians. "They don't look at labels like the Anglo-Saxons do," she said.
Label-mad or not, many American women can't find the clothes they want. Audrey Smaltz, a fashion show producer in New York, is on her way to Las Vegas in two weeks to celebrate her 70th birthday with a dinner dance at the Bellagio hotel.
"I want to look sexy, and they don't sell sexy for a size 18," said Smaltz, who asked Cassandra Broomfield, a custom dressmaker, to make her a short white dress for the party. Smaltz finds blouses and sexy tops in her size by Lafayette 148.
Recently, Courtney Hanig, an interior designer and a mother of two teenage girls in Winnetka, Illinois, was shopping for outfits to wear to several coming events.
"I was willing to spend the dough, but I couldn't find anything," said Hanig, who has gotten mileage out of a fitted Carmen Marc Valvo jacket and her work attire of black pants and a white shirt, but admits with a laugh, "I'm, like, sick of myself, forget other people."
She added: "I don't want to look matronly. I think there's this great divide between matronly and up-to-date mom."
There are some easy things you can do to avoid the age bind. Find a salesperson who knows your body type and will put aside clothes for you before they're scooped by other customers. Cropped jackets by Dries van Noten are a good way to perk up a summer dress, especially if you want a little arm camouflage.
"A great tailor is a better than a surgeon," said Wells, who suggests a little padding in a jacket's shoulders to give you a lift. Nothing is more aging than makeup and hair. So avoid heavy concealer and dark lipstick and nails.
"Hair looks better when it's slightly lighter than it was in your 20s and 30s," Wells said. "And you don't want it to look stiff — that's just as aging on Mary-Kate and Ashley Olsen as it is on a 60-year-old woman."
Comments will be moderated. Keep comments relevant to the article. Remarks containing abusive and obscene language, personal attacks of any kind or promotion will be removed and the user banned. Final decision will be at the discretion of the Taipei Times.