Companies embrace trimmer packaging
In a nod to environmental concerns, many major firms boast of what they are doing to reduce the amount of material used in packaging their products
Marketers usually boast about what they have added to their products. Increasingly, though, they are bragging about what they are taking out — by cutting down on packaging and its impact on the environment.
Procter & Gamble, for example, has introduced rigid tubes for Crest toothpaste that can be shipped and displayed on shelves without boxes. Aveda, a beauty products company, is expected to soon roll out a men's care line that is packaged in bottles made of 95 percent recycled materials.
And Coca-Cola plans to cut the plastics in its Dasani water bottles by 7 percent over the next five years, just by tweaking the shape of the bottle and cap.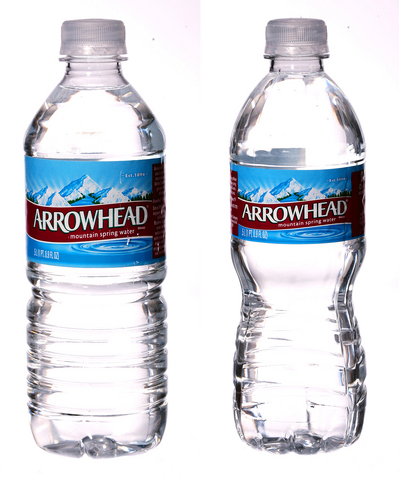 Nestle redesigned the Aarowhead water bottle and cap, right, to make them lighter and more recyclable than the older version, left.
PHOTO: NY TIMES NEWS SERVICE
"Waste of any kind is inefficiency, and inefficiency equals cost," said Scott Vitters, Coca-Cola's director of sustainable packaging.
The number of companies making such changes is growing sharply, as they try to reduce costs and address growing environmental concerns.
And their ranks are expected to grow even more, because of Wal-Mart. The world's largest retailer, known for pressuring vendors to lower their prices, has begun pressuring its 66,000 vendors to get rid of excess packaging.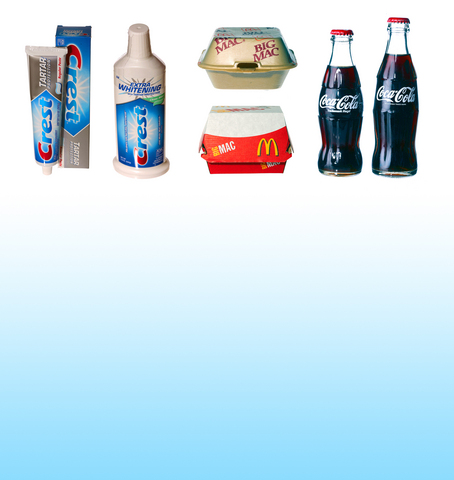 Though marketers usually boast about what they've added to their products, Proctor and Gamble, McDonald's and Coca-Cola tout reductions in packaging.
PHOTO: NY TIMES NEWS SERVICE
Wal-Mart has promised to become "packaging neutral" by 2025. That means that, through recycling, reusing or perhaps even composting, it will try to recover as much material as was used in the packaging that flows through its stores.
To reach that goal, it is enlisting the help of vendors to cut back on their packaging — for the products themselves and by using less shrink wrap or cardboard for shipping.
Wal-Mart introduced a "packaging scorecard" in February that lets vendors rate themselves on criteria like the ratio of package size to product and whether the package uses recycled material. The company may even pay more for products with better packaging, as long as it could recoup the money through recycling revenue or lowered disposal costs.
"The consumer will see the same price, we'll just be getting some of our money at the back end," said Matt Kistler, a senior vice president of Sam's Club.
In fact, many companies began tinkering with their packaging long before Wal-Mart entered the fray. They do not expect consumers to buy their products purely for the package — but they are hoping that "greener" packages will give them a competitive edge over similar products, even as they hold down costs.
And many companies that do not even distribute through Wal-Mart are also pushing to streamline packaging.
Estee Lauder, for one, spent more than a year working with aluminum smelters to design tubes and caps made from 80 percent recycled aluminum. Much of the packaging of its holiday gift boxes is now made from recycled paper. And its Origins line is expected to soon ship only in folding cartons made with solar, wind or other clean energies.
Environmental groups are playing their part, too. Four years ago, Environmental Defense, which was instrumental in getting McDonald's to give up plastic foam clamshell packages in 1991, devised a calculator that enables package designers to compare the weight, recycled content and performance traits of about 20 materials.
Recently, the tool was adopted by GreenBlue, a nonprofit research institute that operates the Sustainable Packaging Coalition. The Environmental Protection Agency has given GreenBlue a grant of US$150,000 to further refine the tool.
"Packaging offers major opportunities for reducing energy use and greenhouse gases, and for saving the US$4 billion worth of materials that now ends up in landfills," said Matt Hale, director of the agency's Office of Solid Waste. Environmentalists applaud Wal-Mart's involvement, but they want more. Environmental Defense, for example, wants Wal-Mart to give greater weight to greenhouse gases emitted when the paper, plastic or other packaging material is made — and to methane emitted from landfills if the final package is dumped.
"We want them to look harder at the greenhouse gases associated with the package's entire life cycle," said Gwen Ruta, director of corporate partnerships for Environmental Defense, which is working with Wal-Mart to upgrade the scorecard.
Many suppliers say they welcome the scrutiny from Wal-Mart. Nestle Waters North America, which owns Poland Spring, Deer Park and other brands, said it had saved 20 million pounds of paper in the last five years by using narrower labels on many bottles.
It recently switched to clear caps that are more easily recycled. And it is rolling out half-liter bottles that contain 12.5g of plastics, among the lightest water bottles around.
"I'm pretty sure we'll score an A; let's see if it translates into more business," said Kim Jeffery, chief executive of Nestle Waters, part of Nestle.
Many of the easy changes to packages have already been made. Beverage cans are much lighter than they were 10 years ago, and most use recycled aluminum. Deodorants are rarely packed in separate boxes now. Shipping cartons contain large percentages of recycled fiber.
But a dearth of municipal programs to collect recyclable materials may hamper further progress. The EPA is trying to persuade local governments that recycling makes economic sense. "It's a useful argument with city councils," Hale said. Another hurdle is that the need for durable, attractive packaging still bumps up against many plans to make packages green.
McDonald's, for example, has been steadily reducing the amount of virgin paper and plastic in the boxes that hold its fries and the lids that top its coffee cups.
But when it tried shipping toys, cups and other nonfood items to its restaurants in biodegradable packages, the company found they could not withstand the heat inside the trucks. And it had to use more virgin fiber to attain the whiteness of its food bags.
"We're offsetting it with other package reductions, but that white bag is important to the brand," said Bob Langert, the vice president for corporate social responsibility.
Wal-Mart, too, has had to compromise. It tried bio-based plastics for the 22.5kg bags of dog food it sold at Sam's Club, but they failed to provide an effective barrier to moisture and oxygen. So Sam's has switched to bags made from woven conventional plastics.
Even Marcal Paper, which sells paper products made from 100 percent recycled fiber, uses some polyethylene film for packaging. The film is easily molded to the product, and lets the customer see the contents, explained Peter Marcalus, a senior vice president.
Packages that seem, at first glance, to be environmentally sound can create other problems. When bottles made of bio-based plastics like polylactic acid are recycled along with conventional plastic bottles, they create a mix of molecules that is hard to reuse. And reusable containers, be they refillable glass bottles or stainless steel canisters, require a lot of energy to transport and to clean for reuse.
Consumer behavior presents its own challenges, since smaller packages can appear to be more expensive than those with more packaging.
Coke recently redesigned its classic glass contour bottles to be lighter and more impact resistant. The new bottle looks smaller. "Our challenge is persuading consumers that they are getting the same volume in a better bottle," Vitters said.
Jeffery of Nestle Waters said the company would begin an education campaign around its new bottles to "make sure that customers don't think the bottles feel lighter because they hold less water."
And sometimes, aesthetics will trump environmentalism in the end, anyway. That recycled aluminum that Estee Lauder fought so hard for does not shine up well, and some of the brands refuse to use it.
"That shiny cap is part of Clinique's brand image," said John Delfausse, vice president for package development at Estee Lauder. "And they will not switch."
Comments will be moderated. Keep comments relevant to the article. Remarks containing abusive and obscene language, personal attacks of any kind or promotion will be removed and the user banned. Final decision will be at the discretion of the Taipei Times.