Restaurants: Robin's Grill
Address: 2F, 41 Zhongshan N Rd Sec 2, Taipei (臺北市中山北路二段41號2樓)
Telephone: (02) 2523-8000 X3930
Open: Daily, from 12pm to 2:30pm and 5:30pm to 10pm
Cost: Lunch NT$1,500; dinner NT$2,000 per person, plus 10 percent service charge
Details: Menu in English and Chinese; all major credit cards accepted

Robin's Grill is named after its manager and service director Robin Liu. Renovated four years ago, the luxury American-style steakhouse has gained a reputation amongst gourmands who want a thick slice of beef grilled to perfection in an atmosphere where the service is impeccable.
Liu has overseen Robin's since 2004, when it was renovated with dark interiors including coffee-colored hardwood floors, exposed brick and an open wine-rack stacked with French wines. Indeed, Robin's has more the ambiance of a European wine bar.
The best way to order at Robin's is from the extensive selection of set menus, which each come served with a choice of soup — including French onion with Gruyere cheese, cream of wild mushroom, or, my personal favorite lobster bisque with brandy butter, where the brandy hints were suitable and complimentary to the prized seafood — salad, main course, dessert and coffee or tea.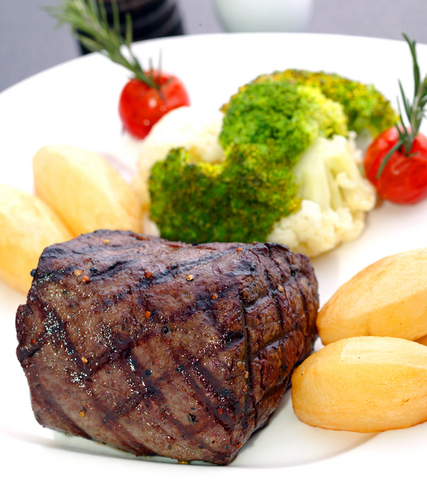 At Robin's Grill the food and service is fit for a lord.
PHOTO: COURTESY OF GRAND FORMOSA REGENT TAIPEI
The selection of main courses is a veritable smorgasbord of red meat and top-notch seafood. In addition to the usual suspects of filet mignons in 4oz (NT$1,000) and 6oz (NT$1,175) sizes, meat lovers can also choose an 8oz New York steak (NT$1,100), grilled to highest of carnivore standards.
Robin's has also upped the protein ante by adding US Kobe rib eye steak (NT$1,950) and gourmet Australian Wagyu rib eye cap (NT$3,300) to the menu. Wagyu beef deserves a special mention as this style of beef, originally hailing from Japan, is genetically predisposed to a kind of marbling that enhances its juiciness so that it practically melts in the mouth.
The surf and turf menu consists of 4oz center cut filet mignon (NT$1,525), 6oz center cut rib eye steak (NT$1,500) or 6oz Wagyu sirloin steak (NT$2,600) and are all served with half a Maine lobster.
The menu caters to seafood lovers with king prawns (NT$850), sea scallops (NT$850) or the seafood combination (NT$1,500), which includes half Maine lobster, a leg of Alaskan king crab, salmon fillet and scallop (NT$1,500). The menu rounds out with a selection of grilled chops and chicken.
Comments will be moderated. Keep comments relevant to the article. Remarks containing abusive and obscene language, personal attacks of any kind or promotion will be removed and the user banned. Final decision will be at the discretion of the Taipei Times.