Restaurants: Jahmuna's
Address: 381 Renai Rd Sec 4, Taipei (台北市仁愛路四段381號)
Telephone: 02-2740-7009
Open: Daily from 11am to 2:30pm and 4:30pm to 9pm; close at 10pm on Fridays and Saturdays
Average meal: NT$170 to NT$250
Details: English menu; credit cards not accepted
On the Net: www.obrothaz.com and www.myspace.com/obrothaz
For the past three years, Oliver Harley has been bringing Caribbean vibes to Taipei as part of the city's first Jamaican-style mobile party crew. Now he's serving the food, too.
Harley — better known as "Lion" for his work with the O-Brothaz Sound System — opened Jahmuna's last month. Decorated in a golden shade of yellow with a hand-painted Lion of Judah above the door, this little restaurant off Yanji Street (延吉街) is possibly the first in Taiwan to serve exclusively Jamaican dishes.
The food is made according to traditional and family recipes and by itself is enough to recommend a visit. Add the fact that it's a 10-minute walk from both Carnegie's and Luxy, stir in the comfortable outdoor deck, and you have a spot that's great for getting a drink and a snack before going out, or for watching a summer day go lazily by.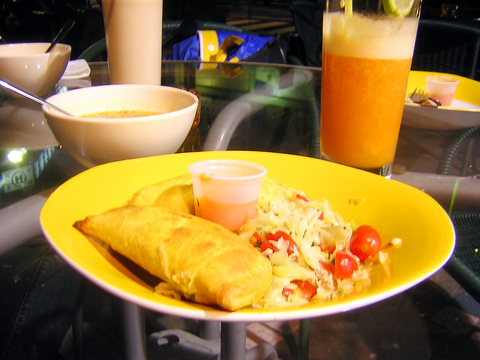 Jahmuna's makes Jamaican patties to go, or to be savored while patrons watch from its comfortable outdoor deck.
PHOTO: RON BROWNLOW, TAIPEI TIMES
Many customers visit Jahmuna's for the Jamaican patties (NT$45), turnovers filled with spicy or curry beef — there's also a vegetarian option — and encased in a savory tumeric-colored dough. Shaped like a half moon, the patties are similar to samboussas and empanadas, but they're flavored with that most Caribbean of chili peppers, the Scotch Bonnet. Known to cause dizziness and a bad case of heartburn when eaten whole and raw, the pepper is used in small quantities to give the patties an aromatic piquancy without making them too spicy.
You can buy a dozen patties at Jahmuna's for NT$450 and freeze them for later. Or you can order them with an NT$150 set menu. The latter comes with your choice of two patties, soup or salad, and a side dish.
I liked both the salad and soup that came with my set meal. The pumpkin soup was a light orange broth flavored with peppers, scallions, potato and thyme. The salad, made from a Harley family recipe and marinated overnight, was a mixture of cabbage, tomatoes, garlic and olive oil.
Jahmuna's serves coffee and makes a delicious peanut punch. The only alcoholic drink currently available is Red Stripe lager, but Harley says mixed drinks made from imported Jamaican rum will be available soon. He's also planning a jerk barbeque, possibly for the end of May. The exact time will be posted on Forumosa.com, or you can subscribe to his mailing list at jahmuna's.patties@gmail.com.
Directions: Jahmuna's is south of Zhongxiao East Road (忠孝東路) and just north of Renai Road (仁愛路), on Yanji Street across from an Ikari Cafe.
Comments will be moderated. Keep comments relevant to the article. Remarks containing abusive and obscene language, personal attacks of any kind or promotion will be removed and the user banned. Final decision will be at the discretion of the Taipei Times.