Air batons are at the ready
Alpine peaks, Scottish islands, Catholic sanctities and a mysterious Russian violinist — two imminent concerts from the National Symphony Orchestra, the first this Sunday afternoon, promise some rich rewards. From a quick glance at the program schedules for Taipei this weekend, you might think the premier classical event was the appearance of the London Symphony Orchestra, with China-born pianist Lang Lang (郎朗) at the keyboard (Sunday at 7.30pm). But when you realize that Lang Lang is only playing one Mozart piano concerto, lasting some 25 minutes, and that prices sky-rocket from NT$1,200 up to NT8,000, you might have cause to think again. And there is an alternative, because the same day, in the afternoon, sees the first of two appearances by the celebrated German-born conductor Gunther Herbig, overseeing our own National Symphony Orchestra (NSO) in a program of often magnificent music.
Herbig was born in what was then East Germany, but managed to emigrate to the US in 1984. He'd already made a name for himself at home, and had also contrived to conduct some concerts in the West. But once properly ensconced in North America he rapidly rose to real fame, conducting all the great orchestras — the New York Philharmonic, Chicago Symphony, Los Angeles Philharmonic and others. An early stint was with the Detroit orchestra, and he still makes his home in Michigan. But now he conducts virtually everywhere, and even masterminded (at the Edinburgh Festival in 2001) a replica of a huge concert Beethoven himself conducted in 1808 in Vienna, including two of his symphonies (Nos: 5 and 6), a piano concerto (No: 4), and various massive choral excerpts. Now Herbig is in Taipei — for Sunday afternoon's concert, plus another on the evening of 4 May.
The two events have something in common. Sunday's concert features Richard Strauss' Eine Alpensinfonie ('an Alpine symphony'), preceded by Mendelssohn's Fingal's Cave overture and Schubert's Unfinished Symphony. It's an enormously rich program, three varied and melodic works that together could draw a large audience.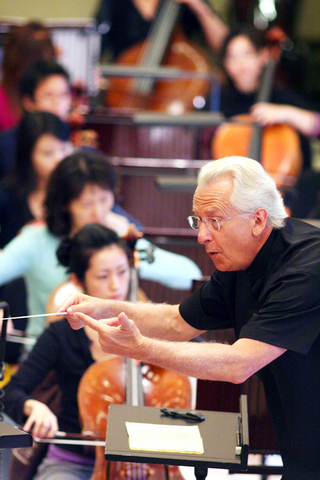 German-born conductor Gunther Herbig, will put the National Symphony Orchestra through its paces this weekend.
PHOTO: COURTESY OF NTCH
If Strauss' Alpensinfonie has failed make his top 10 works it's probably because listeners expect something in traditional four-movement symphonic form. Instead, Strauss invites us on a mountain hike. The work, in 22 sections, begins very quietly — the quiet before dawn. Then the sun rises, the hiker sets off through lowland pastures, ascends, and finally attains glorious views from the peak. He duly considers the beauty of nature and the meaning of life, as well he might, then sets off down again. A thunderstorm intervenes, however (in a musical tradition stemming from Beethoven's Pastoral Symphony), but the work closes with a radiant sunset and the weary traveler arriving safely back at the inn.
A good preparation for this concert would be to watch Tobias Melle's DVD An Alpine Symphony in Images [RCA 82876 55446 9; reviewed in Taipei Times April 6, 2006]. There the music is accompanied by hundreds of still photos of the Alps not far from where Strauss lived (though not the particular mountain he had in mind when composing this work).
It has to be said that the Alpensinfonie has had its critics, people who claim it as proof that program music (music that tells a story) was no longer a viable option by the early 20th century. But Strauss was someone who tried just about everything, and proved in the process that he could do almost anything he set his hand to. He mastered modernism, but then retreated back to more traditional forms. These didn't include the symphony, however. So on Sunday afternoon, forget all about musical structure and instead sit back, close your eyes, and imagine a long day in the mountains.
Mendelssohn's overture Fingal's Cave (also called "The Hebrides") evokes wild nature off Western Scotland, and in particular the basalt cave on Staffa Island that was a popular place to visit at the time (the English poet John Keats was there in 1818). Schubert's two-movement Unfinished Symphony, by contrast, compresses Romantic melancholia and longing more effectively, perhaps, than anyone else's music has ever done. It was probably left incomplete because Schubert felt a third movement, by tradition dance-like and in 3/4 measure, could only spoil the mournful effect. In fact he attempted one, but abandoned it. Next Friday's concert (4 May at 7.30pm) also features a protracted Romantic work and a Mendelssohn favorite. Whereas Strauss chose to celebrate the Bavarian Alps without any thought of mystical transcendence, the very different Anton Bruckner, coming from approximately the same geographical region, also venerated the countryside, but saw it through Catholic eyes, believing it was evidence of the goodness and power of his Creator.
Bruckner was a strange individual, a self-taught rustic visionary deeply influenced by Wagner. Brahms, the presiding genius in the German musical world at the time, refused to speak to him, and considered his sprawling symphonies amateurish and uncouth. Bruckner persisted, however, and finally won over the Viennese public.
His Seventh Symphony is an astonishing piece, both mysterious and resplendent — if, that is, you can come to terms with the meandering style and considerable length. Bruckner's symphonies aren't perhaps for everyone, but the seventh is his most admired, and with Herbig again at the helm, Taipei can expect a memorable rendering.
The soloist in Mendelssohn's ever-popular Violin Concerto, which precedes the Bruckner, will be Russian-born Sergej Krylov. He's an artist who has acquired an unusual reputation in the work. One London critic in 2006 considered his interpretation perverse. "If Mendelssohn wrote 'piano' [soft] he played it 'forte' [loud], and the reverse." He gave, the critic considered, the slow movement "a lugubrious tempo." Well, we shall see. But this over-familiar concerto arguably needs something unexpected to shock audiences out of their contented smiles of easy recognition. Sergej Krylov may well prove to be just what Taipei needs.
* The NSO concert featuring Eine Alpensinfinie plays at Taipei's National Concert Hall on Sunday at 2.30pm. The NSO concert featuring Bruckner's 7th Symphony plays at the same venue on May 4 at 7.30pm
* Tickets for each concert are from NT$300 to NT$1,500. For more information call (02) 3393-9888 or visit to www.artsticket.com.tw
Comments will be moderated. Keep comments relevant to the article. Remarks containing abusive and obscene language, personal attacks of any kind or promotion will be removed and the user banned. Final decision will be at the discretion of the Taipei Times.