Multitasking musiciansthrive on variety
Rockers like White Stripes frontman Jack White ad Warren Haynes of Gov't Mule embody a tradition of artists who rotate projects to refresh their talent and maintain inspiration
If idle hands are the devil's playthings, Warren Haynes is as angelic as they come.
The acclaimed US guitarist and songwriter logs most of his time in the bluesy power trio Gov't Mule. He also plays in the Allman Brothers Band, a group many credit him with revitalizing when he joined in 1989.
But wait: The Dead and Phil Lesh and Friends also claim Haynes as a member. He's released two well-received solo albums, co-written a No. 1 single with Garth Brooks, and popped up on records and stages with Dave Matthews Band, Kid Rock, Jason Newsted, Everlast, Vusi Mahlasela, Widespread Panic and many others. He also hosts the star-studded annual Christmas Jam benefit for Habitat for Humanity in his hometown of Asheville, North Carolina.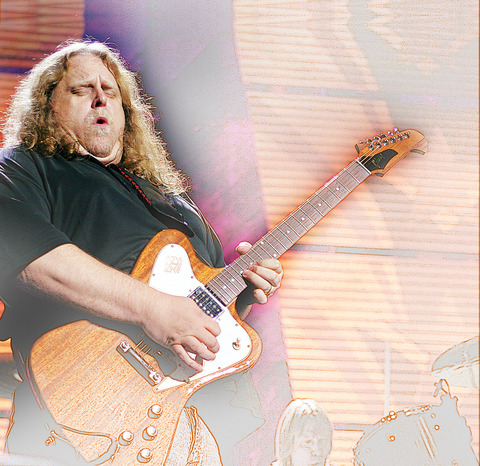 Warren Haynes of Gov't Mule performs at the Farm Aid concert in Camden, New Jersey, in September. Haynes also plays in the Allman Brothers Band, The Dead and Phil Lesh and Friends, and he's worked with artists as diverse as rapper Kid Rock and country singer Garth Brooks.
PHOTO: AP
"To be as busy as I've been for the past seven to eight years is great," said Haynes, 47. "I'd rather be that busy in several different environments as opposed to just one all the time. I'm able to utilize different aspects of my musicality in each one."
Haynes focuses these days on Gov't Mule. He's the perfect example of a multitasking musician because he works it to his advantage. He embodies a tradition of artists rotating projects to refresh their talent and inspiration, just as crop rotation keeps soil rich in nutrients.
Blues-rock guitar prodigy Derek Trucks, the nephew of Allman Brothers drummer Butch Trucks, also straddles projects, balancing his own band with touring stints (Eric Clapton, Allman Brothers Band) and session appearances with Bela Fleck and J.J. Cale. Incidentally, both Haynes and Trucks made it onto Rolling Stone magazine's 100 Greatest Guitarists of All Time.
"The kind of music we play is so improvisational that it's one of the hardest things to constantly reinvent," said Haynes of the hundreds of tunes in his repertoire. "Sometimes you've got to refresh yourself on a song you haven't done in awhile, but there's also something nice about getting away from it and being able to open yourself up to different interpretations."
All rock musicians multitask to a certain extent, frequently acting as engineers and sound mixers in the studio, business managers on the road and with their labels, and parents or spouses at home. Many hip-hop and dance producers are simultaneously guest stars, session rappers and solo artists (Missy Elliott, will.i.am., Timbaland, the Neptunes).
Canadian indie rock supergroups the New Pornographers or Broken Social Scene are perfectly stuffed with multitaskers (Neko Case, Dan Bejar, Emily Haines, Leslie Feist), and a look at any local music scene reveals its incestuousness.
But defining multitasking so broadly — as any musician with a band and solo career — ignores that special stripe: Those who do it because they need to, creatively or financially. Multitaskers are usually not megawatt superstars but working musicians. They're not, say, Beck, who likely would avoid uncredited guest appearances on albums. They aren't simply people who collaborate frequently, or who hooked up with younger artists for a career revitalization.
Multitaskers thrive on near-constant activity, playing at once in several projects and switching between them with buttery ease. Look at Jack White, whose frontman position with the White Stripes has in recent years taken a back seat to producing (Loretta Lynn) and more band-oriented projects (The Raconteurs).
Pragmatism accounts for some of it. Most musicians are quick to recognize the financial risks and personal rigors of playing professionally, so they do what they can to extract value from the down time between gigs.
But the benefit of dipping one's feet in other projects, even if anonymously or briefly, outweighs the chaos.
"When you play with different musicians it informs every project you're doing because you have to figure out ways to communicate differently," said Denver musician Duncan Barlow. "Everyone's ideas influence you."
Barlow fronts the Denver-based group D. Biddle and plays bass in post-punk trio Lion Sized. He also creates more experimental recordings under the moniker of (rye)zome and has sat in or toured with Porlolo, Hot IQs and Bad Weather California.
Barlow noted that the potential for burnout definitely exists.
"In the past I have spread myself too thin, playing in two or three bands that were always on tour or recording," said the 36-year-old English instructor at the University of Denver. "Now it's pretty even. I practice with my bands three times a week total, and each band has one to two shows per month."
Neil Keener, another Denver musician, splits his time between punk heroes Planes Mistaken for Stars, dark country rockers Red Cloud West, and the groups Git Some and Jefferson Slaveship. The cross-pollination of genres can result in wider audiences.
"Each situation brings fresh energy to the other and it similarly brings people from each audience that maybe aren't as familiar with the other," Haynes said. "Like when I did the 2004 Grateful Dead tour, or with (Phil) Lesh. Some of those fans maybe had not been exposed to my music or Gov't Mule's music prior to that."
Roots legend Taj Mahal, who played at Haynes' most recent Christmas Jam, thinks multitasking keeps musicians from getting pigeonholed.
"If you do one thing your whole life then everybody gets to know you from it, and they can't handle it when you do the other things," he said. "But if you come in doing a lot of other things, like Warren, people obviously pick up on it. The guy puts his money where his mouth is."
Comments will be moderated. Keep comments relevant to the article. Remarks containing abusive and obscene language, personal attacks of any kind or promotion will be removed and the user banned. Final decision will be at the discretion of the Taipei Times.