Help Olivia Newton-John make it through the night
Long before Kylie Minogue was crowned Australia's top pop diva, the blonde and beautiful Olivia Newton-John had audiences getting physical. For many forty- and fifty-something's, Newton-John's music is indelibly intertwined with 1970s disco and 1980s new age pop. Those wanting to relive those heady decades should head down to the Taipei Arena (台北巨蛋) this weekend to listen to her version of soft rock and spiritual pop.
The 90-minute show includes tunes from her new album Grace and Gratitude. But fans after a little nostalgia won't be disappointed as Newton-John will sing from her more than 30 albums including I Honestly Love You, Physical and songs from the movies Grease and Xanadu.
This is the first time Newton-John has visited the island and says she looks forward to "[trying] all the various kinds of food in Taiwan."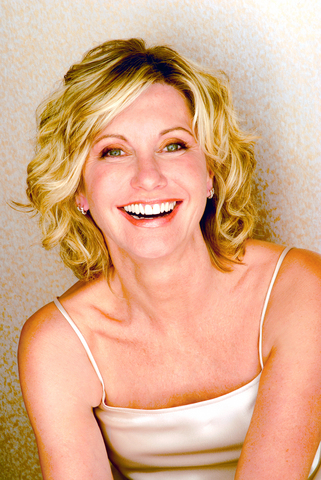 Australia's original queen of pop is holding court in Taipei this weekend.
PHOTO: COURTESY OF TAIPEI ARENA
The four-time Grammy award winner's star appeal is as timeless as her beauty. With a career spanning more than three decades, Australia's queen of pop is still adored by fans throughout the world. Newton-John is also, because of her staying power, one of those rare talents whose career parallels the fads and fashions of the popular music industry since the 1970s.
The granddaughter of Nobel Prize winner Max Born, Newton-John hit the entertainment scene early in life with an all-girl band and daytime television shows. By 18, she was doing the European nightclub circuit and cut her first album Toomorrow, a commercially unsuccessful work that was the brainchild of legendary producer Don Kirshner, creator of the Monkees.
But success was just around the corner with her next self-titled album Olivia Newton-John, catapulting her to the top of the charts in England. She was also hailed as Best Female Vocalist of the Year two years in a row by Record Mirror.
International stardom followed with the 1971 single If Not For You, a song written by Bob Dylan. By 1973, Newton-John proved her mettle on both sides of the Atlantic with Let Me Be There, reaching top 10 on both pop and country charts in the US. Her popularity on both the country and pop charts convinced Newton-John that the US was a better market to operate in, moving there permanently in 1975.
This move immediately paid off when in the same year her album Have You Never Been Mellow and its title song both reached number one on the US pop charts.
At the height of her musical career she decided to make the leap into film. At the height of disco, she teamed up with John Travolta dancing and singing their way through the musical Grease, the biggest box office hit of 1978. It received five Golden Globe nominations. The duets Summer Nights and You're the One That I Want both became chart toppers in the US.
Grease combined with the album Totally Hot cemented Newton-John's status as a sex symbol.
In 1980, she played the lead role in the musical film Xanadu, a commercial and critical flop. However, in the next year Newton-John received a star on the Hollywood Walk of Fame.
It was also in 1981 that Newton-John released Physical her most successful studio album to date and spawned an entire industry of sweatbands. The title track spent 10 weeks at the top of the charts, only to be knocked off by Hall and Oats' Maneater.
The next decade saw a downturn in Newton-John's career with her 1985 Soul Kiss and 1988 The Rumor hardly registering on the pop charts.
In 1992, Newton-John underwent surgery for breast cancer, her experiences were recorded on the 2005 album Stronger than Before.
Her later career has been spent promoting woman's issues, particularly early detection for breast cancer. A portion of the proceeds of her recently released album Grace and Gratitude — a collection of new-age spiritual songs which she calls "healing music" — will go to Y-Me (www.yme.org), an organization that helps women battling breast cancer.
Performance notes:
What: Olivia Newton-John

Where: Taipei Arena (台北巨蛋), 2 Nanjing E Rd Sec 4, Taipei

(台北市南京東路四段2號)

When: Tomorrow and Sunday at 7:30pm

Details: Tickets are NT$1,200 to NT$6,000 through ERA ticketing

Publication Notes
PERFORMANCE NOTES
What: Olivia Newton-JohnWhere: Taipei Arena (台北巨蛋), 2 Nanjing E Rd Sec 4, Taipei (台北市南京東路四段2號)When: Tomorrow and Sunday at 7:30pmDetails: Tickets are NT$1,200 to NT$6,000 through ERA ticketing
Comments will be moderated. Keep comments relevant to the article. Remarks containing abusive and obscene language, personal attacks of any kind or promotion will be removed and the user banned. Final decision will be at the discretion of the Taipei Times.