The vinyl word
The newly-renovated Ministry of Sound's stunning layout and awesome sound system make it one of the city's truly ass-kicking venues, which would be as suited to an acoustic set by Suzanne Vega, or an impromptu get-together by Radiohead, as easily as it holds court to dance music. But as The Smiths said, hang the DJ. Matt Hardwick's weak trance schlock last Saturday was appreciated by the odd crowd of suits and hard-cases, but one hopes that their future bookings bring in some true talent, as Hardwick was hardly a big draw for anyone with a sophisticated taste in electronica. However, MoS has at least booked Ronski Speed for 28 April, which holds some promise.
Tonight's offerings in clubland range from an Aboriginal night at Party Room, while Luxy hosts a Spunite party, but if that's not enough to tempt you out, then edgy trance production duo K & A will be jetting in from Germany to deejay. Down in Kaohsiung, it's the Rainbow 9 Gay Mix party, at the not-very-originally-named Fabric (176 Siwei 4th Rd, Lingya District, Kaohsiung, 高雄市苓雅區四維四路176號, www.wretch.cc/blog/clubfabric).
Tomorrow, the Vice crew follows up their St. Paddy's Day barnstormer with special guest DJs Ground Up and Yoshi, who join resident Schism for various house related fun at Hips (B1, 277 Dunhua S Rd Sec 2, Taipei, 臺北市敦化南路二段277號 B1). Schism will be also be launching his new mix CD Complex — see below for more details.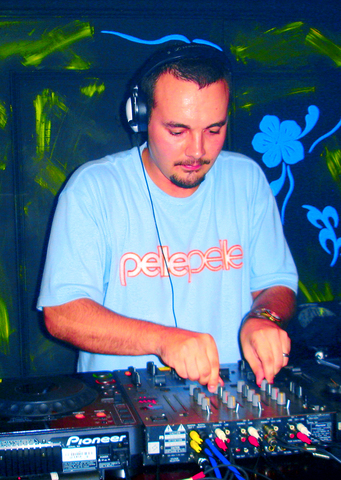 Schism smoothes the divides in Complex.
PHOTO: COURTESY OF SCHISM
Elsewhere tomorrow, Chi Funk mans the decks alongside Junior and Megan at Connected in Taichung's Liquid Lounge (98 Chungming S Rd, Taichung City, 台中市忠明南路98號), while Rob Solo and Syntax Error daub themselves in warpaint for Cammo Night at Kaohsiung's club Cube (31 Haibien Rd, Kaohsiung, 高雄市海邊路31號). Up in the capital, Joe Ho plays at Last Symphony at MoS (310 Lequn 3rd Rd, Taipei, 台北市中山區樂群三路310號), House Biaaatch returns to Luxy's re-opened Onyx Room with Cookie and Nina — note the change of day from Fridays, and The Wall brings on the bling with hip-hop and funk from Marcus Aurlelius and Choyce Kuts.
On Wednesday, Luxy's new midweek night is apparently aimed at the grown-ups with a dress code of suits for those coming straight from the office. It's called Drink Up and the theme is, er, drinking. Indeed, according to the press release, you get a free Luxy VIP card if you vomit on yourself and go to work the next day in the same clothes. Classy stuff. There's also a mysterious two-for-one drinks promotion involving the wearing of colored badges and finding members of the opposite sex, which is probably easier to do before you pray to the porcelain god. Also on Wednesday, weekly night Play at Paulina's continues to offer house music, martinis, free pool, no cover and no chucking up.
DIY DJ
The ancient philosopher Hooker once opined that "making a mixtape for your friends or 'rocking it' for the pleasure of it in your bedroom is not DJing," much to the chagrin of various people on a local internet forum. "That's vinyl masturbation," he continued, which really wound them up. To a point, he's right. But had DJ Schism just left his new mix CD Complex in his bedroom or given it to his buddies, it would still be a slammer, though the rest of us would have lost out.
Canadian native Schism cut his teeth over five years with the Nocternal Oxide collective, throwing small to medium size parties in and around London, Ontario in lofts, clubs, and anywhere else they could rig up a system and play a bunch of records. Astonishingly, given his talent, he's only been wielding the wax since 1999. Since moving to Taiwan with wife Michi a couple of years back, he's not only gained residencies at Champagne 3 and, most recently, United Nations of Funk's Vice, but has also played alongside James Zabiela at Luxy. And Complex demonstrates why.
It is a fat slab of a CD with 19 tracks sandwiched into a mix that manages to be alternately hard and haunting; it's a CD that lends itself to an urban landscape. Within minutes it slides between tough house, becomes almost Balearic, threatens in seconds to turn into menacing techno, and then slips into some off-kilter stuff that would best be described as electro, if that label had not been so mercilessly over-used to describe unlistenable grinding noise. Throughout all this, Complex doesn't ever lose sight of the importance of melody and harmony, and as hard as it seems in places, Schism is still actually playing what can be called songs. As well as being perfectly beatmatched, one of the solid elements of Complex is Schism's knack for knowing when to leave a track to run its course, and when to tease a chorus or a riff just long enough before switching effortlessly into something else.
The man himself spins at Vice tomorrow night from 12am and the first 100 people through the door get a free copy of Complex, which is reason enough to get there early. Stragglers will have to buy one. If you miss him, his weekly residency is on Thursdays at Champagne 3.
Comments will be moderated. Keep comments relevant to the article. Remarks containing abusive and obscene language, personal attacks of any kind or promotion will be removed and the user banned. Final decision will be at the discretion of the Taipei Times.