Four women on a merry-go-round
`Tilt' makes metaphors for modern life
Cultural identity, culture clashes and gender stereotyping have been fertile ground for dramatists, filmmakers and other artists for generations. These are also subjects that have long intrigued Taiwanese dancer/choreographer Lin Hsiang-hsiu (林向秀), the founder and artistic director of the five-year old Lin HH Dance Company (林向秀舞團).
Her latest work Tilt, is an hour-long exploration of the often confusing world of modern women and the cultural baggage they carry with them.
Lin said the inspiration for the program dates back to her Mix/Match, East/West show two years ago, and the choice between tea and coffee as a symbol of cultural identity.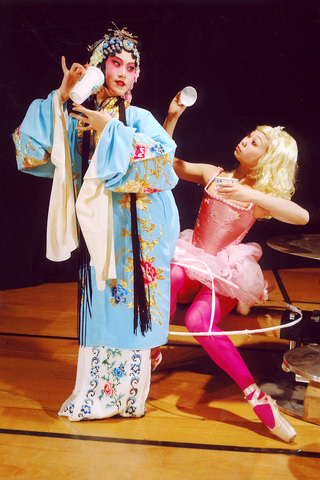 Barbie meets traditional Chinese opera in Taiwanese dancer/choreographer Lin Hsiang-hsiu's new work.
PHOTO: COURTESY OF LIN HH DANCE COMPANY
"A lot of people encouraged me to go into Chinese literature to find something to represent the Chinese culture and something to represent the Western. The Mudanting (Peony Pavilion, 牡丹亭) has been a hit for the last two years … so I studied the Mudanting and I found the main female character Tu Li-niang (杜麗娘)," Lin said. "She is a very brave girl, … she pursues love no matter whether she dies … . I think the spiritual [aspect] of pursuing love is actually very conflicting."
"She [Tu] has to carry the [weight of] tradition … so we will let her costume show that she has to act a certain way, she has to dance that way. Then she will meet Barbie to have tea and coffee," Lin said. "I think Barbie represents the Western female icon. She can decide whom to love, she doesn't have kids, she doesn't have to marry, she can just have a boyfriend, she can change costumes, she can be whatever she wants. In that way she is much freer."
Lin decided she needed three more characters.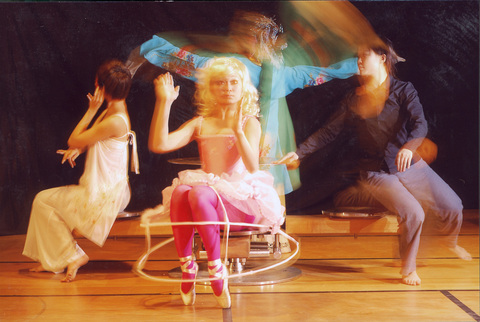 Barbie meets traditional Chinese opera in Taiwanese dancer/choreographer Lin Hsiang-hsiu's new work.
PHOTO: COURTESY OF LIN HH DANCE COMPANY
"One represents another female role. In a work situation you have to be as tough as men, you can't be very feminine. She dresses like a man, dances like a man; she says women should be more like men," Lin said. "Then I have another character who represents the modern female role. … She wants to be like Tu Li-niang, to be very brave, have a lot of courage to pursue love … but she's conflicted … and lives in a dream world."
And then there is a man, dressed in a suit and wearing white gloves.
"The man only shows his hands … I emphasize his hands as a metaphor for manipulation," she said.
For her five dancers, Lin, who teaches modern dance to the Cloud Gate Dance Theater and is an instructor at National Taiwan University of the Arts and National Taipei University of the Arts, looked to her current and former students.
"I have been teaching them since they were freshmen … so I know their dance style and their characters very well. I picked dancers who would fit into the characters. And then I took their dance style as the motif of the character. So the Barbie is always like a Miss America, always smiling, showing her body, very proud of it," she said.
This weekend's performances are a big step up for Lin. It is the first time she has chosen a Taipei venue other than the small Experimental Theater at the National Theater. She admitted that the move brought at least one concern: "The only thing I'm worried about is keeping the audience's attention."
For help in utilizing the bigger space, Lin turned to architect-artist Shy Gong (施工忠昊), who offered her his "Mary Go Around" — a table with four chairs that spin around it. Shy took the backs off the chairs and reinforced the table so that the dancers could dance on it.
"I love to have someone ask me: 'Shy Gong, do something for me.' I will do exactly what they want," he said.
"I want the piece on the stage to interact with the artist," he said, before he laughed and added, "Normally the object is the background for the performance, but the way I think … the object is the star of the show."
Four women, one man and a merry-go-round certainly add up to a metaphor for modern life.
Publication Notes
PERFORMANCE NOTES
WHAT: Lin HH Dance Company's Tilt
WHEN: Tonight and tommorrow at 7:30pm, tomorrow and Sunday at 2:30pm; Saturday, April 21 at 7:30pm
WHERE: National Taiwan University Theater (this weedkend); Performance Hall at Cultural Affairs Bureau of Taoyuan County (桃園縣文化局演藝廳), 21 Hsienfu Rd, Taoyuan City (桃園是縣府路21號) (April 21)
TICKETS: NT$400 (for Taipei); available by calling (02) 3393-9888 or online at www.artsticket.com.tw. The Taoyuan performance is free
Comments will be moderated. Keep comments relevant to the article. Remarks containing abusive and obscene language, personal attacks of any kind or promotion will be removed and the user banned. Final decision will be at the discretion of the Taipei Times.