THE VINYL WORD
Thirteen years ago, Jimi Moe and Wade Davis splashed down in Kenting with a small live music festival, Spring Scream, that quickly soared in popularity. A half dozen years or so later, rave parties sprung up and eclipsed the live music festival in both attendance and newsworthiness. This year, Spring Scream reinvented itself, lapped the others, and roared back to pole position once again.
Divided into two areas, the Erluanbi lighthouse and Kentington Resort, Spring Scream was huge and intimate at the same time. The Erluanbi lighthouse had two massive stages with gorgeous ocean backdrops that provided a pedestal for mainly Taiwanese superstars. On Thursday, Chairman (董事長) won the crowd over with their boyish good looks and pop-lite tunes, but the night clearly belonged to Cheer, a throaty female singer with a guitar and no backing band. She had the crowd mesmerized by her folksy blues while a comparison to Phoebe from Friends was in order when she sang a song about dancing around her apartment alone with her cat.
Later that night at a party far, far away, Spring Wave was hosting turntable samurai Krush. Walking along the dark, dirt path the first thing that came into view was the recycled football-shaped dome from last year's Summer Aquarian parties. It seemed like thousands of people were leaving en masse, which must have meant that the Japanese legend was on or they were running away from the overpriced, watered-down absinthe and Sprite. Krush is a DJ that needs to be watched and studied to appreciate all of the intricacies and intimates of his knob-twiddling, but he was at least 9m back from the front of the stage. All that could be seen was the occasional flash of the top of his hat. Flashes of the man's artistry occasionally appeared fleetingly on big screens, but that wasn't enough. In the end, he freaked DJ Shadow's Organ Donor righteously and called it a dusty night at the stroke of 12 to the cops' delight.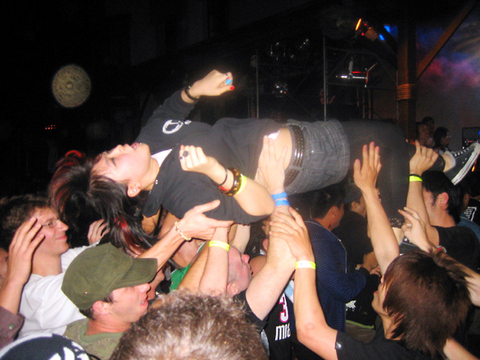 Revellers let it all hang out in Kenting last weekend.
PHOTO: MARCUS AURELIUS, TAIPEI TIMES
Spring Scream Kentington Resort had six stages of varying sizes and all that you had to do was follow your ears and you could find something to your liking. Walking five minutes in one direction, a mechanical bull begged to be tamed, in a different direction, there was a huge pool with whirlpool spas, and then around another corner were 35 drummers. Some notable performances Friday night were Spring Scream veterans The Clippers (夾子), with their intelligent humor, KTV styling and supersexy dancer. The Savas, Japanese punk imports, whipped the crowd into a mosh pit frenzy by screaming undecipherable lyrics over aggressive spurts of three chord progressions.
The things that make festivals go from pretty damn good to amazing are the surprises. Enter the air guitar contest. One of the first contestants was a 129kg shirtless Japanese guy in a diaper rolling on his back playing his leg to AC/DC. Usually, this would have won the brand-new drum set, but this was Spring Scream and people came to let their mullet down. One guy let everyone and their dog paint his body while his friend hula-hooped nearby. A pair of revelers tossed their "guitars" back and forth while two blondes made out.
Back to city life, and tonight, the bastion of good taste Barcode reopens in new surroundings. Now, located above Room 18 on the fifth floor of Neo 19, next to Vie Show in Xinyi District, pre-club drinks have never been so convenient.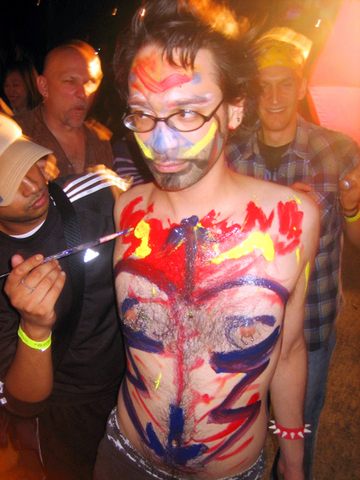 Revellers let it all hang out in Kenting last weekend.
PHOTO: MARCUS AURELIUS, TAIPEI TIMES
— MARCUS AURELIUS
Comments will be moderated. Keep comments relevant to the article. Remarks containing abusive and obscene language, personal attacks of any kind or promotion will be removed and the user banned. Final decision will be at the discretion of the Taipei Times.