French female enters macho matador milieu
Female bullfighters face an uphill struggle to make it big in a traditional pursuit dominated by men with a chauvinistic attitude
She fought her first cow at 12, killed her first bull at 16 and now this shy, young Frenchwomen is set on facing another adversary — the very macho, closed, ritualized world of bullfighting.
This Easter weekend, 19-year-old Marie Barcelo will walk into a top-class arena to fight a bull, on foot, in her first major holiday corrida.
"In the arena you come alive," said Barcelo, who readily admits to a moment of panic before the bull — which can weigh 480kg to 600kg — enters the ring. But when it does, all fear evaporates.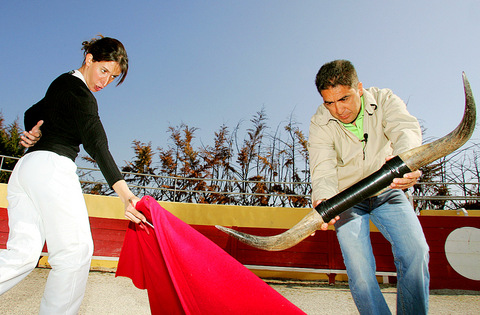 French matador Marie Barcelo, 19, practices with her coach Paquito Leal, in Arles bull ring, southern France.
PHOTO: AP
"It's a pure moment, you shed all pretense and face the truth," she said ahead of what will be a closely watched performance in the Roman amphitheatre in Arles, the southern town that hosts some of France's most spectacular bullfights.
"To become a matador, you must overcome enormous difficulties," bullfighting specialist and chaplain for the amphitheatre in nearby Nimes, Jacques Teissier, said.
"For a woman, entering this still very male chauvinist world is even more difficult."
But Barcelo, whose fine features are framed by shoulder-length chestnut hair, is not fazed.
"This is a man's world but there are women who have proven that we are capable of bullfighting, like Cristina Sanchez," she said.
Sanchez, the most famous female matador in Spain, enjoyed a high profile career in the 1990s before dropping out to retire, mainly over her frustration at some of her male colleagues' refusal to fight alongside a woman.
In France, no woman has yet passed, on foot like Sanchez, the critical "alternative" — a rite of passage that separates amateurs from professionals.
France's best-know female matador, Marie Sara, made it past the test in 1991, but on horseback.
"So far I haven't had any trouble at my level. Afterwards, if I take the 'alternative,' it will be more difficult, but I'm ready to face all that," Barcelo said.
In the classic bullfight, six beasts are successively battled then put to death by the matadors, with the help of mounted lancers or picadors and pages.
The duel as a show of male force and virility is embodied in the Spanish phrase to describe the moment a matador dons his costly "suit of lights": apretarse los machos, which literally means "squeeze the testicles."
But Barcelo's trainer Paquito Leal, himself a former bullfighter, insists "the corrida has begun to evolve," noting that more and more women were entering the sport in Spain.
His protege's passion was sparked at a young age on the farm of her bullfight-loving parents, who make goat's cheese and breed bulls for the Provencal-style bull runs known as the courses camarguaises, in the Herault department west of Arles.
"One day, I was having fun fighting the cows during a branding when Marie told me, 'I want to try.' She was 12 years old," recalled her father Michel.
"She wasn't afraid," he said, showing a picture he still carries in his wallet capturing that moment.
By the end of 2003, Barcelo was enrolled in the bullfighting school in Nimes, where she killed her first bull. It was "impressive," she said.
Corrida opponents claim the practice is barbaric and amounts to animal torture. They doubt matadors' claims that they "love" the bulls they fight. But Barcelo, who is transformed when she enters the ring, eyes blazing and body radiating confidence as she struts through the passes, insists it is true.
"You love the bull so much that you want to help them show off their courage and their grandeur in battle. It is painful for us to send them off anonymously, without glory, to die at the slaughter house," she said.
Unlike many other bullfighters, Barcelo holds a high school diploma but dropped out of university to concentrate on bullfighting. Today, she is enrolled in the corrida school in Arles, has fought several bullfights in Spain, limits her social life and conducts rigorous daily training.
"She is raising the bar for the boys," her trainer said.
She takes on odd jobs to survive financially, mindful that only the world's top 50 bullfighters actually make a living at their trade. And she has the wholehearted support of her parents who, with relatives, offered Barcelo her first "suit of lights" on her 18th birthday.
They admit they fear for her every time she enters the ring but accept that "this is her passion."
Barcelo knows she must "do the best possible" at this weekend's novillada de la feria, a holiday bullfight using animals under four years old, to land future engagements.
Her mantra when she steps into the ring, she said, will be comments from two of today's most famous matadors, Morante de la Puebla and Sebastian Castella, applauding her bravery during a recent training session in Spain.
Comments will be moderated. Keep comments relevant to the article. Remarks containing abusive and obscene language, personal attacks of any kind or promotion will be removed and the user banned. Final decision will be at the discretion of the Taipei Times.