Minimalist music, maximum output
As part of the CKS Cultural Center's 20th anniversary celebrations, composer Philip Glass will play at the National Concert Hall, Taipei, on Wednesday and Thursday with The Philip Glass Ensemble. Hailed as a man that never stops working and one of the most innovative and influential composers of the latter part of the twentieth century, Glass and his band mates will perform a retrospective featuring some of his best-known work.
Movie scores feature prominently for both evenings with Golden Globe winning Raising the Sail from the movie The Truman Show, Mosque and Temple from Powaqqatsi and The Funeral from Akhnaten lined up for the first evening. The second evening will feature Sand Mandala from Kundun, the 1997 movie that won the LA Film Critics Association for Best Score, The Grid from the earlier Koyaanisqatsi and Dance Piece No. 9 from In the Upper Room.
The program of classical works for the first evening includes selections from Music in Similar Motion, Music in 12 Parts Parts 1 and 2, and Building from one of his best know works, Einstein on the Beach. The line-up of classical music for the second night includes Parts 7 and 8 from Music in 12 Parts, Facades from his 1983 album Glassworks and Dance No. 1 from Einstein on the Beach.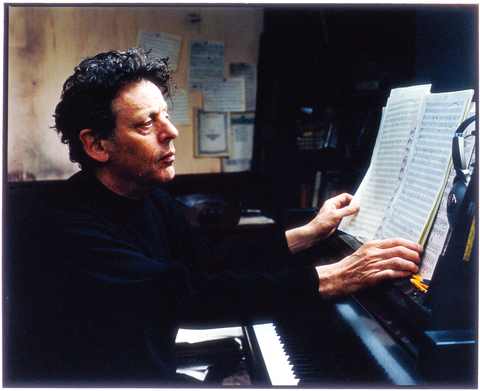 Philip Glass and his Ensemble will play music that span the maestro's four-decade career.
PHOTO COURTESY OF CKS CULTURAL CENTER
Not only has Glass created works for the screen, symphony and opera, he has teamed up with international theater virtuosos such as Robert Wilson to create the philosophical Einstein on the Beach.
The Philip Glass Ensemble was established by Glass in 1969 in New York and quickly gained a name for itself due to the combination of musical and visual elements in their performances. The ensemble of musicians for his Taipei performances includes Glass and Michael Riesman on keyboards, Jon Gibson, Andrew Sterman and Richard Peck on woodwinds, Frank Cassara and Mick Rossi on percussion and Lisa Bielawa on vocals and keyboard.
Though Glass' experimental compositions have brought him labels such as "avant-garde" and "minimalist," most of his music is surprisingly approachable and highly dramatic. He has collaborated with popular music performers such as David Bowie and Natalie Merchant and a staggering array of jazz musicians. Indeed, Glass' popularity can be partially attributed to his wide range of projects in different genres over a variety of media.
His current projects include Book of Longing, a work based on the poetry of Leonard Cohen and the musical score for the Woody Allen film Cassandra's Dream.
Publication Notes
Performance notes:
What: The Philip Glass Ensemble Retrospective
Where: National Concert Hall, Taipei
When: April 11 and April 12 at 7:30pm
Tickets: NT$500 to NT$2,000 and available through NTCH ticketing (Note: NT$500 to NT$900 tickets are sold out)
Comments will be moderated. Keep comments relevant to the article. Remarks containing abusive and obscene language, personal attacks of any kind or promotion will be removed and the user banned. Final decision will be at the discretion of the Taipei Times.