Was Anna Politkovskaya afraid?
On the six-month anniversary of Anna Politkovskaya's murder, the controversial journalist's diary hits book shelves and her voice speaks from the grave
The diary of murdered journalist Anna Politkovskaya ensures that her questing, questioning voice cannot be silenced
This month marks the six-month anniversary of the murder of campaigning journalist Anna Politkovskaya. This book is the diary she was preparing for publication shortly before her death. It covers Russia's presidential elections of 2004 and the aftermath of Putin's re-election — a "great political depression," as Politkovskaya describes it — culminating in the Beslan tragedy in September 2004. The last section of the book follows the Yukos affair (which resulted in the jailing of Mikhail Khodorkovsky, the richest man in Russia), the political fallout from Beslan and hundreds of forgotten show trials, disappearances and violent events all over Russia.
Even though the last entry was written more than two years ago, the benefit of hindsight makes this a particularly difficult read. You would have to be fairly stony-hearted to get through the short afterword, "Am I Afraid?," without choking up. "People often tell me I'm a pessimist; that I do not believe in the strength of the Russian people; that I am obsessive in my opposition to Putin and see nothing beyond that. I see everything and that is the whole problem." And she never does answer — was she never afraid?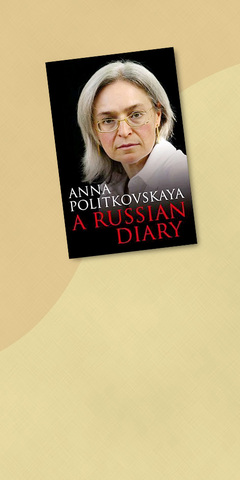 Publication notes: A Russian DiaryBR> By Anna Politkovskaya 272 pages Harvill Secker
Her insistence on remaining in Russia answers this question: she was the target of repeated death threats and an attempting poisoning. A woman who resembled her had already been killed near her home in 2001. There was a sickening inevitability to the four bullets to the head at point-blank range last October. But Politkovskaya did not have much time to be afraid. She was too busy doing what she considered, in her gut, to be her duty: to report on Russia as she found it.
It is not what you could call a conventional diary: there is virtually no personal detail. This is less of a journal and more a chronicle of what was happening in Russian political life over a three-year period: observations on televised debates, overheard conversations, strained interviews. Politkovskaya is largely silent, filling her pages with the voices of a forgotten Russia instead: the war widows living on pensions of US$19.50 a month, the families under bombardment in Ingushetia who phone her in the night.
Often, stories finish abruptly: unexplained events are a given in post-Soviet life. A human-rights campaigner is abducted in Chechnya and never mentioned again. The widow of a Chechen fighter is kidnapped and vanishes without trace. Many events need no comment and can have no rational explanation. The entry for Sept. 3, 2004, simply reads: "There are 331 fatalities as a result of the hostage-taking in Beslan."
A Russian Diary is by turns depressing and illuminating. It occasionally has a surreal black humor. It is less moving and immediate than Politkovskaya's other works, Putin's Russia and A Dirty War, which focus less on politics and more on the suffering of ordinary people. It is told from a distance from the point of view of a cynical and exasperated observer who cannot believe that things can get any worse — but sees that plainly they have.
The hallmark of Politkovskaya's reporting is that she states verbatim what is going on, scrutinizing soundbites. She picks apart inconsistencies in interviews and occasionally gets involved, often recklessly: when she is interviewing Ramzan Kadyrov, now President of Chechnya, she complains that his interpreter is making up his own answers. The translator, "like a dog breaking free from its chain, attacks and insults me." As she is driven away after the interview, she breaks down as she realizes she is probably going to be killed. (Some kind of Kadyrov connection is still cited as the most likely explanation for her shooting.)
Politkovskaya refuses to follow obsequious cultural protocol. There is a certain way of speaking to figures in authority that is taken as read. At a meeting of human-rights campaigners with Putin, a pediatrician addresses the president with a question about the oligarch Khodorkovsky (then facing trial). For the question even to be entertained, it must have a preamble: "Vladimir Vladimirovich, I like you so much," the pediatrician simpers. You can imagine Putin nodding and smiling (Politkovskaya points out in her account that this sentiment has already been expressed repeatedly during the meeting). "And I do not like Khodorkovsky." Now the doctor can say what he wants. "Although I like you and do not like Khodorkovsky, I am not prepared to see Khodorkovsky under arrest." And so it goes on, pointlessly and endlessly.
Politkovskaya cannot be bothered to speak to anyone in this ridiculous way: she asks straight questions without buttering anyone up. This is why she was so unpopular, not only with figures of authority in Russia, but also with ordinary people. Many Russians are unaware of her work. Those who have heard of her often react surprisingly violently to the mention of her name.
She had, say many, an axe to grind (although they never quite explain her motives). She was more of an activist than a journalist, they say: in Chechnya, she got in over her head. In the eyes of her critics, much of what Politkovskaya reported from Chechnya could not be proven; it was based on what people have told her, not what she had seen. But that was the whole point of Politkovskaya's work: if she did not write about it, it would be written out of history completely. She was a conduit for stories people wished never happened. But as she was only ever as credible as her witnesses, to many in Russia, she was not credible at all.
It is as important to understand this as it is to read what Politkovskaya had to say. Very few were telling a similar truth in her lifetime and even fewer will tell it now she is dead. Politkovskaya is Solzhenitsyn for the 21st century, but without the samizdat readership at home. Her version of history will always have an audience in the West, but Russia, one suspects, will continue to ignore her. She herself knew why: "Our society isn't a society any more. It is a collection of windowless, isolated concrete cells. There are thousands who together might add up to be the Russian people, but the walls of our cells are impermeable."
Comments will be moderated. Keep comments relevant to the article. Remarks containing abusive and obscene language, personal attacks of any kind or promotion will be removed and the user banned. Final decision will be at the discretion of the Taipei Times.