Back on the beat
Two decades after their bitter breakup, the Police have reunited for a world tour. But will they gel as a band? And can they be nice to one another?
In a high-ceilinged studio at the Lions Gate film complex earlier this month, the Police were rehearsing for a very public first gig: Opening the Grammy Awards earlier this month broadcast with their 1978 hit Roxanne before announcing a world tour the next day. Sting, 55, on bass; Andy Summers, 64, on guitar; and Stewart Copeland, 54, on drums, were working through a list of two-dozen songs. For the first time in decades the Police would be back together for more than one night. "I've trapped myself back 30 years," Sting said.
The old Police sound was a lean, nimble, pointillistic approach to syncopation and space that Summers called "the sound of tension," and that tension sounded intact as the band kicked into Message in a Bottle, with its jumpy guitar riff and stamping beat. Half a minute later Sting waved the song to a stop. "Pick," he said tersely, his voice slightly irritated. "It doesn't work."
Summers had been playing guitar with a pick, not his fingers as he used to. "You thought for a second that he wouldn't notice?" Copeland cackled. Summers shrugged: "I played it with a pick all day yesterday, and he didn't say a word." He abandoned the pick, Copeland shouted "One! Two! Three! Four!" and in an instant the song was galloping forward again. It was just another moment of readjustment for three headstrong musicians rebuilding a tricky alliance.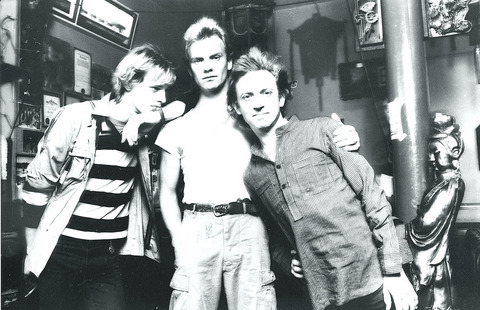 The Police, featuring Stewart Copeland, left, Sting and Andy Summers, right, are shown in 1980.
PHOTO: AP
Twenty-four years ago the Police ruled the rock world. Their seven-year career had been one unbroken ascent: each album outselling the last, each tour bigger. In 1983 they had claimed the mantle of the Beatles by playing Shea Stadium.
But as all three freely admit, their years as rock stars together were also years of bitter conflict, sometimes to the point of fistfights backstage. "We would be playing arenas and feeling the love pour onto us," Copeland said. "And then you would come backstage, to the guys that mattered most, and feel the unlove." From the beginning they had been three disparate personalities. Copeland is voluble and extroverted, Sting earnest and pensive, and Summers looks happiest talking about chord changes and guitar gizmos. What connected them was the music that they fought over most determinedly of all.
"We didn't go to school together," Sting said. "We didn't grow up in the same neighborhood. We were never a tribe. There was friction for the right reasons. We care passionately about the music and we're all strong characters, and nobody would be pushed around. So it was part of our dynamic. We fought cat and dog over everything."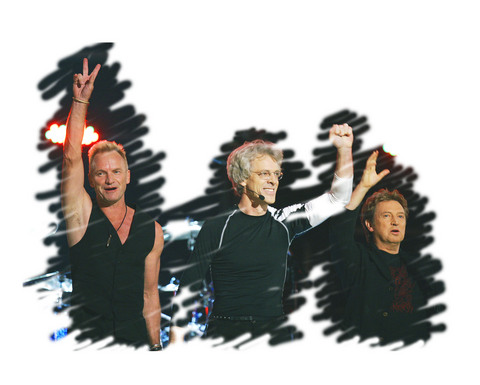 The Police reunited to perform at the Grammy Awards on Feb. 11, left and top, and celebrated their 30th anniversary with a concert at a Los Angeles nightclub the following day. The 1980s rock band is preparing for a world tour of arenas, stadiums and festivals beginning May 28.
PHOTO: AP
Although Copeland founded and named the Police, Sting quickly emerged both as the band's voice and its hitmaking songwriter. But the band's songs were simultaneously taut pop structures and improvisational melees, with Summers layering on complex chords and guitar effects, while Copeland's drumming shattered and precisely reassembled the beat. As the Police worked up Sting's songs, decisions were often made two against one. Sting grew to feel constrained.
"I wanted no rules, no limitations," he said. "Bands that stay together have to toe the party line. And I wasn't willing to do that." And so, when the band wound up their 1983 stadium tour, Sting struck out on his own. "We were the biggest band in the world, by all intents and purposes," he said. "And I just thought: 'Well, this is it. After this everything else is just diminishing returns. I want another challenge. I want to start again.'"
In recent years each member has told his part of the Police story. Copeland made a documentary. Sting and Summers wrote memoirs. But the recollections are strikingly different.
Sting's Broken Music dispatches the entirety of the Police's glory years in just two pages. Summers' One Train Later, by contrast, details an exhilarating whirlwind of tours and ends soon after the band's breakup, which he calls an "open wound."
Since that time Sting has remained a rock star, with multimillion-selling albums and well-publicized causes like rain forests and human rights. Summers has been leading groups on the jazz circuit, from clubs to festivals. Copeland established himself as a film composer (for directors including Francis Ford Coppola and Oliver Stone), and was coaxed back to performing by the jam band Oysterhead. No one had any reason to expect a reunion. "For years it was just, forget it," Summers said. "Five years passed, 10 years passed." Sting, in a radio interview, once called the prospect of reviving the Police insane.
And yet here they are: booked for arena concerts worldwide into next year, with some stadium dates on hold, just in case. The tour begins on May 28 in Vancouver and comes to New York City on Aug. 1 and Aug. 3.
Band members had stayed in touch since 1983, but they only played together on a few brief and uncomfortable occasions. Then last year they all found themselves at the Sundance Film Festival, and later Copeland and Summers both attended the Los Angeles stop of Sting's current tour. He is playing the lute songs of the Renaissance composer John Dowland. Summers and Copeland said they had both sensed a change. It was more than they had seen of each other in a long time.
"I was thinking, 'Well, now what do I do?'" Sting said in an interview in his hotel room. His lute was leaning against a wall. "Do another lute record? I don't want to paint myself into that corner. Do I do another Sting record? What's going to surprise people? What's going to surprise me? Wow, can I really be thinking that?"
The sound the Police created in their seven years together — light-fingered but assertive, musicianly but unmistakably pop — hasn't aged as fast as much 1980s music, and it has been emulated by musicians from Fugazi to Tool to Incubus to John Mayer. "We were the greatest rock band in the world, and that's the way we want to be," Summers said. "And we still have enough ego to think that we can come back, probably just like all bands, and blow every other band out of the water."
But not yet. "Right now we're not incredible," Copeland said. "We started out like a high school band last week. We got to be like a college band. Yesterday we started to sound like a bar band. Today we sound like, 'OK, we could earn a living like this.' But we are not yet playing like we deserve to play in a stadium. We'll get there, now that we're on the right track."
Sting kept working to add subtleties to songs that he has been performing continually through the years. He described Every Breath You Take to the band, explaining why he wanted nothing flashy, just a subdued, metronomic beat. "To me it's like a Bergman movie," he said. "Nothing happens until two very violent acts. One is the bridge, two is the coda. But not a mouse stirs. It's like a still life."
Copeland interjected, "But there might be a lion, sir."
"Yeah," Sting said. "That's me."
For the Grammys the Police's allotted television time would hold a tightly abridged Roxanne. A crewmember was timing the song. "We're going for a clean 3 minutes 30," Sting said.
"What happens if we go over by seven seconds?" Summer asked. "Emasculation?"
"They'll take a Grammy away," Sting said.
Battles had been reduced to banter. The Police knew they would have to get along for a year to come. "I used to think that strife and struggle and tension were important in a band," Copeland said. "I no longer believe that. And in fact this band has been rescued by our refusal to fall into strife and confrontation.
"When we arrived here in Vancouver, we had big musical problems. And we didn't resolve them by shouting at each other, by getting angry at each other, by power plays, by any of that stuff. We resolved our musical issues by comity. The music was sick, and we had to use our social bond to get through and try different solutions to the musical problems.
"It sounds cool that angst, sturm and drang, produces music with fire. No. We're going to get to fire by love. Because we love each other."
Sting said: "There's more compromise now. There's more sense of, just relax and this will be OK." He paused. "So far."
Comments will be moderated. Keep comments relevant to the article. Remarks containing abusive and obscene language, personal attacks of any kind or promotion will be removed and the user banned. Final decision will be at the discretion of the Taipei Times.