Planet Pop
Britney Spears' in-again out-again rehab saga found her back in a Malibu facility on Thursday, halting an emergency court hearing in which estranged husband Kevin Federline planned to discuss custody of their two children.
Celebrity Web sites reported that the pop singer returned late on Wednesday to the Promises rehabilitation center, which she had fled earlier in the day after less than 24 hours of treatment.
The reports followed a turbulent week that has seen one of the world's best-known pop stars in and out of rehab three times and shaving her own head.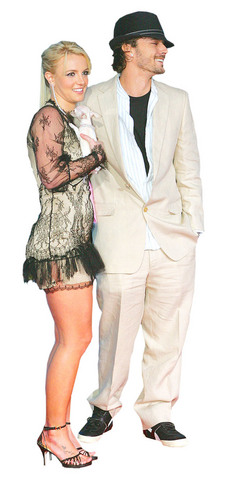 K-Fed's been acting like a better parent than Britney Spears.
PHOTO: AP
The Web site of syndicated TV show Extra said there was video showing her driving through the gates of the luxury Promises center with her mother.
Other reports said Spears returned after seeking a meeting with Federline on Wednesday but being denied entry to the house where he is staying with their children, Jayden James, 5 months old, and Sean Preston, 17 months old.
Spears filed for divorce in November after two years of marriage and both she and Federline are seeking custody.
Several reports said Spears returned for a full 30 to 45 days of treatment after Federline, also known as K-Fed, gave her a last chance to get help or risk losing custody of the children.
Spears hit the nightclub circuit hard after splitting with Federline and shocked fans when photographs of her getting out of cars showed she wasn't wearing panties under her miniskirts.
Last week, she was reported to have entered and fled a rehab center in Antigua after staying for less than a day.
When she returned to Los Angeles, she shaved off all her hair after a stylist refused to do it and got two new tattoos.
Rapper Busta Rhymes was charged with driving with a suspended license after police said they stopped him for running a red light.
Rhymes, whose hits include Dangerous, was taken into custody in lower Manhattan around 5:30am Thursday.
A suspended-license charge, punishable by up to 15 days in jail upon conviction, is the least of the current legal woes for the rapper, whose real name is Trevor Smith.
Rhymes, 34, is accused of assault in two cases and is considering a judge's deal that would allow him to plead guilty to misdemeanor assault and avoid jail.
In one complaint he is accused of beating Edward Hatchett, his former driver, and kicking him in the ribs during a dispute over back pay. The attack on Dec. 26 outside Rhymes' lower Manhattan office left Hatchett with cuts, bruises and substantial pain, a court complaint says.
In the other case, Rhymes is charged with assaulting a fan for spitting on his car after an Aug. 12 performance at the AmsterJam Music Festival on Randalls Island.
Police also have tried to question Rhymes as a potential witness in the February 2006 shooting death of his bodyguard Israel Ramirez.
Police say Rhymes so far has refused to cooperate with their investigation.
Comments will be moderated. Keep comments relevant to the article. Remarks containing abusive and obscene language, personal attacks of any kind or promotion will be removed and the user banned. Final decision will be at the discretion of the Taipei Times.