New horizons
LTJ Bukem and Conrad are returning for a welcome serving of drum 'n' bass
As fast as he finishes one sentence, LTJ Bukem has started a new topic, and taken it in a different direction. His speech echoes the musical banter of his DJ sets and his production work, which Herbie Hancock has described as "21st-century jazz": it flips, plays, parries and re-centers in the space of a paragraph, a mix, or a 12-inch record. Bukem and his lyrical partner MC Conrad play at Luxy on Tuesday night, a year since the pair last hit the island.
Bukem's label, Good Looking Records, has seen little action since 2004. "We just took a break. After 13 years of seven-day weeks," said the DJ who was born Danny Williamson in 1967.
The real work has been going on behind the scenes. The label is back in the groove with an album by old favorites Makoto, groundwork for Bukem's next album and new material from Conrad. The pair are about to embark on a Progression Sessions residency at London's Fabric on the final Friday of each month and are planning a reunion of the seminal London drum 'n' bass night Speed.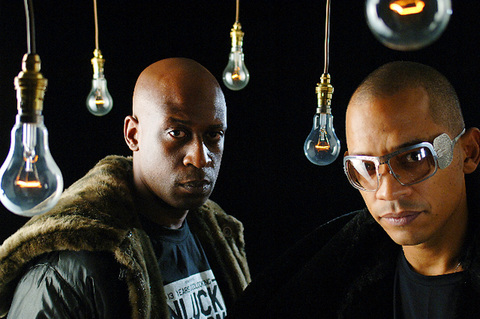 Drum 'n' bass pioneers Conrad, left, and LTJ Bukem embrace new technology while staying true to the genre's roots.
PHOTO COURTESY OF THE LOOP
"Part of the reason we took a break from the label," Bukem said in an interview from London, "is that we wanted to sit back and work out how we were going to tackle the digital music era."
But even as digital seems to have dislodged analogue from its pedestal, Bukem retains his old-school roots and continues to use vinyl for his gigs.
"I see turntables as instruments," said Bukem, who plays the trumpet, piano and drums. "But I think we've reached a point where people have forgotten that deejaying is a creative art. Deejaying off CDs or MP3s, which have lost the original sound quality of the track, is not the same as playing with vinyl, with full frequency response, the huge audio presence, and the quality of the original mastering right there on the wax. I'm not against guys who do this. It's just not for me."
Bukem concedes that Serato — the technology which enables a DJ to play a gig with merely a laptop and two vinyl pads through which to control their MP3 files using two standard turntables — is more technical than other forms of new deejaying technology.
"It takes beat matching, some skill to mix, unlike laptop DJs, who only have to get their computers to add four plus four and end up on-stage looking like they're writing a bloody e-mail," he said. "But then I get promoters who ask me why my records sound different. I'm thinking, have they forgotten what vinyl sounds like?"
Bukem has much to say on the way things have changed since he started out some 17 years ago and he is not keen on DJs taking shortcuts. However, the musician/producer/DJ is no Luddite when it comes to innovations that broaden music-making.
"The move away from deejaying with vinyl is very different from using new technology to make music production easier," said Bukem, who notes that the Internet age leaves him with dozens of e-mailed demo tracks on his desktop each morning, which saves him from ripping through parcels of dub-plates. "I'd much rather have the technology to enable a guy with a great idea to sketch that idea down, than having him still sitting there in his bedroom with no way to do anything with his great idea."
Bukem and Conrad's partnership goes back to 1991, when Bukem heard Conrad rhyme over a mix tape, collared him at a gig on a farm, and asked to him to work live. The two have never looked back, and their names are synonymous with the early days of the drum 'n' bass scene, as well its pioneering spirit as the genre has evolved in recent years.
"The scene is alive and well, and it's thriving in some not-so-obvious places like Dubai, Croatia, and St. Petersburg," Bukem said. Taipei has a small drum 'n' bass scene in comparison, but Bukem sees himself as something of an ambassador of the genre; taking it to new audiences, while at the same time playing for a die-hard fan-base.
"I have to pay homage to promoters like Luxy, who take a risk to let us play to the hardcore foot-soldiers on the scene, who may be small in number," Bukem said. "But these gigs also let us get this stuff out there to new heads."
Bukem and Conrad's artistic partnership draws influence from mid-20th-century jazz, which they both cite as an influence, as much as their work looks to the future.
"Someone recently gave me the best compliment about my work," Conrad said in a separate interview also from London. "That my rhymes are like jazz drumming, with fills and riffs, and that's great, because I take a lot of my form from the syncopation of jazz drummers."
The art of deejaying has changed significantly over the last few years with the advent of new technology, but can the same be said about Conrad's rhymes and couplets?
"I wouldn't say I'm an urban poet, but I'm a wordsmith," Conrad said. "It's a mix between personal experience, message and word-play, and people get different things from that. When people come up to me and say that what I said made sense to them in their experiences, or that it constructs a question about the issues they are asking about life that maybe they wouldn't construct themselves, then that's what reconfirms what I do."
Conrad is a little like Bukem in his back-to-basics philosophy, and he also looks to the potential of emceeing. Conrad reckons, for example, that modern urban poetry should be on school curricula in the UK.
"People listen to me, to gangster-rap, to Dizzy Rascal and UK grime, and they hear street slang in this stuff. But if you put it on paper, then people have time to understand the double-meanings, how street slang can be understood in different contexts," he said.
"Putting these ideas into English classes at school could at least give people the chance to think about the way they use these ideas and how they think about themselves, and this gives them some space to think about how they make sense of their own lives."
Bukem and Conrad both argue that words and music should be, in essence, timeless.
"I want to collect records that I'll still be playing when I'm 90-odd," Bukem said.
"I don't claim to be, but I aim to be, a future-proof MC," Conrad said. "Hmm. That rhymes. I'm writing it down now."
Publication Notes
For your information:
WHAT: LTJ Bukem and Conrad
Where: Luxy at 5F, 201, Zhongxiao E Rd Sec 4, Taipei (台北市忠孝東路四段201號5F)
When: Tuesday from 9pm
Tickets: If wearing camouflage clothing, entrance is free before 11pm, otherwise tickets are NT$299, which includes a drink, and NT$500 after 11pm with two drinks
On the Net: www.luxy-taipei.com
Comments will be moderated. Keep comments relevant to the article. Remarks containing abusive and obscene language, personal attacks of any kind or promotion will be removed and the user banned. Final decision will be at the discretion of the Taipei Times.