New Year traditions rule at NCFTA
A combination of museum, performance venue, theme park and research center, the National Center for Traditional Arts is an ideal way of getting in touch with Taiwan's culture
It is a commonplace of Taiwan's cultural scene that the traditional arts are in decline. The difficulty of drawing audiences to performances of traditional Taiwanese opera can be heard repeatedly from the artistic directors of local troupes who are trying to make ends meet, as they seek a balance between preserving tradition and appealing to a new generation brought up on video games and round-the-clock television.
The establishment of the National Center for Traditional Arts (國立傳統藝術中心, NCFTA) in October 2001 was an important move by the government to take a hand in the preservation and dissemination of Taiwan's traditional arts. At a press conference to announce a program of activities specially devised for the Lunar New Year period, Director Lin De-fu (林德福) emphasized that with its combination of research facilities and its performance and activities center located in the Tungshan River Park (冬山河親水公園) in Ilan County, the center is ideally structured to perform this double function. It is also, according to virtually everyone associated with the center, a great day out for the whole family.
With features that combine those of a theme park with those of a museum and research facility, the NCFTA aims to appeal to a young audience through shows specially designed to incorporate the artistry of traditional arts with content and performance styles accessible to youngsters. "It is among the very young that we have the best response," said Lance Wang (王蘭生), chief secretary of the NCFTA, while watching a "creative" Taiwanese opera telling the story of Pigsy (a well-loved character from the Chinese classic Journey to the West, also known to western audiences as Monkey), which incorporated folk dance and pantomime, and would certainly have been anathema to opera purists. Lin emphasized, in this regard, that such hybrids can go hand in hand with rigorous conservation of Taiwan's indigenous traditions. (See http://elearning.ncfta.gov.tw/index.asp for NCFTA's online educational service, for those who want to take their understanding of Taiwanese culture to a deeper level.)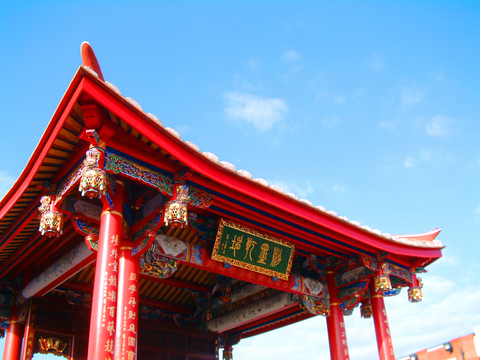 Traditional Chinese motifs can be seen in many of the structures and decorations to be found at the NCFTA
PHOTOS: COURTESY OF NCFTA
The Year of the Pig has been something of a godsend for the NCFTA in that it provides many appealing themes for the center's holiday activities. These activities have been designed to make the most of the long Lunar New Year holidays, when families may be more able and willing to learn more about Taiwan's cultural achievements.
Pigsy Causes Trouble at the Peach Blossom Village (豬八戒大鬧桃花村), created by Lin Chuen-fa (林春發) and featuring the Ba-Liang Opera Troupe (八兩歌劇團), is sure to be a hit with the kids (Feb. 18-23, 3pm). Although based on traditional gezai (歌仔戲) opera and sung in Hoklo, Wang insisted that with mother-tongue education now well established in schools, the performance should be easily understood by children, whatever their family background. Cute costumes and a children's dance troupe will probably help span any gaps in understanding. Another show drawing on the pig motif will be presented by the Se Den Society Foundation (西田社布袋戲基金會), a traditional puppet troupe that has adapted the story of the Three Little Pigs to a glove puppet format (Feb. 18-23 11:30am and 4pm).
Both gezai opera and glove puppet theater developed in China and came to Taiwan with early waves of immigrants. Both started as simple entertainments for the dispossessed, but gradually developed their own unique traditions. In the case of gezai opera, it has blossomed into the massive operatic productions of Ming Hwa Yuan Taiwanese Opera Company (明華園歌仔戲團) and the Tang Mei Yun Taiwanese Opera Company (唐美雲歌仔戲團), which perform in Taiwan's top theater venues. In the case of puppet theater, ancient traditions have been preserved by groups such as Yi Wan Ran (亦宛然) of the late Li Tien-lu (李天祿), and have also developed into televisual special-effects-laden superhero dramas of the Golden Light (金光布袋戲) tradition. At their best, these groups, and many like them, represent a vibrant devil-may-care attitude to borrowing and adaption that is somewhere at the root of Taiwan's unique cultural tradition.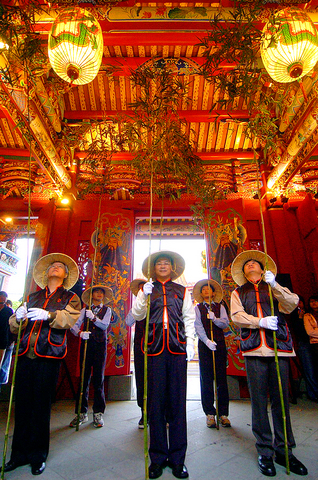 Traditional ceremonies are held at a local temple to give the full flavor of Taiwan's religious culture
PHOTOS: COURTESY OF NCFTA
All this rather begs the question of what exactly the NCFTA is preserving, especially in the light of recent comments made by Minister of Education Tu Cheng-sheng (杜正勝). "Taiwan has advantageous conditions and the ability to create a new culture," he said, adding that this could serve as a reference for the development of Chinese culture as a whole.
Director Lin expanded on these sentiments to the Taipei Times, saying that while Taiwan has taken much from Chinese culture, it has also been influenced by Dutch, Spanish, Japanese and modern western culture. From this eclecticism, the result of Taiwan's unique historical circumstances, has emerged something uniquely Taiwanese.
An example of this eclecticism can be seen in the Astonishing Metalworks in Taiwan exhibition currently on show at the NCFTA museum in Ilan, which shows Taiwanese artists reaching out beyond the confines of a stereotypical Chinese tradition. Bringing together creations from some of Taiwan's best and most highly acclaimed artists, the exhibition provides insight into how diverse influences have acted to inspire Taiwanese artists working in gold, silver, copper and cloisonne, iron, steel and pewter.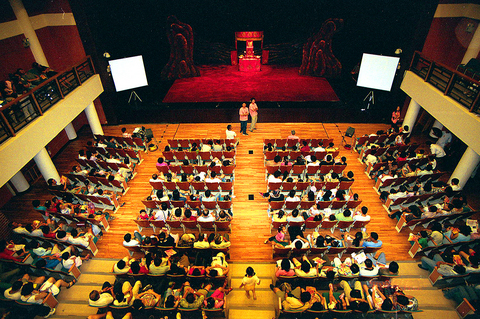 The NCFTA also includes state-of-the-art performance and lecture venues
Throughout the year, the NCFTA as a virtually continuous program highlighting various aspects of Taiwan's culture. It also has plenty of facilities for more serious students. In Taipei, the Research Institute of Musical Heritage (民族音樂研究所) offers an amazing collection of audiovisual materials for those who wish to get a grasp on the tangled threads of influence, borrowing and innovation that constitute Taiwan musical history. But the main attraction is the NCFTA facility in Ilan, and this, with the Hsuehshan Tunnel (雪山隧道) and convenient rail links, is not really that far away.
The NCFTA will be open to the public all through the Lunar New Year period. In addition to on-going shows for the holiday period, NCFTA will be putting on a traditional festival combining many of the activities associated with welcoming the New Year, including a shopping street, lighting of lanterns, parades, folk dancing and drumming, and even souvenir red envelopes. This will take place on New Year's Eve (Saturday, Feb. 17) between 9pm and 12:30am. Accommodation is available, so there is no reason to making it only a daytrip.
Information:
The riverside park is an ideal environment for leisure activities.
Getting there: From Taipei, take a train to Luotung (羅東) and then get a taxi from the station to Tungshan Riverside Park (approx. NT$200 taxi fare). You can also take the Guokuang Intercity Bus (國光客運) bound for Nanfangao (南方澳) from the station and disembark at Chialiyuan Bridge (加禮遠橋), then walk (approx. 10 minutes).
Entry: Tickets are NT$150; NT$120 for groups over 20 persons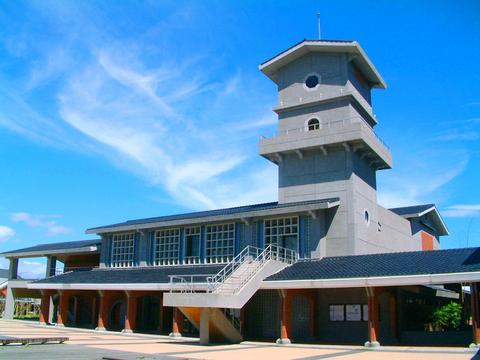 Traditional Chinese motifs can be seen in many of the structures and decorations to be found at the NCFTA
Open: Over the Lunar New Year, the NCFTA (including the museum) will be open between 9am and 9pm. (Regular opening hours 9am to 6pm)
Accommodation information is available at the NCFTA Web site: http://www.ncfta.gov.tw/site/388/default.aspx
A full list of activities for the Lunar New Year is available at http://art.pcsc.com.tw/event_program.php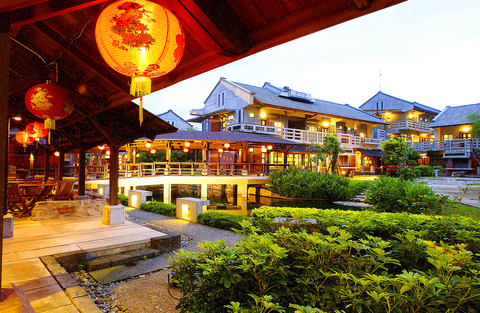 ccommodation is provided at the NCFTA for those who want to stay for more than one day
The NCTA's facilities include a arts and crafts street where many local handicrafts can be purchased.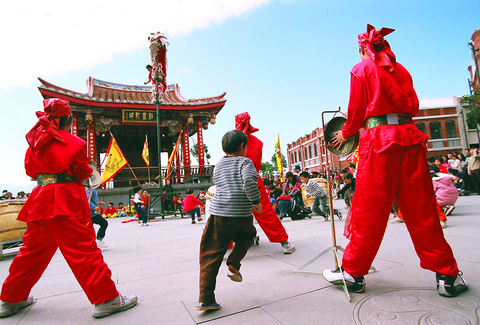 A performance takes place at the traditional stage outside the Wenchang Temple.
Comments will be moderated. Keep comments relevant to the article. Remarks containing abusive and obscene language, personal attacks of any kind or promotion will be removed and the user banned. Final decision will be at the discretion of the Taipei Times.