Rap's comfort zone
This tiny New Jersey town is elite, discreet, very white - and home to hip-hop royalty
Driving north on the Palisades Interstate Parkway, it's easy to blow past this town and end up halfway to Rockland County. But make the turn onto Old Closter Dock Road, and you'll find yourself touring one of the richest towns in America, a hamlet of small leafy streets and stately homes, a longtime preserve of the wealthy white elite.
By Alpine's standards Eddie Farrell's house is hardly jaw-dropping. A five-bedroom split-level ranch with a lawn and swimming pool, it is to all outward appearances a slice of cookie-cutter, upper-middle-class domesticity.
But buzz the intercom, and a visitor soon descends into a hip-hop version of Bruce Wayne's Batcave: a gleaming wonderland of computers, keyboards and recording gadgetry hidden behind the soundproofed suburban facade. On a recent winter morning Farrell, a producer and DJ known professionally as Eddie F., was holding court in his Mini Mansion Recording studio. Loading a pair of MP3 files — recent releases by Young Jeezy and Jay-Z — he used the Serato Scratch Live program and a pair of time-coded control records on his Technics 1200 turntables to execute a series of precise cuts and scratches. "It's all digital, but the sound, the touch, everything's the same as we used to get with vinyl back in the day," he said.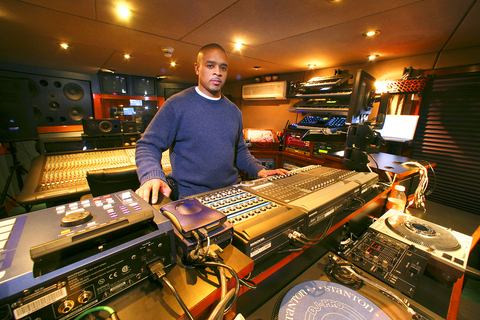 Farrell in his studio at his home.
PHOTOS: NY TIMES NEWS SERVICE
Some of the biggest names in hip-hop and R&B, from 50 Cent to TLC to Mary J. Blige, have made the pilgrimage to Farrell's basement to record and mix hits, a fact well documented by the rows of platinum-sales plaques and Ascap songwriting awards on his walls. But his more buttoned-down neighbors would never know it. "I try to keep a real low profile," he said, casually dressed in a gray T-shirt, gray shorts and black slippers, a diamond stud adorning his left earlobe.
He made the move from his native Mount Vernon, New York, in 1990, at the height of his success as the DJ of Heavy D & the Boyz. "I was one of the first out here in Alpine," he said. "There was no one doing hip-hop out here back then. I used to have to give people real specific directions to get out here to do a session."
Seventeen years later they all know the way. Hip-hop has come to Bergen County full force, and this tiny, affluent town has blossomed into the favored bedroom community of rap's moneyed set, including artists like Sean "Diddy" Combs, Lil' Kim and Fabolous and music executives like Andre Harrell and Damon Dash. Giving a tour of his home and recording complex, Farrell pointed out the loft space where Combs used to sleep. "As a matter of fact Puffy used to live with me for about a year or two," he said, using Combs' now-retired nom de rap.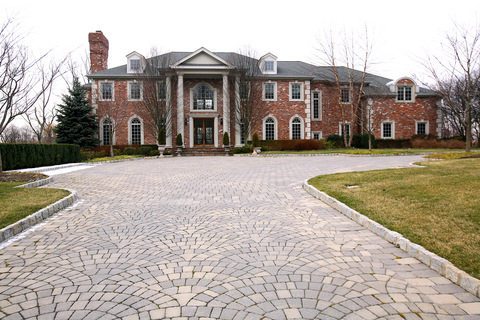 A number of hip-hop artists have looked at this house, on the market this month in Alpine, New Jersey. This tiny affluent town has become the favored bedroom community of rap's moneyed set, including artists like Sean (Diddy) Combs, Lil' Kim and Fabolous and music executives like Andre Harrell and Damon Dasha.
These days Combs hardly needs to crash on a homeboy's sofa. The house he recently bought here, for a reported US$7 million, is a 1,600m2 hilltop mansion with eight bedrooms, nine bathrooms, indoor and outdoor pools (complete with waterfall), racquetball and basketball courts, a home theater, a wine cellar and a six-car garage.
The rapper-turned-CEO Andre Harrell says it all started in nearby Englewood. "The first attraction was the glamour of the Hollywood in Jersey that Eddie Murphy created," he said. When Harrell moved to Alpine in 1990, however, he found something quite different. "The trees and the rugged kind of nature had a serenity. If you came from an environment of any sort of urban blight, it made you feel like you've finally made it and you're at peace. It was so serene and storybooklike. It was the kind of thing you grew up watching on television. You said, 'OK, this is what the American dream is.'"
Fabolous, the rapper who grew up as John Jackson in the Bedford-Stuyvesant section of Brooklyn, said the seclusion and serenity in Alpine remain a major attraction for the younger generation of hip-hop stars. "It's a quieter environment," he said. "It's being able to get away from the whole hustle and bustle of the city. It puts you in a different zone, into a real comfort zone when you're working."
The town has long been defined by its deliberately low profile. There is no thriving downtown, no velvet-rope restaurants, no reason to come here unless you belong. Even the mail knows its place: in other towns, civil servants might stride right up to your home and drop off your letters, but in Alpine, where homes are preceded by heavy gates and long driveways, your letters are respectfully held for you until you send someone for them.
Lately, however, the town has begun appearing in both lyrics and news reports. On her song Aunt Dot, Lil' Kim name-checked it: "Come on Shanice, I'm takin' you to my house in Alpine," she rapped. And last year, when she was released from a federal prison, reporters trailed her back to her luxurious Alpine town house, where she served 30 days on house arrest.
It marks a strange moment in the evolution of hip-hop when its stars view Ivy League-educated, old-money establishment figures as the most desirable neighbors. And it's a strange moment in the evolution of US capital when that old-money establishment begins to view the hip-hop stars the same way.
But on one level at least it makes perfect sense, given the mainstreaming of a once underground musical genre and its celebration of CEO culture. "I don't buy out the bar, I bought the night spot/I got the right stock," Jay-Z raps on his new album.
Jeff Chang, the author of the hip-hop history Can't Stop Won't Stop, said: "Rap fortunes form as powerful an American myth as is the creativity of poverty. When these rap entrepreneurs move to Alpine, they embody a new way of envisioning the classic American capitalist story. It's why Russell Simmons and Diddy have called their clothing lines 'urban aspirational.'"
On a freezing January afternoon Wendy Credle, an entertainment lawyer and real estate agent who has lived in the Alpine area for years, and Jade Stone, a bank loan officer, offered a reporter a driving tour. "The land value out here is through the roof," Credle said. "I know people that tear down their own house and rebuild, because they've got such amazing property value in the land."
The new houses resemble Mediterranean villas or small hotel complexes, with immense indoor-outdoor pools and garages that could double as airplane hangars. That kind of room, Credle said, "affords you the head space to be creative."
Stone, who helped secure mortgages for leading rappers like Cam'ron and Biggie Smalls, said it had not always been an easy move to make: "A few years ago, I had a client — she was a major artist too — that had excellent credit, over US$2 million in the bank, was buying a house for a million-five, and because she was a new, young artist, the underwriter didn't want to give her a mortgage." No longer, she said. "I would say that now the banks are fighting for these guys. If I bring in a client like Jim Jones" — a rapper who is part of Cam'ron's crew — "you'll have three or four banks competing to do his mortgage."
In part that is a matter of pure arithmetic. "The entry level now, they're making US$20 million," Stone said. "The entry level back then, they were making maybe a million, so they bought a three- or four-hundred-thousand-dollar town house. Then as they got bigger, like Kim, they moved up to a US$800,000 town house. Then they bought the million-five home."
And what about the other side of the hip-hop lifestyle, the partying that earned Combs the ire of some of his Hamptons neighbors? "There's no issue where he is now," Credle said, explaining that in the Hamptons his guests had to park on the street. "On his estate now, trust me, he's got room to park as many guests as he wants." It's all very discreet.
Experts say the phenomenon of the newly rich gravitating toward country-club enclaves like Alpine is well established in US society. "The old adage is 'crowding into the winner's circle,'" said Jim Hughes, dean of the Edward J. Bloustein School of Planning and Public Policy at Rutgers University. "And so these superaffluent communities are very desirable for the big winners in our society, and there's always the contrast between the old money and new money." Especially in the case of hip-hop stars, many of whom insist they'll never lose touch with their street roots.
But despite these contrasts, Hughes said, these groups have more in common than it might seem. "You have the new ultra-wealthy whose wealth may have come from sports and entertainment rather than conventional business like the corporate chieftains, lawyers, hedge-fund managers and the like. But where they want to live reflects the same values. They want to live with other winners in society. They want to live in the prestige areas. They want to live in areas that are somewhat secluded and offer them protection from citizens like you and I."
Incorporated in 1903, Alpine started out as a sleepy, wooded outpost. In 1937 Frank Sinatra had his first important gig here at the Rustic Cabin, a roadhouse where he did double duty as headwaiter. Today the population of 2,183 is still overwhelmingly white (77 percent, according to the 2000 US census, compared with 19 percent Asian, 2.5 percent Latino and 1.5 percent black). In 2005 Alpine's ZIP code, 07620, was identified by American Demographics magazine as the seventh most affluent in the country. And a high percentage of the black homeowners are celebrities from the worlds of music, film and sports, like Chris Rock, Stevie Wonder, Wesley Snipes, Gary Sheffield and Patrick Ewing.
Can leafy suburbs and 21st-century mansions be equally conducive to that creative process? Farrell shrugged: "By the time you're getting ready to make records, you've pretty much lived a whole lifetime of music culture. You've been in the streets, you've been in the clubs. So at the end of the day you can go into Sony studios in Manhattan or come to my place."
In designing Mini Mansion Recording, he said, he attempted to bring the best aspects of several popular hip-hop recording spots to Bergen County, right down to the 1980s vintage Pac-Man video game in the studio lounge. And he modeled his mixing console on that of Greene Street Recording, where Hank Shocklee recorded Public Enemy.
But what about lyrical content? Can a rapper really stay true to his street roots when his neighbors are horseback-riding hedge-fund managers and wild deer are scampering across his dew-covered front lawn?
"First of all, when you talk about New Jersey, you're not talking about Beverly Hills," Harrell said. "The influence of the urban experience is 30 minutes away, but you don't have to be in the noise all the time." He added, "You have to have quiet as an artist to hear your inner voice."
And Fabolous said he had not entirely isolated himself. "I still go back to Brooklyn all the time," he said, "just to remind myself how far I've come and get inspiration from that. And I don't think if I see a deer on my lawn, it will shake me too much." He added, laughing, "If I do see a deer, it might be something funny I can put in a rhyme."
Comments will be moderated. Keep comments relevant to the article. Remarks containing abusive and obscene language, personal attacks of any kind or promotion will be removed and the user banned. Final decision will be at the discretion of the Taipei Times.