Bonkers for `buyo`
Attired in a delicate kimono that defines the body movements unique to Japanese aesthetics, Cheng Pei-hsuan (鄭姵萱) patiently taught a group of newcomers the steps and gestures for a new piece of nihon buyo, a Japanese performing art that mixes pantomime and dance.
"It's only their second class and look how good they are," the instructor said.
The experienced buyo artist has studied the dance form for 10 years, and having grown dissatisfied with the quality of teaching in Taiwan, Cheng was accepted as the first foreign pupil by the Wakayagi school, one of the five major and oldest buyo schools in Japan and esteemed for its teaching style that stresses refined movements, gestures and facial expressions.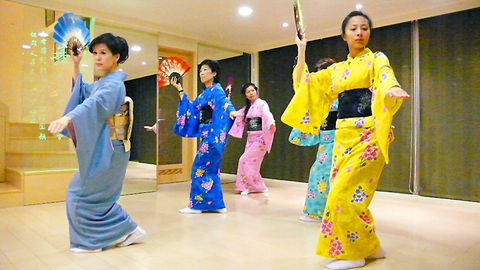 Students learn the stylized gestures and movements for a contemporary buyo piece.
PHOTO: HO YI, TAIPEI TIMES
After two years of intense training, Cheng returned to Taiwan last year as the country's first certified instructor of classical buyo that incorporates the aesthetics and techniques of noh and kabuki theater and evolved to become an independent performing art form over the past four centuries.
Accompanied by shamisen music combined with chants and narrations to create a scene, buyo is an exquisite mix of dance and pantomime where choreography, elaborate costumes and make-up are used to portray the moods of characters which are also defined by their facial expressions and highly stylized movements.
Role-playing is a significant element of buyo as performers are free to study different dance forms assigned to female and male characters. The art form's choreography includes the mannerisms of characters of all ages so the traditional Japanese dance is suitable for young and old alike, Cheng said.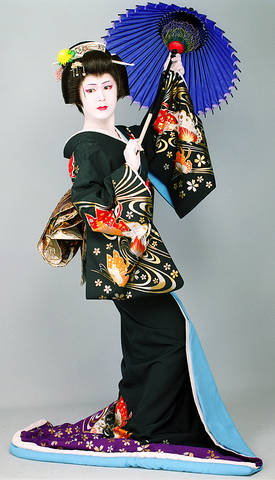 Cheng Pei-hsuan has performed several solo classical buyo pieces in Japan.
PHOTOS COURTESY OF CHANG PEI-HSUAN
Since the early 20th century, sosaku buyo, or the new, original dancing, flourished and was the influenced by ballet, opera and other Western art forms. Traditional shamisen music gave way to enka, the melodramatic Japanese popular songs and contemporary music that inspires the new buyo performers.
"I've seen a new buyo performance that is an adaptation of a South Korean soap opera. A creation like that is, of course, a blasphemy to the ancient dance tradition in the eyes of conservatives, but I think it's part of buyo's lively evolution," Cheng said, who flies back to Japan every one to two months to study and extend her buyo repertoire.
Today, there are thousands of buyo schools in Japan passing down the styles and techniques of the classical Japanese dance or modernizing it through the creation of new and original work. To the liberal artist Cheng, however, the true essence of buyo still lies in the classical form that requires life-long learning to attain the required precision and sophistication.
"I choose Wakayagi school because it's the only school out of the five [the other four are Nishikawa, Fujima, Bando and Hanayagi schools] that teaches both classical and contemporary buyo," Cheng said, adding that the former's slow mannerisms are out of sync with the more boisterous new styles of buyo.
Even though the new dance forms are popular, the local buyo scene remains fragmented more than a decade after the performing art form took roots on the island. The lack of sex appeal and the arduous and lengthy training are the main obstacles to its growth in the contemporary society obsessed with instant gratification.
Unlike ballroom dancing, buyo consists of nuanced gestures veiled under the kimono, requiring the dancer to take an introverted perspective and practice Zen-like discipline much akin to Sadhu.
"Practicing buyo is a way of cultivating one's spiritual side and the texture and quality of a dancer are the pronounced part of his or her performances … . The dancer needs to nourish a calm and open mind so as to excel in different dance forms and different roles," Cheng explained.
According to Cheng, the oldest surviving dance form in Japan has enjoyed a surge of interest in Taiwan as last year's blockbuster Memoirs of a Geisha made a splash among young women who wanted to look and dance like Zhang Ziyi (章子怡). Whether or not the geisha fever has staying power remains to be seen, but to the aspiring buyo instructor, her foremost mission is to spread the beauty of the dance form with passion and for an affordable fee. For those interested in Cheng's buyo classes, visit www.wakayagiryu.idv.tw.
Comments will be moderated. Keep comments relevant to the article. Remarks containing abusive and obscene language, personal attacks of any kind or promotion will be removed and the user banned. Final decision will be at the discretion of the Taipei Times.