Restaurant: Free Style 費斯達
Address: 14, Alley 8, Ln 316, Roosevelt Rd Sec 3, Taipei (台北市羅斯福路三段316巷8弄14號)
Telephone: (02) 2365-0065
Open: Daily from 11:30am to 10pm
Average meal: NT$60 to NT$140 per person
Details: Chinese menu; credit cards not accepted
Among the outdoor vendors and snack cart operators who crowd the narrow alleys of Gongguan (公館), Horace Liu (劉家豪) has always stood out. He wears an impeccably white chef's uniform, not a T-shirt; sells pasta, burritos and risotto, not typical night market fare; and his food-preparation techniques would seem more at home in an open-kitchen restaurant than the makeshift street stall he's been running for the past year and a half.
But things won't seem so out of place starting tomorrow, when Liu — who previously worked at the Q Bar as a bartender and later a chef — trades his cart for a restaurant a few storefronts down from his current location. Prices will be around NT$10 higher, new dishes will be added, but other aspects of the operation will remain the same.
The name of the new restaurant is Free Style, because, as with Liu's street stall, the emphasis is on customers' choosing the ingredients for their dishes. Take the pasta, for example. Customers first choose what kind of noodles they want — spaghetti (義大利麵), penne (筆管麵), fettuccine (寬扁麵) or shell pasta (貝殼麵). They pick a sauce — marinara (蕃茄), white wine and cream (白酒奶油), pesto (羅勒松子), garlic and chili (香蒜辣椒) or beef demi-glace (牛肉醬汁). And they can also choose one of four different toppings — seafood (海鮮), chicken (雞肉), bacon (培根) or mushrooms (野菇). (This reviewer recommends the fettuccine, with seafood and white wine and cream or with demi-glace and bacon.)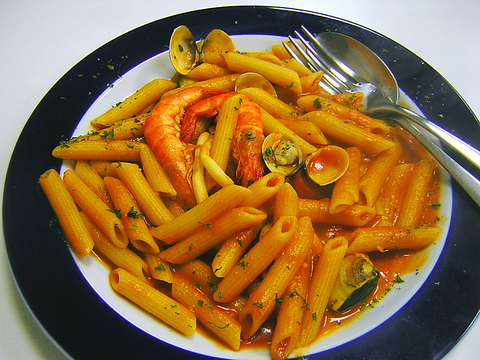 Free Style is cheap, cheerful and serves tasty dishes.
PHOTO: RON BROWNLOW, TAIPEI TIMES
The order is then handed to Liu, who ladles the selected sauce into a frying pan, adds the chosen topping along with butter or a pinch salt, and when everything is ready tastes each dish himself. He uses a clean spoon to do this, which he then flips away with a flourish. And when cooking seafood, Liu has been observed on several occasions making sure each clam opens and tossing away those that don't.
Free Style's kitchen has been designed so that both pedestrians walking outside as well as customers inside can continue to watch Liu cook. New dishes like chicken cheese burritos (墨西哥起司雞肉, NT$90), french fries (炸薯條, NT$60) and onion rings (洋蔥圈, NT$80) have been added to the menu. Liu said he will also sell cheeseburgers (NT$220) in the near future.
Comments will be moderated. Keep comments relevant to the article. Remarks containing abusive and obscene language, personal attacks of any kind or promotion will be removed and the user banned. Final decision will be at the discretion of the Taipei Times.