Too many movies packed into 'The Holiday'
In a frenzied meditation on love in the movies, director Nancy Meyers shows that despite oodles of talent, she also needs some editorial discipline
The director Nancy Meyers gets a kick out of romantic love, but she also grooves to its agonies, particularly those of the more prolix kind. In her neo-screwball world of dizzy dames and the heartbreakers who do and done them wrong, love is a drug, an escape, an ordeal and a ready excuse for a lot of chatter. The men and women in a Nancy Meyers film don't just fall in love; they talk about falling in love, about falling out of love, about needing, fearing and surrendering to love. They would, I imagine, have driven Raymond Carver crazy.
Meyers can also drive her fans crazy, largely because her ravenous need to please the audience sometimes gets in the way of her talent. In the fizzy Something's Gotta Give, a romantic comedy that holds up to repeat viewings, even on airplanes, where it nicely fills the small screen, this eagerness dovetails beautifully with Diane Keaton's fidgety performance as a woman stunned by new love. (And with Jack Nicholson, no less.) The underlying anxiousness of the filmmaking, the almost obsessive reliance on patter and pratfalls, and even the neurotic tastefulness of the costumes and sets (every outfit is just right, every bibelot just so) find a perfect corollary in each of Keaton's artful, becoming twitches and blushes.
There are similar currents of unease in The Holiday, most generated by Iris, a lovesick English rose played by Kate Winslet, and by the wobbliness of the narrative framework. Employed by The Daily Telegraph in London, where she has improbably scored an office for writing the wedding column, Iris is in love with Jasper (Rufus Sewell). She has also committed to an unfortunate type of romantic masochism because while he's the flame, these days she's only the keeper.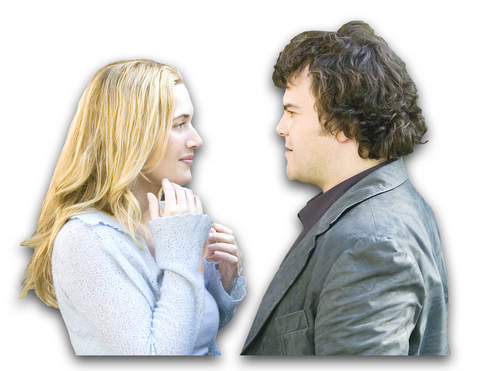 The characters in The Holiday have one thing on their minds, and it's not sex.
PHOTOS COURTESY OF UIP
Though he now makes time with a twiggy brunette (as Iris cries into her computer), the exes nonetheless come across as cozy as old slippers. It's not clear if the relationship was ever consummated, but it has puttered along for years, fired by her desire and fanned by his need for her adoration.
Winslet is always a welcome screen presence, and if this were the story of how Iris eventually chucked Jasper aside for someone worthier, say, like Hugh Grant in Love Actually or the dodgier (if sexier) Hugh Grant of the Bridget Jones comedies, it might be easier to fall for The Holiday." But Meyers, whose ambitions are telegraphed by her film's title, which directly invokes George Cukor's lovely 1938 romp Holiday, has created a cumbersome vehicle by saddling Iris with a flamboyantly glamorous Los Angeles double, Amanda. As played by Cameron Diaz with oodles of charm and not an ounce of persuasion, Amanda doesn't as much mirror Iris's love troubles as throw them into wincing relief.
On the brink of Christmas, these two strangers trade homes for The Holidays and land smack in each other's lifestyles. Amanda ends up in a sweet country cottage that looks as if it has been drawn by Beatrix Potter, while Iris moves into a Los Angeles mansion with a maid and a pool large enough for the Olympics. There is a huge Robert Longo hanging over the staircase and a flat-screen TV on which Iris delights in Hollywood treasures with Barbara Stanwyck that Meyers fires up like beacons. In case Iris or anyone else misses the point, there is also a sweet-and-sour old-studio screenwriter (a sly Eli Wallach) who waxes indignant about what has happened to the movies while his dusty Oscar stands watch.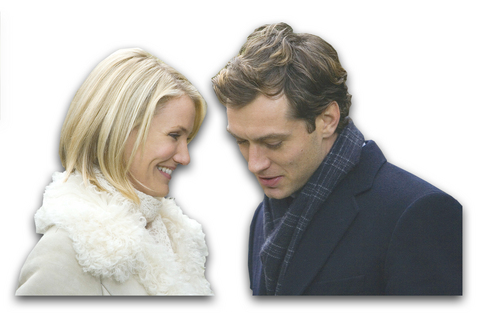 The Holiday is a tale of two women, two houses, two love interests — Jude Law pairs with Diaz, Jack Black gets lucky with Winslet — but it's also about movie love. There is something touching if willfully naive about Meyers's nostalgia for Hollywood's golden age, when Louis B. Mayer ruled the very lot on which she shot part of this film. If her name had been Ned, not Nancy, she might have thrived then. She wouldn't have been allowed to go amusingly (or maddeningly) off point, but her commercial instincts would have been encouraged, her indulgences — like filling mouths with speeches, not dialogue — squelched. An old-studio producer would have recognized that there are several films jammed into this one and maybe called in Ben Hecht for a polish, even as he recognized that Meyers always has something to give.
Publication Notes
Film Notes:
The Holiday
Directed by Nancy MeyersStarring: Cameron Diaz (Amanda), Kate Winslet (Iris), Jack Black (Miles), Eli Wallach (Arthur), Edward Burns (Ethan), Rufus Sewell (Jasper)Running time: 131 minutesTaiwan release: Today
Comments will be moderated. Keep comments relevant to the article. Remarks containing abusive and obscene language, personal attacks of any kind or promotion will be removed and the user banned. Final decision will be at the discretion of the Taipei Times.