Arthur and the Invisibles is small on fun
Luc Besson's dalliance with children's film is so caught up in the technology of modern animation that it forgets to tell a story comprehensible to either adults or children
In the latest wowzer merging of the real and the fabricated, Arthur and the Invisibles takes actual human actors and, through a complex process involving Slim-Fast and a Maytag dryer, shrinks them to the size of bacteria so they can interact with the microscopic beings who live in your backyard along with Rick Moranis and his family.
Or something like that. The press packet for Arthur, a children's film directed by Luc Besson, includes lots of tidbits on the magic that enabled the merging of live actors and a computer-generated world, but who can really keep track of this technogoo anymore, or get excited about it? The real question isn't how these hybrid movies are made, but why. In this case, it's a tad unclear.
The film begins in the conventional human world of the early 1960s, where Arthur (Freddie Highmore) and his grandmother (Mia Farrow) have troubles galore: Grandpa went missing a few years ago, and developers are on the verge of taking over the family homestead. Arthur manages to shrink himself to near-invisibility so he can enter a secret world and search for some gems that will solve all the problems.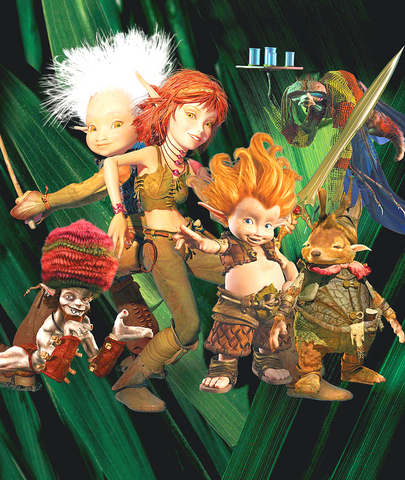 Luc Besson lost the plot for Arthur and the Invisibles.
PHOTOS COURTESY OF CMC
At this point the film becomes computer-generated, and also resembles, at various times, Honey, I Shrunk the Kids, The Sword in the Stone, Fraggle Rock and assorted others. The computer-generated world is visually rich, but short on the droll humor that makes good children's films bearable for adults. It's also too frenetically paced and confusing for adults or children. But many of the voices are familiar: Madonna, Jimmy Fallon, Snoop Dogg, David Bowie, Harvey Keitel, Robert De Niro and other famous names provide them. There are so many famous names that the question arises: Would this movie have been more enjoyable with the real humans instead of just their voices? Yes. Although that would have required Madonna to have a budding romance with a 'tweenage boy. Hmm.
Publication Notes
Film Notes:
Arthur and the Invisibles
Directed by Luc BessonStarring: Freddie Highmore (Arthur), Madonna (Selenia), Jimmy Fallon (Betameche), Robert De Niro (The King), Harvey Keitel (Miro), Chazz Palminteri (The Travel Agent), Emilio Estevez (Ferryman), Snoop Dogg (Max), Anthony Anderson (Koolomassa?, Jason Bateman (Darkos), David Bowie (Maltazard)Running time: 94 minutesTaiwan release: Today
Comments will be moderated. Keep comments relevant to the article. Remarks containing abusive and obscene language, personal attacks of any kind or promotion will be removed and the user banned. Final decision will be at the discretion of the Taipei Times.