Desserts without frontiers
Sugar and spice will keep cross-strait relations nice if the results of a recent pastry competition in France are anything to go by.
Four chefs from Taiwan took seventh place in the World Pastry Cup held in Lyons, France, at the end of last month and in the process thawed the nation's occasionally icy relationship with China.
Their ice sculptures, fruit confections and chocolate cakes were a diplomatic and culinary success, said Ron Lin (林廷隆), of Taiwan Gateaux, which backed Taiwan's pastry chefs with NT$1 million so they could compete in Europe.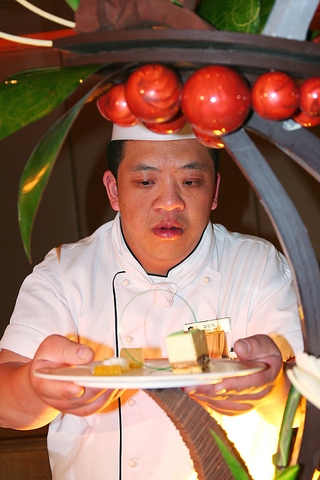 Taiwan's pastry chefs show off their skills at a press conference yesterday held at the Far Eastern Plaza Hotel in Taipei.
PHOTOS: JULES QUARTLY, TAIPEI TIMES
"We made international friends" and put Taiwan on the map, Lin said yesterday. "I think the recipe of our success was to be clever about our entry and not irritate the Chinese. In the end I think they thought, "Forget it," and just got on with the competition."
After 10 hours of intense but sugar coated rivalry, China ended up ninth in the Coupe du Monde de la Patissiere, with Japan taking first prize, followed by heavyweight patissieres Belgium and Italy.
It was the first time Taiwan had successfully competed in an international pastry competition because it had been shut out by China in the past due to political squabbling.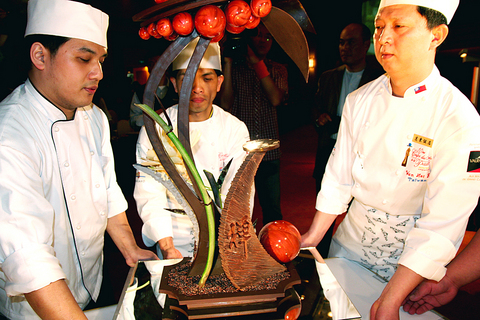 Head pastry chef Vincent Ho (何文熹), Jason Tsai (蔡捷中), Henry Lai (賴龍柱) and Lee Yi-hsi (李依錫) whipped up the outstanding desserts, which included a chocolate cake modeled on the Ang Lee's (李安) film Crouching Tiger, Hidden Dragon (臥虎藏龍).
Chocolatier Tsai was also inspired by the sculptures of Ju Ming (朱銘) and his frequent visits to the museum in Taipei County helped him create out of chocolate two taichi figures fighting in a bamboo forest.
Tsai said his most difficult task was to control the temperature while creating the sweet and sticky masterpiece. Chefs from Finland and Malaysia failed to do so and their works of culinary art collapsed in front of 3,000 spectators.
Lai's ice sculpture, "Grand Dragon," was the result of years in the kitchen spent fashioning vegetables into artistic shapes. The dragons he created in preparation for the competition were treated as works of street art by the French.
Lee's "Blooming Flowers in a Field of Green" was made from heated pearl candies that were poured through silicon cloth and pulled, spun and blown into fantastic shapes.
It's a tough job but someone has to do it and we tested the team's signature chocolate cake. Arranged in five layers, the cocoa bean, almond and hazelnut base was complemented by a Guanaja mousse; Caribbean chocolate and anise filling; a layer of lemon, passion fruit, coconut and vanilla; with a veneer of thin, dark chocolate.
The chocolaty richness was complemented by a tropical tang and mix of textures. Safe to say it was a winner and is available at the Far Eastern Plaza Hotel on Dunhua South Road for NT$850.
Comments will be moderated. Keep comments relevant to the article. Remarks containing abusive and obscene language, personal attacks of any kind or promotion will be removed and the user banned. Final decision will be at the discretion of the Taipei Times.