Mad as March hares
They are a British institution, loved by the public, but on the eve of their long-awaited retrospective at the Tate Modern museum in London, Gilbert and George are feeling feisty
Gilbert and George live in one of the finest early Georgian houses in London, by Brick Lane in the East End, and this is where we meet on a cold, bright winter's morning. Of course, when Gilbert and George bought their house in 1973, this was not the desirable area it is today; they were pioneers. George opens the door. He is one of those men that, though obviously quite strange (we'll come back to this), you can't help but take to. He's warm, friendly, an enthusiast. "Come in! Come in!" he chivvies. "You must be cold." His voice, the result of boyhood elocution lessons, is a posh whisper: it's rather seductive.
Behind him, in the gloom of the narrow hall, Gilbert appears. ''Ello," he says. How odd. In spite of the fact that he has lived in this country for 40 years, he still sounds so very Italian (he comes from the Dolomites), reaching for words the way others reach for memories: "You know... what ees eet? How you say?" You might think, if you were a suspicious type, that he was hamming it up, but then, after you've spent a bit of time with him, you notice that his expression is always puzzled. There are moments when it is almost as if he wonders what he is doing here, in this big house, in this heavy worsted suit, with this funny man and all these rude photographs.
They whisk me off on a tour — not of this house, but of the one next door, which they have also bought, and are renovating immaculately for friends to use when they come to stay. To get to it, we go out of their own house and into the Victorian factory building that stands where the garden should be, and which is now their studio. This, in turn, connects to the factory building that stands behind the new house, also part of their studio. Finally, we go into the house itself. It's amazing. I love the care they are taking, the way they've found a craftsman able to replicate the missing panels in the drawing room, the way they've stripped it back and yet given it new life by installing unseen luxuries such as underfloor heating. Most of all, though, I like the fact that attached to every internal doorframe, there is still a mezuzah (a tiny box that contains words from the Torah) — a legacy from the days when these houses were inhabited by Jewish immigrants. George strokes one lovingly. '"We'll leave these here," says this famous enemy of organized religion. "They're lovely, aren't they?"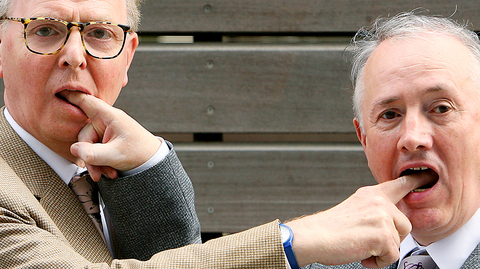 Controversial British artists Gilbert, right, and George are preparing for a retrospective of their work which is to open at the Tate Modern in London.
PHOTOS: AGENCIES
After the tour, we go back to the studio, where their Chinese assistant serves me tea, and them instant coffee. On the wall behind us are copies of the new work that will be shown as part of their retrospective: Six Bomb Pictures, a series that is intended to reflect how Londoners have long lived with the threat of terror, and to be a memorial to those who died in the Tube bombings of July 2005. I peer at it. Gilbert and George peer, too. The work incorporates newspaper billboards stolen by the artists from outside train stations, and is executed in the black, white and red color palette that they last used 30 years ago.
"We like to be moral," says George. "We never use a subject until we find the moral dimension."
"We don't make art for selling," says Gilbert. "We make it to confront people."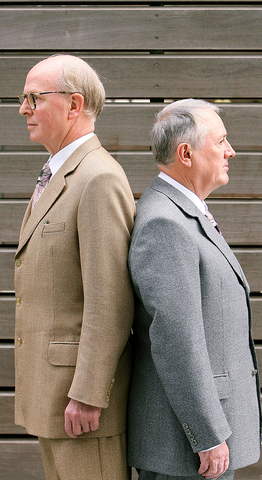 So is there any subject they wouldn't use?
George: "Oh, yes. We would never show attacking, or killing."
Gilbert: "We don't even like it in the movies. It's so artificial."
George: "When we see trailers for these American movies, we start to laugh. It's just silly, isn't it?"
Gilbert: "Don't you think it's all artificial?" I suppose so. "Well, the bomb pictures touch on real violence. Horrific."
I can't much add to this staccato commentary — the truth is this work left me a bit cold — except to tell you that the six pictures are titled: Bomb, Bombs, Bomber, Bombers, Bombing and ... wrong. The last one is called Terror.
To say that Gilbert and George are delighted at the prospect of their retrospective is something of an understatement; they're in a frenzy of excitement. They like to see themselves as the great anti-establishment outsiders, spurned by critics, galleries and collectors, and yet loved by the British public — and, naturally, the director of Tate Modern, Nicholas Serota's previous refusal to give them their longed-for blockbuster was simply more evidence of this. (Of course, this pose of theirs — poor us! cold-shouldered! — is a bit silly, really: their dealer is Jay Jopling, of the White Cube, London's most chi-chi gallery and prices for their work start at ?40,000 (US$75,000) and rise to five times that) So now that they've bagged the Tate, do they accept that, in reality, they're just as established as, say, David Hockney? Not really.
George complains that while the Tate owns several of their works, it does not hang them. Why? '"That's a question to ask them. You'd think they'd be plugging the show by hanging one, but they don't even do that." Nor has any corporate sponsor for the show been found. So, now in their mid-60s, they're still basically the untouchables? "What, do you think we're dirty?" asks Gilbert, mildly.
George's theory is that homophobia is still alive and well, even in the supposedly liberal and bohemian art world. "There's a lot of closet gay bashing," he says. "There are journalists who attack us without saying anything about that [their sexuality], but you can see clearly what it is. The Guardian said of us: 'They must be very unhappy after all these years, of being called filthy queers.' A liberal newspaper! Extraordinary!" In fact, he thinks the art world and the media are a good deal less tolerant than the man on the street. In their real lives, no one ever abuses them.
"No! They love us!" says Gilbert.
"Taxi drivers love us!" adds George.
George Passmore was born in Plymouth, a town on the south coast of England, in 1942; Gilbert Proesch was born in a village north of Venice in 1943. Neither of them came from privileged stock. Gilbert's mother was a cook and his father a shoemaker, but they are dead now and he calls his brother and sisters only rarely — so, no, he doesn't seem particularly to miss Italy. George's mother went into service when she was 12, and thereafter bringing up two boys was always a struggle. He met his father only once, when he was 21, for half an hour, in a pub. "My parents were married, of course," he once said. "But he wasn't there. We were never allowed to say 'father' or 'daddy' in the house. They were taboo words." Of the two of them, it was George who first fell for the idea of being an artist: as a boy, he found a copy of Van Gogh's letters at a jumble sale, which proved to him that you could be a success "by not doing everything the right way." He left school at 15 and got a job in a shop, but in the evenings he attended an art institute near his Plymouth home. Five years later, his tutor said: "You should become an art student. I will arrange it." And that was what happened. Off he went to London's leading art school, St Martin's College of Art in central London, which is where he met Gilbert who, having started out as a wood carver, was now, just like George, taking the Advanced Sculpture course. They like to joke that it was love at first sight. "I followed like a dog," is how Gilbert puts it.
On graduation they'd nothing much to sell, so, ever the pragmatists, they decided that they were Living Sculptures, and showed themselves "moving" to the Flanagan and Allen tune, Underneath the Arches. They also became heavy drinkers. "The system was wrong," says George. "In those days, artists taught for 30 years and then drank themselves to death when they realized they had left it too late to produce any art." Gilbert interrupts. "We did that anyway! But before retirement. We made very good art out of it. They did a line or a circle. Not us. But we were so shy. We were babies in the woods."
What did their families make of them at this time? "They didn't know what was going on," says Gilbert. "When we went home, we always behaved ourselves. We never wanted to upset them." And what about being a couple? "They said: 'It can't last with two people,'" says George. "But nobody did last then. They're all divorced. Not us, though."
It's probably fair to say that Gilbert and George are still living sculptures now, for all that they moved into pictures (scatological pictures, famously, that look like giant church windows and have titles like Shit on Piss and which, over the years, have featured their own balls and bottoms, pubic lice and a certain amount of blasphemy).
Don't they have rows? "Ah, the great heterosexual question," says George.
"We don't like to waste energy on introspection, on getting depressed. That's very unproductive." They take enormous comfort from being a partnership, but what if something happens to one of them? They're not getting any younger. "People always ask us what we will do if one of us gets run over. We say: 'Fear not! We always cross the road together."'
It's 11am now, which, naturally, means that it's time for lunch. They ask me if I will come with them. So off we go: me, the living sculptures and their studio assistant. We make for an extraordinary-looking party. George has put on a hat — trimmed beaver, apparently — that makes him look exactly like an acorn. In the street, everyone seems to know them. George flirts with his African postman. "Still as handsome as ever," he says. The postman smiles devastatingly.
In the cafe they greet the owners like long-lost friends, for all that they presumably only saw them four hours ago. But what's happening now? While we wait for the food to arrive, George is scurrying about the other tables, clearing them of dirty plates and scrumpled napkins. Why? "Oh, he ees always like thees," says Gilbert. "He ees very tidy. In the mornings, he goes out into the street and picks up all the bottles that have been left there." When George comes back to our table, they take some pleasure in telling me that their street is sometimes used as a lavatory by local prostitutes who have "nowhere else to go."
It's impossible to get to grips with Gilbert and George. Perhaps this all started out as a game, and then it became their reality. Or perhaps this is just what they are like. I really have no idea. But they are cheering company, like two crazy but indulgent old uncles.
Comments will be moderated. Keep comments relevant to the article. Remarks containing abusive and obscene language, personal attacks of any kind or promotion will be removed and the user banned. Final decision will be at the discretion of the Taipei Times.