Technology Review
IT'S A STILL CAMERA AND A CAMCORDER: CANON'S DC50
Many digital cameras shoot rudimentary video, and some camcorders take a shot at producing passable photographs. The Canon DC50 tries to do both well. Its five-megapixel sensor is equal in resolution to that of some midgrade cameras, and is actually bigger than those used by some photojournalists just a year or so ago.
Canon's road map for the future of imaging foresees a merging of video and still photography, with one sensor and one chipset to satisfy both needs, and the DC50 is a step in that direction. A new processing chip, the Digic DV II, handles both kinds of images.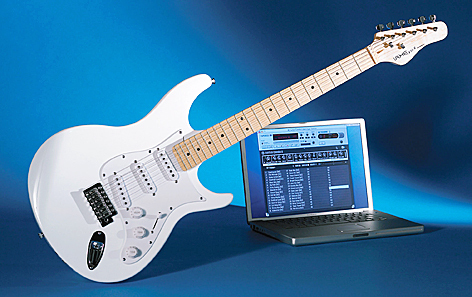 The PC Recording Studio Guitar.
PHOTOS: NY TIMES NEWS SERVICE
The DC50 has both a built-in flash and video light. It can record still and moving images simultaneously onto three-inch DVDs, including dual-layer ones for added capacity, and a MiniSD-size camera card.
The camera's 10x lens zooms out to a serious telephoto length, 447mm in still-camera terms. An image stabilization mechanism can be turned on to prevent shaky snapshots at this high magnification.

An i-Volution case for iPods.
THE COMPUTER WITH A TV, AND A VIRTUAL REFRIGERATOR DOOR
The notion of a computer at the heart of every home gets a little bump with the multitasking Hewlett-Packard TouchSmart PC, unveiled at the Consumer Electronics Show this week as part of the introduction of the Windows Vista operating system from Microsoft.
The TouchSmart, which will cost around US$1,800 when it goes on sale at the end of the month, has a 48cm touch-sensitive screen intended to serve as a family bulletin board, with virtual sticky notes written with a finger or stylus — or even left by voice, in a recorded memo.

The Olympus DS-50 voice recorder.
This computer is also a high-definition TV, and can play FM radio or stored music through screen-side speakers, or external ones for a home-theater effect. Designed as a wire-and clutter-free stand-alone device, it connects to the world via WiFi and further contains its footprint with a wireless keyboard, mouse and remote control.
The TouchSmart's designers envision a user's walking up to it on a kitchen counter, checking
e-mail, appointments and weather, leaving family reminders and maybe watching the first 30 seconds of the evening news before dashing out.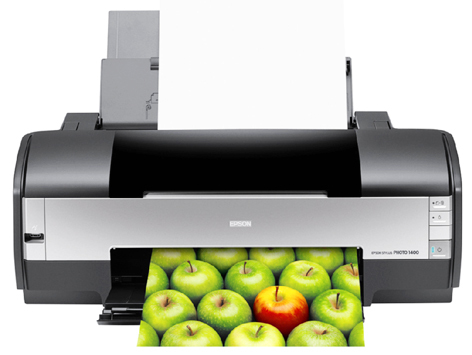 Epson's Stylus Photo 1400.
AN EPSON PRINTER WITH longlasting ink
Digital photographers and graphic designers with limited budgets will want to note Epson's replacement for its venerable 1280 ink-jet printer, introduced in 2000. The Stylus Photo 1400, which will reach the market early next month, will still use six inks, but they will be Epson's new Claria inks.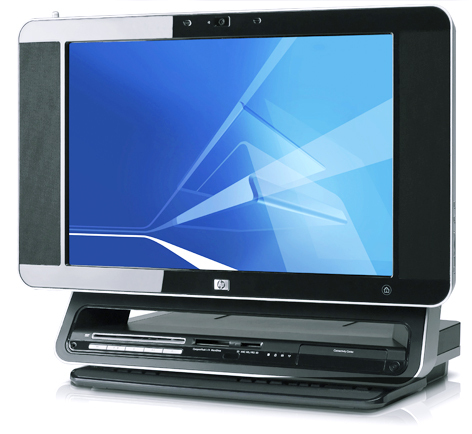 Hewlett-Packard's TouchSmart PC.
Epson says these will produce prints that last 98 years, three times the life span of earlier inks. It also says the 1400 will print three times as fast, with the ink yielding three times as many prints.
An 8-by-10-inch photo at 720 dots per inch will take 173 seconds to print on the 1400, which may sound long but is fairly sprightly in the photo printer world.
Labeling of white ink-jet-printable CDs and DVDs is a feature found in many lower-end Epson printers, but the 1400 has a higher-precision mechanism — hence its 12.7kg heft. Automatic photo correction will handle red eye, underexposure and color problems. The maximum print is 13 inches by 19 inches.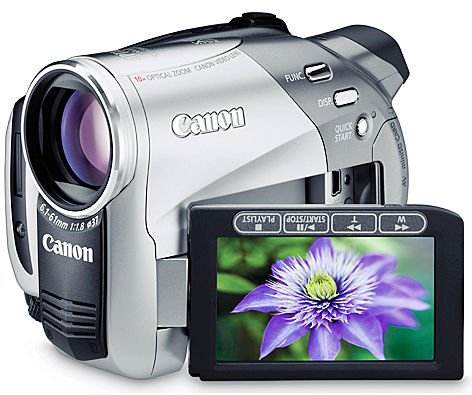 The Canon DC50.
A DISCREET VOICE RECORDER FOR YOUR 275-HOUR PODCAST
Podcasters and others in need of audio recordings no longer need to stick a microphone in their subjects' faces. The Olympus DS-50 voice recorder has a clip-on stereo microphone that will pick up both sides of a conversation.
The DS-50 is specifically designed for creating and listening to podcasts. It can record at CD quality (also known as a 44.1 kilohertz sampling rate) and connects to any PC with a USB cable. It can also play back MP3 and WMA files, allowing it to double as an audiobook reader and music player.
The recorder's microphone can clip to a tie or lapel, allowing the recorder to remain unobtrusive. Its 1GB of memory can hold around 275 hours of audio at average quality. Voice prompts describe current settings and audibly confirm commands.
The DS-50 also has less expensive kin: the DS-30 with 256 megabytes of memory, and the DS-40 with 512 megabytes.
While almost anything can record audio these days, only the DS-50 can do it while nestled discreetly in a pocket.
FOR THE WELL-DRESSED IPOD, A LEATHER JACKET
Like reggae? Encase your iPod in Rasta colors. Rooting for Manchester United or the Giants? Get an iPod case in your team colors. Vaja offers its i-Volution cases in thousands of color combinations, all in Argentine leather.
The i-Volution cases start at US$70 and cover the front and back of the iPod. They include click-wheel protectors and cutouts for the iPod's ports.
Available styles include the SP, with a sporty racing stripe (US$90); the World Cup (US$90), which comes in any of 31 combinations; and the Leather Suit (US$70), which covers the iPod in a tight sheath of cowhide. With the SP and Leather Suit designs, a buyer can choose an iPod color, base color and stripe color, and preview the finished product online. Vaja can also laser-etch one line of text on the back for US$10 or a graphic for US$30. The cases are available at www.vajacases.com.
Vaja makes cases for other devices, including the Creative Zen and Microsoft Zune, as well as a Palm Treo case with silver accents.
A GUITAR THAT PLUGS INTO A COMPUTER
With the right equipment, future guitar virtuosos and Stairway to Heaven fanatics don't have to be chained to bulky amplifiers in the basement to practice and record their riffs. Hammacher Schlemmer offers the PC Recording Studio Guitar, a six-string electric instrument that comes with a USB port to connect it directly to a PC or Mac.
Once the guitar is plugged in, the computer's sound system serves as an amplifier. The guitar draws all the power it needs from the USB cable, and it comes with recording software to create digital audio files.
The PC Recording Studio Guitar, available for US$200 at www.hammacher.com, is a solid-body model with 22 frets, a maple neck and three single-coil pickups. It includes a standard 1/4-inch jack for plugging into a regular amplifier, in case you are interested in more traditional ways of making music. For those who need to practice quietly, the guitar has a stereo headphone output that lets you hear your session while connected to the computer.
Comments will be moderated. Keep comments relevant to the article. Remarks containing abusive and obscene language, personal attacks of any kind or promotion will be removed and the user banned. Final decision will be at the discretion of the Taipei Times.