The blackest of times in full color
The iconic shots of 1930s rural America show a grim, gray world. Now unearthed color film gives us a fascinating new insight
The age of color photography began just as America emerged from the Great Depression in the late 1930s. It was as if the country had found the perfect medium to record the transition from austerity to recovery, a form that would show all the optimism and prosperity promised by US President Franklin D. Roosevelt's New Deal.
Eastman Kodak launched its new Kodachrome film in 1936, and, within three years, it was outselling black and white. Nevertheless, 70 years on, the most iconic images of that beleaguered decade are studies in gray. The likes of Walker Evans and Dorothea Lange captured an America that John Steinbeck and Woody Guthrie had already rendered in fiction and song, the faces of their subjects as parched and worn as the stricken land.
And, though Bound for Glory: America in Colour 1939-1943 at Photographers' Gallery, London, is ostensibly a show about how color photography changed the face of reportage, the most iconic images on display are in the back room of the Photographer's Gallery, where Evans' and Lange's seminal work shows a 1930s' America that is now firmly etched on the collective memory.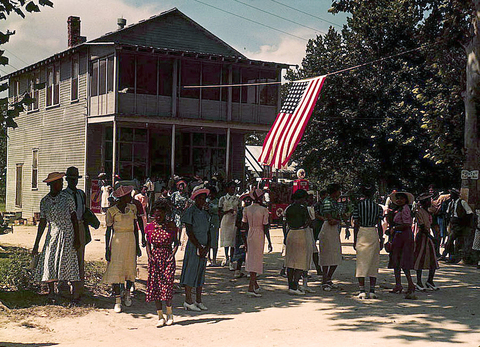 Marion Post Wolcott's Fourth of July Celebration (1939).
PHOTOS: NY TIMES NEWS SERVICE
Consider, for instance, Evans' uncompromising full-face portrait of the ageing and unreadable Allie Mae Burroughs, entitled Tenant Farmer Wife, one of those rare photographs that draws you up short each time you see it. Likewise Lange's starkly poetic portrait of Florence Owens Thompson, entitled Migrant Mother, which remains the single most haunting portrait of that beleaguered era. Thompson was just 32 years old when photographed, but her worried and weather-beaten face is that of someone twice her age. A mother of seven, she was one of a vagrant community of destitute pea-pickers who had journeyed in vain to the once-promised land of California. She could be a character out of Steinbeck's Grapes of Wrath, one of "the dispossessed" who were "drawn west — from Kansas, Oklahoma, Texas, New Mexico, from Nevada and Arkansas ..." It was images like this that forced America to look at itself in a new, and uncomfortable, light.
Lange was one of several reportage-led photographers commissioned in the late Thirties by the enigmatic Roy Stryker, then head of the Farm Security Administration, to highlight the plight of America's migrant poor. Stryker was a politician who understood the political power of photography. With the approval of Roosevelt, he dispatched photographers across the US, alongside statisticians, interviewers and economists. Their remit was to highlight the conditions of that ill-fated one-third of the population, memorably described by Roosevelt as "ill-clothed, ill-housed and ill-fed."
Many of the photographers employed by Stryker used color film as well as black and white, but magazines of the time seemed uninterested in the new form, and the images remained buried in the FSA archives until uncovered by a researcher in the 1970s. That is what makes this show such a revelation. It is a record of a lost America in every sense of the word. Against the severe, and still startling, monochrome images in the back room, the work of Jack Delano, Russell Lee and Marion Post Wolcott seems almost painterly, even idealized. The landscapes are umber, ochre and dark orange, images in the back room, the work of Jack Delano, Russell Lee and Marion Post Wolcott seems almost painterly, even idealized. The landscapes are umber, ochre and dark orange, the skies bright blue or glowering steel gray, the clothes a patchwork of faded hues in cotton, gingham and denim. But, for all that, it is still the faces that fascinate. These are the weary faces of people clinging to the land for a living, but there is defiance and optimism here too, the sense that the promise of those vast blue skies may yet be fulfilled against all the odds.
The first series you see is by Russell Lee (1903-1986), a photographer whose work is new to me. He lived for a while among a farming community in the oddly named Pie Town, New Mexico, focusing on the sense of their community, the small rituals of their dogged lives. In Saying Grace, he captures a gaggle of men, women and children standing and praying before an outdoor barbecue at the New Mexico State Fair in the fall of 1940. God is in the detail. The men's hats are in their hands, revealing the paleness of their foreheads at odds with the ruddiness of their faces. In that one detail you sense the labor and struggle that underpins these stoical lives. Lee's eye for atmosphere is unerring, too. Couple at a Square Dance is extraordinary in its visceral energy. Men cling to women in the misty darkness, their shirts drenched with sweat from their exertions. The sense of desperate release is tangible.
Jack Delano's photographs are more studied and, here and there, seem almost posed. A row of black workers sweep hoes across a sun-baked Georgia field in almost perfect symmetry; a handsome man stands by a brightly painted trailer at the Vermont State Fair; a sideshow barker swigs lemonade in front of a billboard advertising Teddy the Wrestling Bear. This is a real America, too, of course, but it seems slightly too close to Walton's Mountain for comfort.
More evocative still are Marion Post Wolcott's studies of migrant workers at rest and play. She has captured a world where leisure seems like a still tentative, almost unreal, prospect. A group of men, dressed in the ubiquitous denim and check, lounge outside a rickety juke joint in Belle Glade, Florida, drawn there by the promise of cheap beer and music. In Louisiana, by a bend in a river, she encounters a telegraph pole bedecked with faded shirts and trousers, their owners unseen. Everything here is suggested, the tone often as drowsy and still as a sultry Southern afternoon. Her Boys Fishing in a Bayou cannot help but conjure up Huck Finn, whose wardrobe they seem to have raided, but the intensity of their concentration is all too real.
Everywhere you look in this fascinating exhibition, color seems to have added a poetic glow to the landscape and the faces of the people, and yet the more you look, the more you see the suffering that suffuses these nomadic lives. In more ways than one, nothing here is black and white.
And yet, for all that, I was drawn back to one monochrome image in that stark back room: Dorothea Lange's The Road West, New Mexico, 1938. This is such a stark and elemental photograph, and so full of dark resonances, that it seems to contain Thirties' America within its frame. Here, America's fabled endless highway offers little hope for renewal or regeneration; there is no sun, no blue sky, no people, just an eerie expanse of gray, a vast emptiness into which the road in question eventually disappears. In this single image, Lange tells you that no one who passed down this bleak road was bound for glory.
Comments will be moderated. Keep comments relevant to the article. Remarks containing abusive and obscene language, personal attacks of any kind or promotion will be removed and the user banned. Final decision will be at the discretion of the Taipei Times.