Michael Perham has a date with DESTINY
The 14-year-old lad from England is set to make history at the youngest person to sail across the Atlantic single-handed
He is not old enough to drive a car or buy a drink in a bar. It will be two years before he can get married in the UK and four before he can vote. Michael Perham, however, is on the verge of making history: at 14, he is within days of becoming the youngest person to sail across the Atlantic single-handed.
The teenager, from Potters Bar, England, set off from Gibraltar on the 5,632km voyage to the Caribbean on Nov. 18. With 1,078km remaining until he reaches his destination on the island of Antigua, he expects to break the world record for the youngest unaided sailor across the ocean, possibly as early as New Year's Day.
Speaking by satellite phone aboard his yacht, Cheeky Monkey, he said on Thursday that he was "cruising along quite nicely."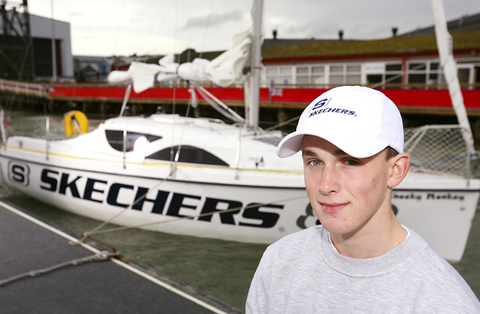 Michael Perham poses with his yacht Cheeky Monkey before setting off across the Atlantic Ocean.
PHOTO COURTESY OF PRHQ
"The weather is gorgeous. The wind's quite high and I'm getting clear blue skies almost every day. This is the longest trip I've ever done. I'm coping fine."
With sponsorship from local companies, Michael has taken three weeks off school to complete the voyage, during which he used the trade winds that have carried sailors from Europe to the Americas for centuries.
The trip was scheduled to be completed before Christmas but had to be extended after satellite equipment on his 9m boat failed and he was forced to make a diversion to Lanzarote and the Cape Verde islands. He said that he was missing warm toast, cold drinks and chips, but his diet of "mainly Tesco tinned food" was reliable. "You empty the tin and five minutes later — voila!"
Michael's father, Peter, a chartered surveyor and experienced yachtsman, is following 3km behind his son and keeps in regular radio contact with him.
Perham senior said his son, who has sailed since the age of seven, first volunteered the idea of breaking the transatlantic record three years ago, after watching footage of a previous record attempt.
"Michael said to me: 'It would be great if I could do that, Dad.' As a parent I just thought it was a typical boy's dream. I never thought it would actually happen. The poor lad has had no [Christmas] presents, nothing. And he's run out of snacks, but I can't give him any because the rules say I can't help him in any way.
"I'm immensely proud of him. The school was very supportive — the head teacher said he would learn more in a few weeks on the ocean than he would at school."
Over the last five weeks Michael, who attends Chancellor's School in Brookmans Park, southeast England, has sailed alongside dolphins and sharks, and battled through 7.5m high waves and gale-force winds. "Experienced my first experience of squalls," he wrote in his travel log on Nov. 25. "They really do knock your teeth out."
"Sometimes you feel a bit lonely, but I expected that. On any long distance journey there are moments that get you down. But you don't have much time to feel down," he said on Thursday.
"It will be nice to get off the boat, I have to say. I'm looking forward to having a flat bed that isn't constantly moving. But the boat has been absolutely fantastic."
He had not done much schoolwork — and celebrated his gift-less Christmas by setting off a flare.
The diary of Michael Perham
 Nov. 18

 We left at 1pm in the afternoon ... We are so excited and my dad is so proud of me and I'm fulfilling my lifetime ambition!
 Nov. 22

 I was escorted today by 20 bottlenose dolphins all doing tricks and dancing round the front of the boat, which was really cool. I'm really, really happy and so grateful to Mum and Fiona for allowing me on this trip.
 Nov. 25

 Experienced my first experience of squalls, they really do knock your teeth out.
 Dec. 4

 Had a fantastic display of dolphins before sunset, they must have been with the boat for at least two hours just jumping up in the air and being absolutely crazy at times. One dolphin made a huge jump out of the top of a wave, it was amazing.
 Dec. 6

 For a change I decided to pick up my guitar today and give it a go. I've also had a chance to do some school work.
 Dec. 7

 Last night had a call from one of my friends, which was a great surprise. Yeh, I'm really missing all my mates!
 Dec. 11

 It has been really tough steering all through the day and night, at one point I jumped when a flying fish landed on my lap! To occupy myself I've been singing songs to myself and I've been missing my friends a lot too.
 Dec. 15

 Forgot to mention that on leaving I noticed my self-steering was stiff and discovered some rope had become tangled in the gear. Unfortunately the only option I had was to tie a rope round my waist, dive in and cut the rope away!
 Dec. 16

 The weather's really warmed up so I've been sun bathing at every opportunity.
 Dec. 25

 In the daytime I spoke to Dad loads on the VHF radio, which was really nice. At 4 o'clock in the afternoon we put the clocks back four hours to be on Antigua time and that means we've probably had the longest Christmas Day in the world.
 On the Net: sailmike.com
Comments will be moderated. Keep comments relevant to the article. Remarks containing abusive and obscene language, personal attacks of any kind or promotion will be removed and the user banned. Final decision will be at the discretion of the Taipei Times.