The Generalissimo's son
Who was Chiang Ching-kuo? The dictator behind the White Terror, or the benign leader who was responsible for Taiwan's economic miracle? He was both and much more besides. In a new documentary series entitled Chiang Ching-kuo — Son of the Generalissimo (尋找蔣經國) by Tang Shiang-chu (湯湘竹), the late president emerges as a personality engraved with a tragic and conflicting nature.
An accomplished recording engineer and long-term partner of Tu Duu-chih (杜篤之), Tang has worked with acclaimed directors such as Tsai Ming-liang (蔡明亮), Lin Cheng-sheng (林正盛) and Edward Yang (楊德昌) and has made two award-winning documentary films, How Deep Is the Ocean (海有多深, 1999) and How High Is the Mountain (山有多高, 2002).
But unlike his previous filmic essays, the nearly five-hour long biopic of the controversial figure was a colossal project that required years of research, investigation and hunting down Chiang's acquaintances and associates.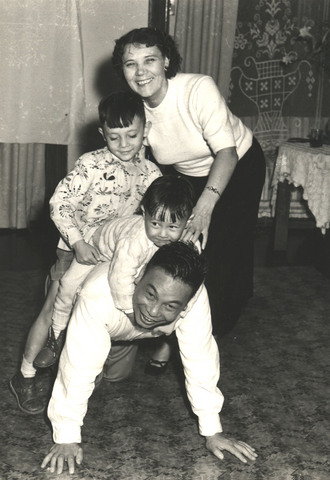 Chiang Ching-kuo married with children
PHOTOS COURTESY OF PTS
"Everyone has his or her image of Chiang and we honestly didn't know where the film would take us to at the beginning … . After a long period of researching during which I have read more books than I did for the past 40 years of my life, a direction emerged. In a sense, the film is also my search for Chiang Ching-kuo," Tang said.
Dredging through the vast amount of historical documents, archive footage and interviews about Chiang, the film takes a close and intimate look at the person behind the name rather than an abstract historical figure.
Divided into five episodes, the film begins with Chiang going off to the Soviet Union at the age of 16 to study. Accompanied by the off-screen narration of Chiang's diary, the section reveals the young man as an overachiever at school and later a friend with peasants and workers at farms and factories where he met his future wife Faina Chiang Fang-liang (蔣方良).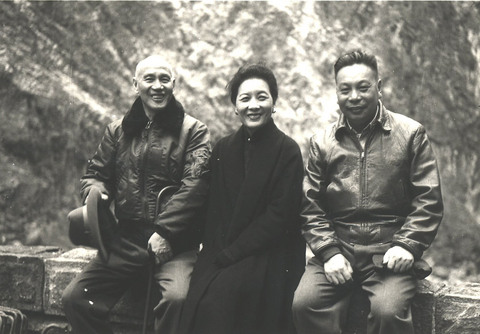 Chiang Ching-kuo, right, his father Chiang Kai-shek, left, and his step-mother Soong Meiling.
Through interviews with Chiang's old classmates and Russian acquaintances, viewers see an affectionate friend and an eloquent revolutionist who was drawn to Trotsky's passion and ideas.
Yet when Chiang returned to China in 1937, the 28-year-old communist supporter became an assistant to his father Chiang Kai-shek (蔣中正) even though he publicly denounced his father as the people's enemy shortly after he massacred Chinese communists and workers in Shanghai in 1927. The pragmatic young leader quickly became politically strong. His former subordinates in China thought of him as an incorruptible supervisor who learned from his Soviet training the art of winning support from common people.
As the film progresses, the portrait of Chiang in his early days gradually gives way to archive footages and stills illustrating a series of incidents that occurred after the Chinese Nationalist Party (KMT) retreated to Taiwan in 1949. Images of the White Terror flicker past the audiences' eyes, signaling another side to Chiang's complex character and his ruthlessness in masterminding the secret police and intelligence agencies.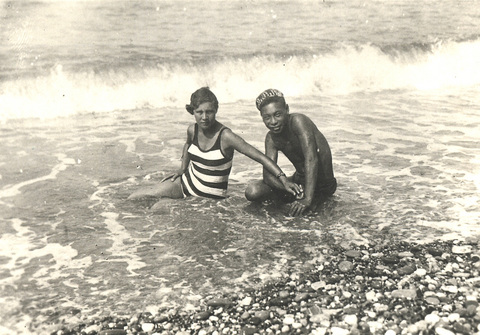 Chiang Ching-kuo and his future wife Faina Chiang Fang-liang in the Soviet Union.
"It got more and more difficult when we ventured into Chiang's latter part of life in Taiwan because he became silent … . There is no personal voice or traces through which to understand him," said Tang, admitting that when he interviewed victims of the White Terror and family members of those who had died at the hands of the KMT, he felt tremendous resentment against Chiang.
Well aware that the documentary would stir controversy and debate, Tang stressed the project is filtered through a subjective viewpoint. "In my eyes, Chiang was a realist. He did what he was obliged to do at the situation he was in," said Tang, adding that one can understand his pragmatism from his Soviet period where Chiang as a teenager was left all alone in a foreign land hostile to the son of its enemy.
While Chiang's formative years in Russia offer a rare and fresh look into the young Chiang, filming his life in Taiwan posed a challenge since the subject had been covered numerous times and it was difficult find new perspectives.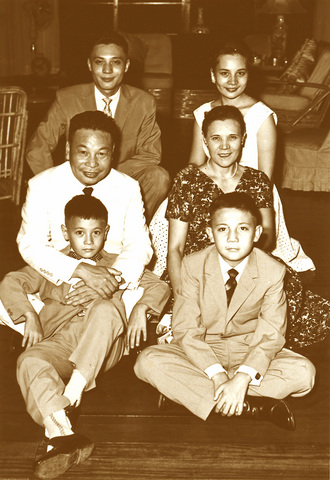 Chiang Ching-kuo with family.
The three-year long project exhausted Tang, who sorted through tonnes of documents, archive film and imagery to look for new material since he knew that it might be the last opportunity to make a documentary on Chiang while the late president's contemporaries were still live.
"When I went back to Russia last year to shoot footage of Chiang's Soviet period, I couldn't help but form a favorable impression about him. I suddenly realized I was way too involved in this man's life and it was time to wrap up the film," Tang said.
Chiang Ching-kuo — Son of the Generalissimo will show on the Public Television Service (公視, PTS) channel at 10pm daily from Jan. 1 to Jan. 4.
Comments will be moderated. Keep comments relevant to the article. Remarks containing abusive and obscene language, personal attacks of any kind or promotion will be removed and the user banned. Final decision will be at the discretion of the Taipei Times.