Bernard Lala pays his dues in kind
Bernard Lala was on eof the lucky few who got an education abroad, and now, after a successful career in the UN, he's returned home to Africa as an unpaid minister for health
Like most Africans of his generation lucky enough to get a foreign education, 61-year-old Bernard Lala had his country to thank for it.
In the optimistic early post-colonial years, the Central African Republic sent its brightest sons to France, the stern colonial master turned benevolent uncle, to learn skills that would help build the young nation.
It did not quite work out that way. He spent most of his career outside the country, earning a Western salary and enjoying the peace and security that his home, one of the poorest and most unstable nations in the world, could never have provided.
A roadside funeral on Nov. 21, 2006, for a woman who died when the fighting in the northwest part of the Central African Republic prevented taking her to a hospital. The rumble of engines, any engines, is the signal for the villagers there to flee, leaving behind smoldering pots of wild roots and leaves, a meager afternoon meal.
PHOTO: NY TIMES NEWS SERVICE
Not that he abandoned Africa — he was hired as a young microbiologist by the UN World Health Organization, and worked his way across Africa over the past 25 years, as the ravages of AIDS, civil strife and climate change swept across the continent.
But now, unlike so many Africans educated abroad, Lala is back. Instead of the comfortable European retirement Lala and his Swedish wife, Ann Catherine, had planned, Lala took up one last post: minister of health in his homeland.
"I never really worked for my country," he said. "I always felt a little guilty about this, like it was a debt I never paid."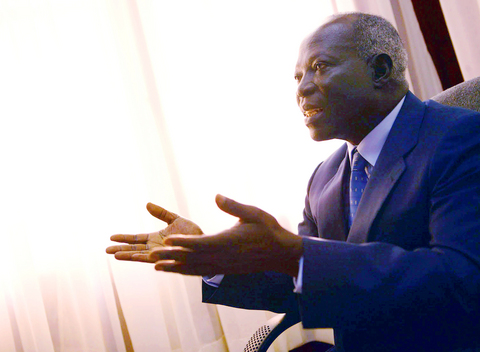 A roadside funeral on Nov. 21, 2006, for a woman who died when the fighting in the northwest part of the Central African Republic prevented taking her to a hospital. The rumble of engines, any engines, is the signal for the villagers there to flee, leaving behind smoldering pots of wild roots and leaves, a meager afternoon meal.
PHOTO: NY TIMES NEWS SERVICE
Earlier this year, he became one of only 183 doctors in the Central African Republic, a nation of 4 million people lightly sprinkled across an area the size of France, signing on with the recently elected government to help the country improve its abysmal health statistics. One in five children die before the age of five here, mostly from treatable and preventable diseases. Life expectancy has dropped by a decade in the past 10 years, to 42.
"In our country we have so many health problems that anything you do can bring an improvement," he said in a recent interview at his office in the ramshackle ministry of health here. "We had less than 40 percent of children vaccinated. Only 2 percent of pregnant women and children under five are sleeping under mosquito nets. Our maternal mortality is among the highest in the world. There is so much for me to do here."
A compact man with lively eyes and a half-moon of closely cropped silver hair, Lala long ago traded in his white coat of the research lab. Dressed in an impeccable dark blue suit with pale blue pinstripes, he looked more like a diplomat than a doctor.
But then most of his work is not that technical. The needs of his country, so long ravaged by despotism and civil war, are plain even to the medical neophyte. His job, as he sees it, is to marshal the nation's limited resources to focus on the worst problems, and to convince the world that an obscure, chaotic nation like his deserves the kind of aid that normally goes to better run and better known countries.
"We need to get our country on the map so that people will know that we, too, need help," he said. "We cannot let ourselves be forgotten."
Lala says his interest in medicine began when he was selected as a 14-year-old high school student to appear on a radio quiz show promoting the Pasteur Institute, a top-flight medical research facility that had just opened in the capital, Bangui. He answered all the questions in the science quiz correctly, and won a prize of about US$100. He also got to meet the director of the new institute, who gave him some books on microbiology.
"I was instantly fascinated," he said. "I had the good fortune to have the opportunity to study, and then to go abroad."
Like a lot of young people of his generation, coming of age at the end of the colonial era but without much acrimony toward Europe, Lala wanted desperately to go to France.
"We thought Paris was where they danced the twist and lived the high life," Lala said. "We waited for our baccalaureate results, impatient to go and join the party."
He won a government scholarship to a medical school in Cannes, but flunked his first year because he was enjoying the good life a little too much. On the advice of one of his professors, he transferred to a university in the more staid atmosphere of Dijon, Burgundy, where the absence of nightlife kept him on the straight and narrow. There he also met his wife, a Swede learning French at the university.
After a brief period working at the Pasteur Institute in Bangui, he was recruited by the World Health Organization. There he joined the vast African staff of the UN, which was full of Tanzanians and Congolese, Ethiopians and Swazis, Kenyans and Burkinabe, Beninois and Somalis, all flung across the continent and using their considerable expertise to improve the lives of Africans.
Jobs with such organizations provide opportunities for African professionals to earn Western salaries while still working in Africa, but they also generate a kind of internal, transcontinental brain drain.
Lala spent his entire peripatetic career far from the troubles of his homeland. Yet his career provided a grand tour of Africa's last quarter century, a period of enormous upheaval and change.
His first posting for the World Health Organization, in Zaire, now known as Democratic Republic of the Congo, was during the late 1980s as the country and its strongman, Mobutu Sese Seko, began their long declines. Traversing Zaire's vast, spectacular terrain as the supervisor of the country's laboratories, he saw the grim results of years of neglect.
His next assignment took him to Ivory Coast, just in time for the death of its longtime ruler, Felix Houphouet-Boigny, and the beginning of that country's decline. In Abidjan, its capital, he worked mainly on AIDS, which by the early 1990s was beginning to show its awful power to ravage the continent. After that, he went to Burundi, spending his first night there on Christmas Eve, listening to the artillery blasts of Burundi's grim civil war.
Later, he would work in Niger, seeing firsthand the grim toll the advancing Sahara desert was taking on the people of the arid Sahel, bringing more hunger and desperation to some of the poorest people in the world.
As he approached 60, Lala and his wife began thinking of the quiet life they might lead in Sweden, nearer to their three children, all of whom live in Europe. But he also remembered his old debt. For him, the decisive factor was Central African Republic's fragile, young democratic government, so he promised his family this would be his last tour of duty. He arrived here to find an utterly broken health system.
On paper, 45 percent of Central Africans live within a 10km walk of a health center, a number that is already abysmally low even by African standards. But with so much of the health infrastructure in shambles, even that grim statistic is misleading. Of 900 health centers, one-third were utterly destroyed by violence and neglect, and many more were barely functioning.
Like other civil servants, health officials have not been getting their salaries regularly. That includes Lala — he has not received a paycheck since he started in February, and is living off his retirement savings.
Still, the opportunity to finally render service to his homeland is the capstone of his career, he said.
"For me, it is like another project, perhaps the biggest of my career," he said. "I owed something to my country, for all those years it invested in me that I never paid back. Now it is time, and I am here to do my best."
Comments will be moderated. Keep comments relevant to the article. Remarks containing abusive and obscene language, personal attacks of any kind or promotion will be removed and the user banned. Final decision will be at the discretion of the Taipei Times.