Seniors feel the need for speed on skates
The experience of elderly skaters who whiz round the rink as fast as they can shows there's truth in the principle that if you don't use it, you lose it
Some of Howard Ganong's earliest memories are of a frozen pond, a snow shovel and his dad. The pond was near the family farm in Stamford, Conn. It's where he took his first wobbly strides on skates, and where the seed was planted for a passion that would last a lifetime.
"I lived on that pond when I was a kid," he said.
Now 78, Ganong won five national masters speed skating championships from 1998 to 2002, three in the 60-and-over group and twice in the 70-and-over division. In 1999 and 2000 he was crowned North American champion. The Clifton Park, New York, resident still practices three times a week with a local speed skating club and plans to compete this weekend at Lake Placid, New York.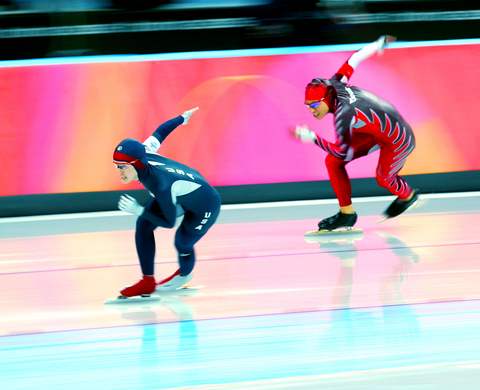 Amy Sannes of St. Paul, Minnesota, left, leaves Canada's Shannon Rempel for dust at the Oval Lingotto in Turin. Seniors who speed skate tout the sport's litany of fitness benefits.
PHOTO: NY TIMES NEWS SERVICE
"I just love the exhilaration of going fast, the feel of the wind in my face," said Ganong, who retired as a retail manager with Sears. "It just gives you a good feeling."
Regardless of your age or skill level, you can experience that feeling of gliding over the ice, whether on a frozen pond or on an indoor rink. It offers solitude, a skater alone with his thoughts and the sound of his blades cutting the ice, or a chance to socialize with others who would rather get their exercise on skates than on a high-tech weight contraption in a crowded health club.
It's not only a pleasant activity, it's a nonjarring, aerobic workout you can do for a lifetime.
"You can start when you're four years old and go until you're 104," said Kelly Pugliano, 39, of Waterford, New York. "That's the beauty of it. You can be as competitive as you want to be, or you can just do it for the recreation and exercise."
Pugliano, a mother of two who used to be a competitive runner, said she was motivated to take up speed skating after watching US gold medalist Bonnie Blair in the 1994 Winter Olympics in Lillehammer, Norway.
"I love the competition," said Pugliano, who has been training with the Saratoga Winter Club for six years and placed third in her age group in national short-track competition last year. "I skate three or four times a week, but I would do it seven days a week if I could. But I don't think my husband would let me."
She said she was welcomed from the first day she showed up. "Everyone is very supportive and encouraging, no matter what level you're at."
And ice skating offers a litany of fitness benefits, including boosting endurance because of the constant moving and stretching, according to an article in BlueCross BlueShield's Vigor magazine.
The more advanced you become, the greater the aerobic benefits. It targets a number of muscle groups, including abdominal, calves, gluteus, hamstrings and quadriceps, something that would take hours at the gym to work separately.
And, according to the US Figure Skating Web site, recreational skating can burn from 250 to 800 calories per hour depending on effort, and competitive skating can burn from 450 to 1,080 calories per hour.
Bill Kissane, 71, of Colonie, New York, started recreational skating 10 years ago. He's not going to win any speed skating championships, but he's lost 9kg, dropping from 97.5kg to 88.5kg. "My breathing is also much better than before I started," he said.
Kissane, who wears a blue hockey helmet for safety since bumping his head on the ice in a fall last year, said skating has also led him to new friendships. He's one of a group of about 15 retirees who skate together regularly.
Harold McAfee, 83, of Queensbury, New York, skates like someone half his age and he attributes his youthful appearance and good health to skating as much as his other activities, kayaking and tennis included. You can find him Wednesday mornings at the Saratoga Springs Ice Rink, New York, where he enjoys ice dancing and helping kids learn to skate.
"It's great for you mentally and physically," said McAfee, who also plays in an adult hockey league and coaches a youth hockey team. "I love helping the kids. I feel very lucky at my age to be able to do this."
Comments will be moderated. Keep comments relevant to the article. Remarks containing abusive and obscene language, personal attacks of any kind or promotion will be removed and the user banned. Final decision will be at the discretion of the Taipei Times.