Head to Broadway for a cool yule
The lineup of festive tunes and Broadway classics by three musical stars offers audiences the fun of Christmas underlined with a social message
A few years ago Welly Yang (楊呈偉), the artistic director of Second Generation production company, wanted to find a leading lady for the musical version of Ang Lee's (李安) The Wedding Banquet. Dina Morishita turned him down twice, but Yang persisted, called her a third time and practically begged her to join the show. "I felt that three [requests] had significance and so I took it," she said. And significance it did have as working together on the show eventually led to a love affair and marriage this past July.
With such a reputable career, it's surprising that Morishita's name appears in tiny letters on the promotional material for this weekend's Christmas extravaganza as she has just as much pulling power, and talent, as the other two stars of the show, Yang and Anthony Rapp, whose names appear in large text on the billing. With a lineup of tunes and costumes that is sure to dazzle audiences, the Christmas performance will showcase songs from some of the best Broadway hits. Yang has asked audience members to wear white so as to "recreate a winter wonderland in Taipei."
A musical in two acts, Yang says the concept for the show is an imagining of Christmas. "We are joined by a 60-person children's choir — the Taipei Philharmonic youth choir — that will … open the show."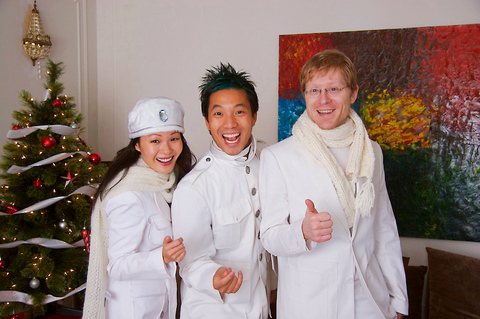 Anthony Rapp, right, Welly Yang, center, and Dina Morishita. This weekend, ring in Christmas with Broadway musical numbers and festive tunes at the National Concert Hall, but remember to wear white for an extra cool yule.
PHOTO COURTESY OF NTCH
Dressed in pajamas, the choir will begin the first act with Somewhere in My Memory from the movie Home Alone. The following number sees Morishita, Yang and Rapp dressed in one-piece pajamas — called "onesies" by Yang and Morishita — singing Hard Knock Life from the musical hit Annie. "The idea of the beginning of the show is to have us as kids and imagining what Christmas is from a child's perspective," said Yang.
These opening pieces are followed by a number of festive tunes such as Do you Hear What I Hear and A Little Drummer Boy, "which are all about the excitement of what this season is and what these memories remind us of as children," said Morishita. Between each song the cast will change costumes, wearing ever more adult apparel and gradually morphing into grown-ups as the performance progresses. A high point in the first act will be Morishita's rendition of Santa Baby, though she is quick to point out that she is "doing it in pajamas, doing it as a little girl," which is meant to remove any suggestions of lasciviousness and greed for which the song is usually associated.
The themes of nostalgia and innocence that pervade the first act gradually move into more mature content in the second with Morishita's counterpoint to searching for a sugar daddy called A Grown Up Christmas List, where she sings "I am older now, Here's my lifelong wish, my grown-up Christmas list, not for myself but for a world in need." Morishita's on-stage maturing will be complimented by Yang's nostalgic return to Taiwan with I'll Be Home for Christmas.
The final song of the performance is Seasons of Love from the musical Rent and will be dedicated to a close friend of Yang and Morishita's, a former employee of the National Theater Concert Hall who recently passed away. The song also has significance for Rapp because he was close to the co-creator of Rent, Jonathan Larsen, who died just before the off-Broadway premiere.
Rapp is most notably remembered for playing the role of Mark Cohen, a character based on Larsen's life. And though Rapp wasn't part of the cast of players who performed Rent in Taipei at the beginning of this year, he did revive the role for the movie version of the musical, which was released in November last year. Instead, Rapp has been spending the past year touring the US to promote and lecture about his new book Without You: A Memoir of Love, Loss, and the Musical Rent, an autobiographical work that discusses the pain of losing his mother and friend.
Yang has been spending a considerable amount of time abroad, especially in Taiwan. Born and raised in New York, Yang began his professional career as a singer/actor with the lead role of Thuy in the original Broadway production of Miss Saigon. In addition to performing with the New York Philharmonic, he has recorded with Sony Music Taiwan and in 1997 founded Second Generation. During his stint there Yang co-wrote the musical Making Tracks before turning The Wedding Banquet into a musical that received critical acclaim. His most recent venture is a musical called Finding Home, a biographical work that traces his parent's departure from Taiwan during the 1960s because of political persecution and how they managed to blend into their new home in the US.
"That was a large reason why they left Taiwan, in the 1960s," Yang said referring to the political situation. "There was a huge brain drain at that time."
Last year, Yang founded Welly Yang Productions and created and produced the 2006 Asian Excellence Awards, a star-studded affair celebrating the cultural achievements of Asians; the ceremony included notables such as Lucy Liu, Quentin Tarantino, the Cirque du Soleil and Magic Johnson.
Though Yang has always maintained an avid interest in politics, the same cannot be said of his wife who claims that she knew little about politics until meeting Yang. "And now politics is a huge part of my life," she says laughing about how Yang taught her lessons on the Martial Law era and the one-China policy. "We've been to [election] rallies that [had] 20,000 people. It was like a rock concert," she said.
Though politics won't be part of the program this weekend, as with Yang and Rapp's previous work the trio's desire for a better world will be subtlety apparent throughout the performance, especially with regards the significance of Christmas.
"[Yes] it's about the Santa hats and all those fun things, but it's also a season of remembering and a season of celebration but celebrating the joy of life. And so for us, Christmas is about taking that time to remember everything that's happening in the world and all the people around us and being grateful for what we have in our lives," said Yang.
Publication Notes
Performance Notes:
What: Welly Yang & Anthony RappWhere: National Concert Hall (國家音樂廳) 21-1 Zhongshan S Rd, Taipei (台北市中山南路21-1號 )When: Today at 7:30pm, tomorrow at 7:30pm and Sunday at 2:30pmTickets: From NT$400 to NT$2500 and are available through NTCH ticketing
Comments will be moderated. Keep comments relevant to the article. Remarks containing abusive and obscene language, personal attacks of any kind or promotion will be removed and the user banned. Final decision will be at the discretion of the Taipei Times.