Americans welcome
The staggeringly beautiful country of Nicaragua, perhaps best known to Americans from the Iran-contra scandal, is emerging as an idyllic vacation spot
Loll in one of the pools at Pelican Eyes, a new development above the town of San Juan del Sur, on Nicaragua's Pacific Coast: a tranquil breeze blows up the hillside from the perfect bay below, the pool's disappearing edge merges with sea and sky, and the only sound is the rhythmic tapping of the bricklayers who are building the place — a compound of whitewashed, tile-roofed houses amid lush greenery. At the bottom is an airy palm-thatched restaurant, where cheerful waiters serve strong drinks and the patrons sit in the warm night air and talk about real estate.
This is Nicaragua as the Next Costa Rica, the sort of hopeful real estate appellation signaling that gentrification may now begin in earnest. In the last few years, as Americans on the prowl for second homes, or just an investment, have found places like the Last Costa Rica already overrun by their own kind, a boom has started in the country just to its north.
Nicaragua is no stranger to American visitors with grandiose plans. That perfect bay at San Juan del Sur was the place Forty-Niners on their way to California from New England embarked upon the Pacific after a journey across Nicaragua. William Walker, a freelance American colonialist, made landfall here in 1855 to undertake a bloody, tragicomic campaign to introduce democracy, railroads and slavery.
Nicaragua Plaza in Granada has become Nicaragua's top tourist destination, according to the Nicaraguan government.
PHOTOS: AGNEICES
Before facing a firing squad, Walker was briefly the president of Nicaragua, an episode that, perhaps even more than the quarter-century occupation by the US Marines at the start of the 20th century, and even the Contra war of the 1980s, informs a Nicaraguan wariness of American enthusiasms.
Same president, different country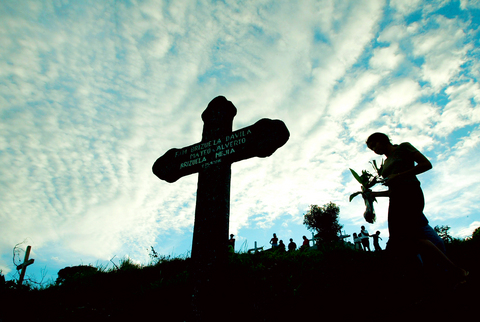 A woman puts flowers on the tomb of a loved one on the Day of the Dead at the cemetery in Managua, Nicaragua.
I visited in August, with the photographer Morgan Stetler and his fiancee, Anne-Lise Reusswig. In preparation for the elections that took place at the beginning of last month, all around us were the workings of the democracy that has emerged from Nicaragua's troubled past. This was the fourth consecutive free election in the 16 years of peace since the end of the Marxist regime of Daniel Ortega.
The Sandinistas won, making Ortega, their longtime leader, president once again. But he is president of a different Nicaragua, and there seems little chance that the Sandinista victory will lead back to the chaos of the past.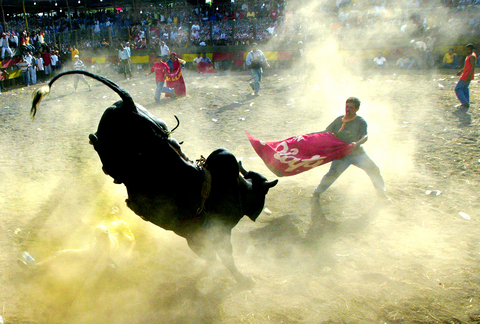 A Nicaraguan man takes part in a bullfight at the festival of Santo Domingo, Patron Saint of Managua, Nicaragua.
The news in August was of campaigns, scandal and, more pertinent to the visitor, the rolling blackouts born of high oil prices and botched energy privatization. "No hay luz" — "There is no light" — was an apologetic refrain we heard throughout the country, and we found that a generator had become the most important hotel amenity.
In Granada, we stayed at the newly remodeled Gran Francia. Besides being a well-lighted beacon in the darkened city, it was comfortable and well placed, on the corner of the central plaza, right next to the freshly painted mustard yellow cathedral.
In the plaza, the city's annual weeklong festival for its patron saint, the Virgin of the Assumption, was in full swing. It featured a cacophony of school drum corps, church bells and booming fireworks at seemingly random times (like just before dawn).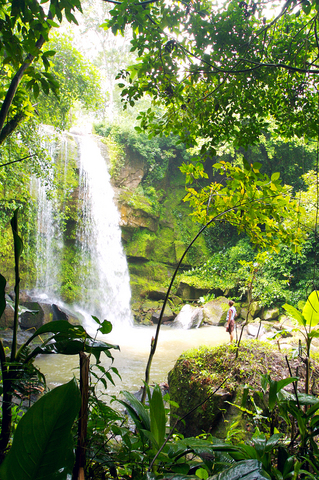 A tourist pauses at a waterfall in Matagalpa, in central Nicaragua.
Horse-drawn carriages, which serve as taxis — and not just for tourists — lined one side of the plaza, while families sat under spreading flame trees drinking pitaya, a cool and tangy juice of cactus fruit and lime with a stunning fuchsia color that glowed radiantly against the turquoise-painted tables.
Granada was founded in 1524, and it was laid waste by William Walker as he abandoned it after losing his grip on power. When we took a tour of the city, our guide introduced nearly every building with a variation of "this church was burned by William Walker, the American filibuster."
Everywhere, new cobblestones were going in, and new streetlights. Fresh paint in vivid yellow, pink and blue shone on magnificently restored post-Walker 19th-century churches. Visitors — European tour groups, Latin American families, Australian backpackers — wandered about the central part of the town, soaking up the evanescent atmosphere of more than a hundred years of solitude.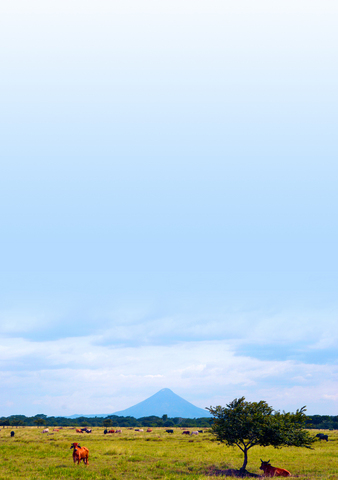 Momotombo is one of 19 active volcanoes in La Paz Centro, Nicaragua.
Like every city in Nicaragua, Granada is in a spectacular location. A richly forested volcano overlooks the city, which is perched at the edge of Lake Nicaragua.
It's a near-mythical tropical lake, one of the largest in the world, ringed by volcanoes and forest. Its waters are home to strange beasts -— including freshwater sharks and sawfish, both sadly in decline — and moving legend: it is said to have been an Eden that was drowned after a Romeo and Juliet tragedy. It is shallow, and turbid from volcanic ash, but it is warm, and clean, lending a freshness to the air along its shores. Toward its southern end is an unexpected gem: the island of Ometepe.
Ometepe, composed of twin volcanoes rising from the lake, is like a magical little freshwater Hawaii. It is a true backwater — the rough road around the island was finished just 15 years ago, and the only access is by ferry — with the feel of a place where nothing ever happens, in the best sense.
As though by providence, the island was spared the centuries of violence that unfolded all around it. Ancient pre-Colombian petroglyphs and sculptures dot the volcanoes' flanks. Above the plantings of plantains, sugar cane and sesame, the mountains' upper reaches remain as they have always been.
Nicaraguan food has a hearty simplicity: a local fish, with tostones (medallions of fried plantains) and gallo pinto, or red beans and rice, washed down with a Tona, a classic tropical lager. Local specialties like vigoron (fried pork skin and yuca, a popular roadside meal around Granada) and nacatamales (corn tamales stuffed with meat and wrapped in banana leaves) are worth trying as well.
If Nicaraguan food tends toward sweetness, especially in its sauces, it is perhaps a symptom of its being a sugar-producing country. Regardless, in such a small country with so much agriculture and so many climate zones, virtually everything is fresh and holds up well to simple preparation.
After Ometepe, volcano fever seized us. Central America is one of the world's most vigorous volcanic zones, and Nicaragua alone has 19 active volcanoes. And they are very accessible — there are one or two outside every city. Most are protected as parkland and make popular excursions, but even so, on many volcanoes you'll find yourself alone with nature at its most potent.
Volcan Masaya, between Granada and Managua, is a huge heap of geology, with a road that lets visitors drive right to its lip. Past the parking area, right over a distressingly low wall, one stares directly into hell. Sheer walls drop nearly 305 into a rumbling, smoldering hole a third of a kilometer across; fumes rise up in an ominously dirty-looking cloud. When wisps float by, the effect is like being tear-gassed.
Incredibly, a flock of specially adapted green parrots lives in the crater walls, safe from predators and mocking our coughs with their bright squeaks.
Masaya is at the center of a well-organized park that features guided tours through volcanic caves, a visitor center with a thorough explanation of the geology, history and ecology of the area, and trails that let you wander around the cone. Next to where our car was parked, a sign recommended we back in, in case we had to make a quick getaway, and warned, "In case of expulsions of rocks, protect yourself under the car."
Nearby is Cerro Negro, a big, black cinder cone that began erupting only in 1850, and quickly grew to more than 700m. I was eager to visit since, as a boy, I had been entranced by stories of this magical mountain.
The climb is a hot slog over crunchy lava on which absolutely nothing grows. The trail leads over the lip and directly into the crater, where smoking fumaroles emit noxious gas, coating the surrounding rocks with sulfur. The ground there is too hot to touch; all reminders of a habitable world are gone. There is nothing but heat and fumes and the sharpest, blackest rock: a visit to our planet before it was ours.
But from the high point of the rim above the crater, Nicaragua spreads out in all its glory. A line of big volcanoes extends north and south, with the green coastal plain below. Leon's tight cluster marks the center of the area, and beyond it the Pacific shines in the west.
We visited Cerro Negro with Mario Munguia, a leader in a tourism cooperative based in Leon. The cooperative movement has been strong in Nicaragua since the Sandinista revolution and includes businesses from coffee farms to ice cream factories. A nationwide network of co-ops was founded in 2004 to help spread the benefits of the country's boom.
As recently as five years ago, almost no facilities existed for foreign visitors, yet now development is brisk. Social development projects like the tourism co-ops and a scholarship and job training program associated with Pelican Eyes, as well as many others, tie the growing sector to society more broadly, as rarely happens elsewhere in Central America.
From there, we went on to nearby Leon. We stayed at the Hotel el Convento, a gorgeously converted 17th-century convent in the center of town. Surrounding a perfectly manicured courtyard and fountain, high wooden cloisters are decorated with enough religious artifacts to resemble a museum.
Not so recently destroyed, Leon seems older than Granada. And not so recently restored, it has a more lived-in feel. Historically the liberal city, in opposition to the conservative pole of Granada, Leon is today the Sandinista Party's stronghold. The city was draped in Sandinista black and red in anticipation of the election season and there was an expectant bustle on the sidewalks, which teemed with students from the university in the center of town.
Drops of sadness
Leon bears the weight of its history with cultured if slightly shabby ease. It is a repository of folkloric tradition but is strongly influenced by classical European forms. The city cherishes its inheritance, on display in its newly restored theater and in its art galleries and poetry museums.
Indeed, poetry seems ideally suited to the Nicaraguan disposition. The daily papers include poems, along with cartoons and news. Nicaragua has produced poet-heroes like Ruben Dario, the 19th-century diplomat and journalist whose seminal influence on Spanish-language poetry has been likened to Whitman's on English.
In Leon, Dario is buried to the side of the altar in the hulking Basilica de la Asuncion, said to be the largest church in Central America. His words are carved in the marble, but like history itself, they live on all around Nicaragua.
One night on the beach at San Juan del Sur — the same beach where thousands of Americans once decamped for the gold rush, and where others are, maybe, rushing back again — I met John Oliver, a poet from Nicaragua's eastern coast. He recited a poem of his, in his rich Caribbean English.
Then he switched to Spanish, and Dario's heartbreaking Melancolia. His strong voice blended into the soft surf as he hit the last line: "No oyes caer las gotas de mi melancholia?" ("Can't you hear the drops of my sadness falling?")
Comments will be moderated. Keep comments relevant to the article. Remarks containing abusive and obscene language, personal attacks of any kind or promotion will be removed and the user banned. Final decision will be at the discretion of the Taipei Times.