The Vinyl Word
Call in the UN election observers, and cue fierce debate about hanging chads. No, it's not tomorrow's islandwide municipal elections: this weekend the Vinyl Word launches the cheat-provoking annual DJ Poll. Yes, you, the punter, get to vote not only with your dancing feet but your mouse-clicks, and you, the DJ, get to prove that not only are you good at spinning wax, but could also give the average tin-pot dictator a run for his or her money when it comes to manipulating your armies of delirious fans for nefarious political purposes.
This week we're accepting nominations only, not votes, so send an e-mail to vinylword@taipeitimes.com, including DJ Poll in the subject line, and let us know which names we should throw into our magic hat. The rules, such as they are, are simple and completely unenforceable on our part. No vote-buying, no voting for yourself, and the Vinyl Word staff will not accept drinks to nobble the outcome, and our decision is final. Voting opens next Friday, and will end two weeks later.
Taiwan's most respectable hippy Wu Bai (伍佰) gets a special, if unusual, mention this week. The suave ax-wielder graced Taipei's Huashan Culture Park last Sunday evening, with a couple of special guests for a charged live show. Notably, his backing band China Blue featured some top-notch live scratching on a set of decks, though this excitement almost wholly failed to woo a crowd who refused to cause a riot when they realized beer wasn't being sold at the gig. Wu Bai made up for it, though: schlock-meister Daniel Powter didn't (though seeing him play with his name misspelt 'Dainel' lit up behind him almost did.)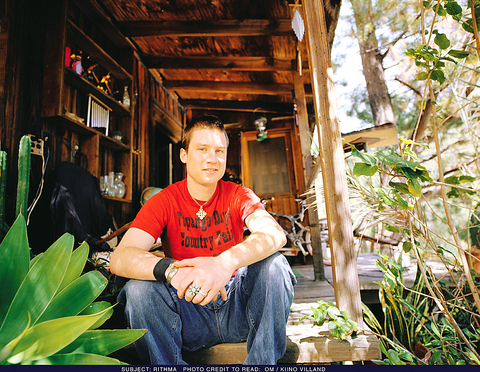 Rithma is set to jazz up Luxy's Sabbatical residency.
PHOTO COURTESY OF OM/KUNO VILLAND
Tonight sees further decks'n'bands action at The Wall, with Marcus Aurelius rolling out dancehall, reggae and old-school funk, alongside Public Radio and Sons of Pablo. The bands will be belting out tunes on a round-by-round basis for the crowd to decide the eventual champion, in a musical version of the Fight Night series. For those not in the know, this is where punters knock seven bells out of each other to win beer. Support from Johnny Fatstacks.
Over at Room 18, those of you who stomped about to Soulutions' sabbatical (which, let's face it, was everyone) can catch more of SL at his residency. The man himself plays weekly from 12pm to 2am and if decent house music and the occasional live keyboard set is what you're after, then here's the place to be. Fortunately, it's a long-term residency, so you can always find a place to boogie on a Friday, even if you are swayed by the likes of Rithma taking over the reins at Sabbatical on this particular weekend.
Rithma is a highly talented US producer whose jazz guitar training is instantly discernible in his work. Yet this doesn't mean he produces house music with jazz guitars in it. Instead, he translates the free-form nature of jazz to the somewhat restricted 4/4 style of house music beats. Not content with introducing off-kilter elements and blowing the latter genre apart rhythmically, Rithma also has a knack for injecting vocal and instrumental sections with a dose of funk.
He's joined by Coffey, Soulutions' other half Saucey, and the worth-watching Scotty Baller at Luxy in the Onyx room this evening. As if this column hadn't already descended into a weekly birthday shout-out worthy of a local radio DJ, it's Liquid Lifestyle' fourth anniversary and they are hosting the party. Look out for Liquid Lifers in yellow jerseys for giveaways and chances to win, er, stuff in the main room.
Saturday sees Saucey join Canadialand's Capital J and Alex Joy at VT Art Salon for the next Caress party with electro, drum'n'bass, hip-hop, house and garage. Experimentalism and musical boundary crossing are the name of the game here and the last two parties have been damn good fun. Cover is NT$400 with two drinks, which is essentially free.
Hottest news of the week: Luxy is to present Ferry Corsten at Chiang Kai-shek Memorial Hall, next Saturday. If that wasn't blinding enough, it's all for a good cause so you can get in the Chrimbo spirit, get your dancing shoes on and give to charity all at once. More next week, but neither Ferry Corsten nor Chiang Kai-Shek is eligible for the Vinyl Word DJ Poll nominations, as neither are Taiwan-based DJs, and the latter is, in fact, dead. And, besides, he wasn't that keen on elections when he was alive.
Comments will be moderated. Keep comments relevant to the article. Remarks containing abusive and obscene language, personal attacks of any kind or promotion will be removed and the user banned. Final decision will be at the discretion of the Taipei Times.