Restaurant: Bin Laden Pigsty Cafe 賓拉登豬窩咖啡
Address: 47-6 Tsaoshupai, Ruifeng Li, Judung Township, Hsinchu County (新竹縣竹東鎮瑞峰里燥樹排6鄰47之6號)
Telephone: (03) 594-9203 or 0932-119-750
Open: Monday to Friday, from 12pm to 8pm. Weekends 10:30am to 9pm
Average meal: NT$500 for two
Details: Menu in English; cash only
The most remarkable features of Bin Laden Pigsty Cafe are fresh air, "mountain food" and the owner's dedication to porkers. His best friend, the divine Miss Lotus, acts as a host of sorts during opening hours. She grunts a welcome as you approach the entrance and if she's in the mood will happily pose for photos.
About 15km from the No. 3 National Freeway there is a nondescript town called Judung (竹東). Follow Route 122 into the mountains until the 28km mark and you will find the Bin Laden Cafe on the left-hand side. There used to be a big sign with the likeness of the Islamist militant/terrorist (take your pick), but this has now come down.
"Osama bin Laden looks like me, not the other way around," said owner Hsu Hao-sheng (徐豪聲), who explained the name was chosen at the suggestion of a feng shui master. This was seven years ago, before the 9/11 attacks on the US in 2001. Asked why he took down the sign, he said another feng shui master recommended it because the elements had caused the image to fade and this was affecting business. Some customers question him about the name of his cafe, he admitted, and joke that Bin Laden will come after him.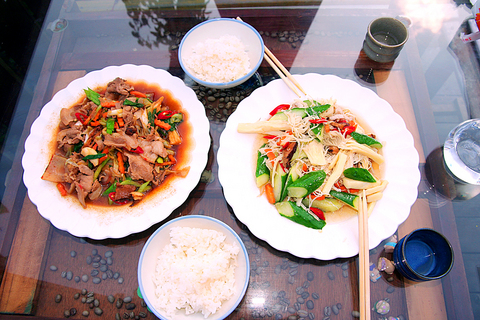 Hsu Hao-sheng and his best friend Miss Lotus the pig are genial hosts at the Bin Laden Pigsty Cafe, and the food is top notch.
PHOTO: JULES QUARTLY, TAIPEI TIMES
But if America's most wanted man did turn up, the genial Hsu said, he would welcome him. Like other customers he would show him around the shop, with its idiosyncratic selection of pig artifacts and curios for sale. Then he would take him to the back of his property, through some cluttered rooms, to a terrace that overlooks the river and stately mountains.
Here he would seat the Saudi Arabian and suggest the house specials. Married to a Saisiyat woman and half Saisiyat himself, Hsu offers Chinese and Hakka dishes but it's mountain food that he is famed for. This includes wild pig, ostriches that are bred on nearby farms, betel nut flowers (tasty) and local vegetables. Local fruits, such as papaya, are used to make milkshakes. Hsu has even blended his own coffee, which arrives with two "Miss Lotus" biscuits.
Bin Laden Cafe is a great place to decompress on a journey up the mountains. The air is pristine and there is little to hear but birdsong and the occasional rumble of lorries going past. Hsu's Chinese astrological sign is the pig, hence his love of swine. For more information and a route map check out www.98.to/pigcoffee.
Comments will be moderated. Keep comments relevant to the article. Remarks containing abusive and obscene language, personal attacks of any kind or promotion will be removed and the user banned. Final decision will be at the discretion of the Taipei Times.