Restaurant: Yi Ya Chu 易牙居
Address: 16, Ln 286, Roosevelt Rd Sec 3, Taipei (台北市羅斯福路三段286巷16號)
Telephone: (02) 2367-8218
Open: Open: Daily from 11am to 2:30pm and 5pm to 9:30pm
Average meal: NT$700
Details: Chinese menu with pictures; credit cards accepted
It is said that the sign of a good restaurant is that it is always full of customers. By this measure, Yi Ya Chu (易牙居), near National Taiwan University, is a good place to eat and has been so for some time. Three visits over the past four years have found most of its tables full with patrons enjoying multi-course Hong Kong-style meals.
Manager Lin Chi-cheng (林志成) estimates there are more than 150 dishes on the menu, many of which are available in small, medium and large portions. Parties of three or more can also choose from one of several set menus of different sizes and tailored to different budgets. There are also several multi-course set menus for individuals.
"We're always changing the menu," Lin said. "And we offer many dishes that other restaurants don't have, as well as the standards." As an example, he said that Yi Ya Chu offers standard steamed rice sheet rolls with shrimp (蝦仁腸粉, NT$80), but also offers variations. A spicy version (麻味蝦仁腸粉, NT$90) is one of the restaurant's most popular dishes, according to Lin.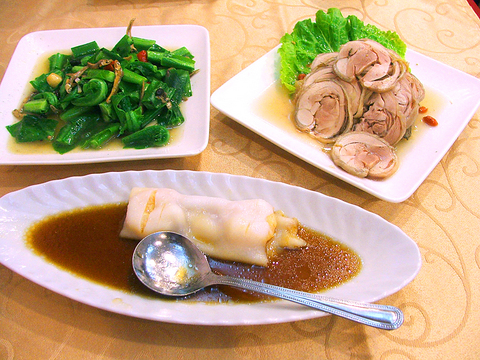 With over 150 dishes on the menu, it could be difficult to know where to begin at Yi Ya Chu.
PHOTO: RON BROWNLOW, TAIPEI TIMES
Another popular dish is prawn dumplings topped with cheese (蟹黃蝦燒賣, NT$65). The cheese is mixed with mayonnaise to ensure the topping stays soft even after it cools. Also popular are baked barbeque pork pastries (蜜汁叉燒酥, NT$60) and the fried sesame seafood rolls (芝麻海鮮捲, NT$70). These and other dim sum dishes are available for both lunch and dinner.
Staff members are friendly and have a good idea of what is good on any given day. On a visit last month, a waitress recommended the frog legs with spicy salt (椒鹽田雞, NT$280 for a small portion), which proved to be one of the most memorable parts of the meal. This dish was not recommended on a visit this week, and when this reviewer ordered it anyway he found that the meat was not as tender.
When asked which dishes were his favorites, Lin, who opened Yi Ya Chu 15 years ago, smiled and said: "The dishes I like are the ones our customers like. If they don't like a dish, it goes off the menu and gets replaced by a new one."
Comments will be moderated. Keep comments relevant to the article. Remarks containing abusive and obscene language, personal attacks of any kind or promotion will be removed and the user banned. Final decision will be at the discretion of the Taipei Times.